What Is a Chargeback? Your Guide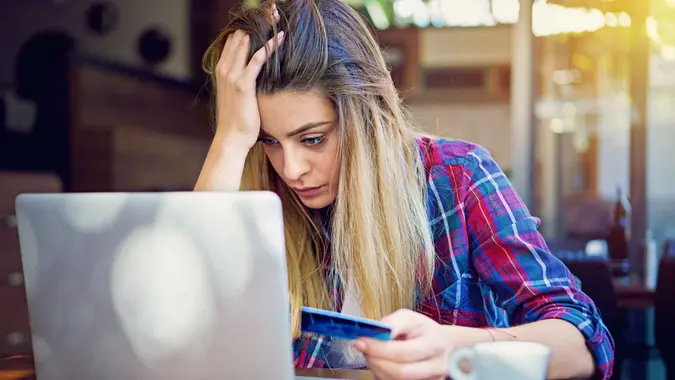 praetorianphoto / Getty Images
A chargeback is when the bank or credit card issuer initiates a refund at the request of the cardholder. So does chargeback mean "refund"? They're similar, but not exactly the same — a regular refund is when the merchant honors the customer's request to refund a purchase without the issuer or bank's involvement.
The big difference between a regular refund and a chargeback is simply who initiates the process.
How Does a Chargeback Work?
When you request a chargeback from your credit card issuer or bank, it will determine whether the chargeback is legitimate. If it is, the issuer will "charge back" the amount of the transaction to the merchant, and the funds will be returned to you.
As a savvy consumer, a chargeback is one of the many options in your tool kit. Through a chargeback, you can recoup lost funds due to a merchant error, product return or downright fraud. But there are some rules and regulations to consider when looking for a chargeback. Here's a closer look at what you need to know.
What Qualifies for a Chargeback?
A chargeback is designed to reverse truly illegitimate charges. If you want to ask for a chargeback, confirm the transaction falls into one of the following categories:
Fraud
Any illegitimate uses of the card are eligible for a chargeback, including when a fraudster uses your credit card to make a transaction without your approval.
Undelivered Goods or Services
If you make a purchase of a good or service that doesn't meet your expectations in a documentable way, then you could request a chargeback. Additionally, if your card is charged for the items that were never delivered, then a chargeback may be appropriate.
Be prepared to provide documentation about the purchase.
Incorrect Amount
When a merchant overcharges you, that might be grounds for a chargeback.
Recurring Billing Didn't Stop After Cancellation
After you cancel a subscription, the company should stop billing your credit card. If the company charges your card after you cancel the subscription, that might be grounds for a chargeback.
Return Not Registered by Merchant
If you return an item within the merchant's return policy without receiving a refund, then you could pursue a chargeback.
What Doesn't Qualify for a Chargeback?
Of course, a chargeback isn't allowed when the merchant delivers the goods or services. At that point, it's up to you to protect the item.
For example, say that you are happy with your purchase of a new set of headphones. If the item is stolen or damaged, you cannot ask for a chargeback.
How To Ask for a Chargeback
The first step to obtaining a chargeback is to identify the specific transaction on your credit card statement. Once you have the transaction nailed down, you can reach out to your credit card issuer.
Most large organizations allow you to complete this process entirely online. Look for the option to "dispute a charge" in your online banking portal. If you cannot find a way to dispute charges online, you'll need to call the number on the back of your card for more help.
Have Supporting Details Prepared
Once you initiate the chargeback request, the bank or credit card issuer may ask a series of questions. Be prepared to provide details about why you are requesting the chargeback.
In some cases, you might need to submit supporting documentation. If the bank asks for more information, the goal is usually to determine whether or not you have a legitimate claim to a chargeback. Since there are fraudsters everywhere, it's the bank's responsibility to make sure you are actually entitled to a chargeback.
Is There a Time Limit on Chargebacks?
Keep in mind that you might need to stay within a window of time to successfully receive a chargeback. In many cases, your ability to pursue a chargeback expires after 120 days from the date of purchase.
With that, it's a good idea to regularly check your credit card statement for any errors.
Tips to Successfully Process a Chargeback
A chargeback is a handy tool to have available. Here are some tips for creating a smooth process:
Regularly review your credit card statement: It's best to report unrecognized charges as soon as possible.
Talk to the merchant first: Many merchants would prefer to work out the issue directly. Before you resort to a chargeback, bring the issue to the merchant.
Keep an eye on timelines: Most credit card issuers limit your ability to file a chargeback claim after a certain number of days. If you want to file a chargeback, act quickly.
Don't abuse chargebacks: It might be tempting to ask for a chargeback to get your money back on any number of purchases. Avoid the temptation. If you abuse chargebacks, your credit card issuer might take legal action against you.
Takeaway
A chargeback is an effective solution to resolving billing errors. If you run into a legitimate issue, don't hesitate to take advantage of the chargeback solution.
Our in-house research team and on-site financial experts work together to create content that's accurate, impartial, and up to date. We fact-check every single statistic, quote and fact using trusted primary resources to make sure the information we provide is correct. You can learn more about GOBankingRates' processes and standards in our editorial policy.