How To Do a Balance Transfer With Chase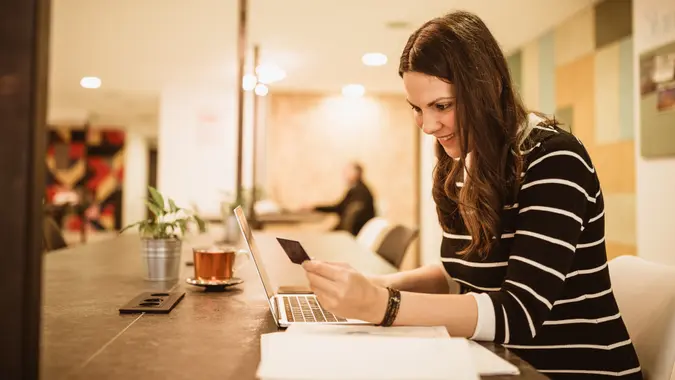 NoSystem images / Getty Images
Are you looking to reduce the interest payable on credit cards? A balance transfer with Chase might do the trick. Here's all the information you need to reduce your interest and see the benefits of consolidating credit card debt with Chase Bank.
What's a Balance Transfer?
A balance transfer is moving a credit card balance to another credit card. You can only do this when switching credit card providers. A balance transfer can be a helpful tool for consumers to consolidate credit card balances in one place, and credit card issuers may offer attractive promotional rates to new customers.
What Are the Benefits of Balance Transfers With Chase?
There are several benefits for those considering a Chase balance transfer.
Lower Interest Payments
Customers completing balance transfers with Chase can take advantage of introductory periods with 0% APR credit cards from 15 to 18 months for qualifying individuals. These lower rates allow consumers to pay off their credit balances much faster.
Monthly Payment Options
My Chase Plan is a service offered by Chase that allows its customers to pay off balances in equal monthly installments until debt is repaid. Cardholders can use calculators to figure out payments on purchases above $100. This service is free for the introductory period, after which a 1.72% fee will be charged.
What Are the Best Credit Cards for Balance Transfers With Chase?
Customers have three choices when it comes to balance transfers for credit cards with Chase:
Chase Slate Edge Credit Card
Chase Freedom Flex Credit Card
Those approved will get a credit limit of at least $500. After the promotional period expires, the standard variable APR between 17.24% and 25.99% will apply. 
Here's an overview of the perks each option carries.
Chase
0% APR for the first 18 months followed by rates of
2% APR reduction when $1,000 worth of qualifying purchases are made in the first 12 months
Credit review to increase limits once $500 has been spent after six months
Credit Card
0% APR for the first 15 months followed by rates of
No annual fees
$200 bonus when cardholders spend $500 within three months of account opening
5% cash back on gas — for up to $6,000 spent — within the first year
5% cash back on travel services bought through the Chase Ultimate Rewards program
3% cash back on select dining
3% cash back on drug store items
1% cash back on all other spending
5% cash back on bonus quarterly categories
Credit Card
0% APR for the first 15 months followed by rates of
No annual fees
Unlimited matched cash back for the first year
5% cash back on travel services bought through the Chase Ultimate Rewards program
3% cash back on select dining
3% cash back on drug store items
1.5% cash back on all other spending
What Is a Balance Transfer Fee That Chase Offers?
There are no balance transfer fees on the My Chase Plan with credit cards mentioned above during the promotional period. A 1.72% fee will apply after that. Any balance transfers also carry a 3% or $5 transaction fee for the first 60 days, whichever is greater of the two. After this time, it rises to 5% or $5, whichever is greater.
How To Transfer a Balance to a Chase Card
New customers will need to sign up for an account with Chase if they haven't done so already. This process can be completed online in a few minutes. A valid Social Security Number, address, income, contact details, employment status and housing costs are the usual components of the application.
Once you've applied, the steps are as follows:
Sign into the account.
Choose a Chase credit card for the balance transfer.
Enter the transfer amount.
Accept the terms and conditions to proceed.
If approved, the balance transfer will be visible in the account within 21 days at most. Until then, all payments should be made as usual.
Do Balance Transfers Hurt Your Credit?
When applying for a Chase credit card — like most other credit cards — a hard pull is done. Customer credit profiles will be examined to determine risk, and they can affect credit scores. However, consolidating credit card debt in one place can be looked upon favorably.
Final Take
Balance transfers are a nifty trick to get a hold of credit card balances that begin creeping up. The easy payment cycles, low APRs, and an array of credit card rewards that Chase offers make it one of the best options for consumers consolidating credit balances.
Chase Balance Transfer FAQ
Here are some typical questions consumers ask when doing balance transfers.
Does Chase ever offer balance transfers?

Yes. Chase offers balance transfers on three credit cards -- the Chase Slate Edge, the Chase Freedom Flex and the Chase Freedom Unlimited. However, a balance transfer cannot be done with credit cards or loans issued by J.P. Morgan or its affiliates.

How long does a Chase balance transfer take?

Most balance transfers with Chase are completed within one week, but in some instances, it can be as many as 21 days.

Are there any limits on Chase balance transfers?

Customers can only transfer a maximum of $15,000 in credit balances over 30 days.
Rates are subject to change; unless otherwise noted, rates are updated periodically. All other information on accounts is accurate as of Sept. 28, 2022.
Editorial Note: This content is not provided by any entity covered in this article. Any opinions, analyses, reviews, ratings or recommendations expressed in this article are those of the author alone and have not been reviewed, approved or otherwise endorsed by any entity named in this article.
The information related to Chase Freedom Flex, Freedom Unlimited, and Slate Edge was collected by GOBankingRates and has not been reviewed or provided by the issuer of these products/cards. Product details may vary. Please see issuer website for current information. GOBankingRates does not receive commission for these products.