Shop Through Chase Tips: How To Use the Chase Shopping Portal To Earn Points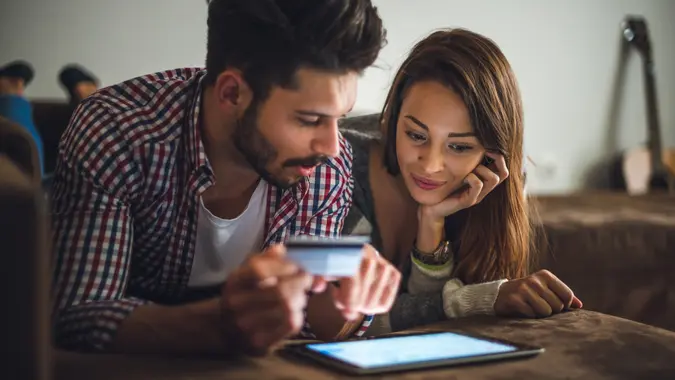 Georgijevic / iStock.com
A point-earning credit card is a good choice for those looking to make the most out of their money. Chase offers its customers a few options to earn even more with eligible cards through its Ultimate Rewards program. One of these options is Shop Through Chase, a portal that lets cardholders rack up points fast and allows them to buy products and services from participating retailers, with the flexibility to choose how to use those points. Here's what you should know about the Chase shopping portal.
Read More: This Credit Score Mistake Could Be Costing Millions Of Americans
Overview of Shop Through Chase
Shop Through Chase is one of the many perks of having a card with access to Chase's Ultimate Rewards program.
What Is It?
This feature lets cardholders earn up to 15 points for each dollar they spend at over 450 stores and score attractive discounts. Ultimate Rewards and Shop Through Chase are not to be confused with Chase Offers, which is a separate program that offers different benefits with every Chase credit card, not just those providing rewards.
How Does It Work?
Here is a guide to accessing the Chase shopping portal:
Follow These Steps:

Head to the Chase Ultimate Rewards page. Sign in to Chase Ultimate Rewards using an eligible card.
Use the "Earn/Use" menu at the top of the account's landing page.
Select the "Earn Bonus Points" option.
Browse the available merchants and pick one.
The site will then take you to the selected store's official website. You'll get bonus points as long as you check out during the same session. After the merchant reports the purchase, all rewards will be reflected on the following bank statement. The specific number of points earned per offer may depend on the Chase credit card used at check out, so comparing options before applying for a card is always a good idea.
Shopping through Chase also allows users to keep track of promotions offered by the stores they frequent the most. The Chase shopping portal will notify them via email when attractive deals are available on their preferred sites.
Who Can Use the Chase Shopping Portal?
To access Shop Through Chase, cardholders must be enrolled in the Ultimate Rewards program. This means they need to have an eligible Chase card that allows them to earn Ultimate Rewards points. Once they're on the merchant's website, they may be able to use any other card of their preference.
Advice

Before completing a Shop Through Chase purchase, you should always compare prices and rewards on different portals. You might find other retailers that sell the same items; however, the tradeoff is that they might offer fewer points per purchase or they have a better discount.

Of course, prioritizing points over price or the other way around depends on each cardholder's preferences and needs. Still, it's always good to know all the alternatives available before making the decision that benefits you the most.
Merchants on Shop Through Chase
Shop Through Chase gives Ultimate Rewards members access to more than 450 options to purchase their favorite products online. Merchants on the Chase shopping portal fall into different categories, and offers may be subject to availability.
| Category | Merchants |
| --- | --- |
| Apparel and accessories | American Eagle, Banana Republic, Nike, Ray-Ban, Under Armour, Old Navy |
| Department stores | Macy's, Kohl's, Neiman Marcus |
| Pharmacies, beauty and cosmetics | Walgreens, Sephora |
| Tech and electronics | Apple, Bose, Microsoft, Lenovo, Samsung |
| Home office stores | Home Depot, Walmart, Staples |
Which Are the Best Credit Cards To Use on Shop Through Chase?
While it's true that Shop Through Chase is powered by its parent bank, this doesn't necessarily mean cardholders must use a Chase credit card to complete their purchase. Merchants in the Shop Through Chase selection will report all purchases either way when made through the link provided in the shopping portal.
Cardholders may still earn their usual rewards plus Chase points via their Ultimate Rewards account even when paying with a card from a different issuer during checkout. However, it's best to use a compatible Chase rewards card to secure Ultimate Rewards benefits.
Chase has several credit card choices, but not all of them give users Shop Through Chase privileges. Additionally, even when compatible with the program, some Chase cards may offer higher rewards than others. Deciding what the best alternative is to stack up more Shop Through Chase rewards faster is up to the customer. Here are the best Chase credit cards linked to the Ultimate Rewards program.
Annual Fee: $0
APR: 0% for the first 15 months, then
This Chase credit card offers a $200 welcome bonus for new users after spending over $500 in the first three months. Other benefits include:
5% cash back on $1,500 or less per quarter in bonus categories
5% cash back on travel paid for through Chase 
3% cash back on dining, takeout and drugstores
1% cash back on other purchases 
Annual Fee: $0
APR: 0% for the first 15 months, then
Like the Freedom Flex card, this card has a cash back welcome bonus of $200 after spending $500 within the first three months. Additionally, the Freedom Unlimited card gives users:
5% cash back on travel bought through Chase
3% cash back on dining, drugstores and takeout
1.5% cash back on all other categories
Annual Fee: $0 
APR:
This card for students offers new customers a $50 new cardmember offer after their first purchase for any amount during the first three months. The Chase Freedom Student card also gives:
1% cash back on every purchase
Free access to credit score
$20 Good Standing Rewards after each account anniversary for up to five years
Annual Fee:
APR:
The Sapphire Preferred offers users 60,000 bonus points after spending $4,000 during the first three months of membership. This translates to $750 that can be used towards travel through the Chase Ultimate Rewards program. This card also gives:
5 points per dollar on travel booked through Chase Ultimate Rewards
3  points per dollar on dining and takeout, including some delivery services
2 points per dollar on any other travel-related purchase
Annual Fee: — $75 extra for each authorized user
APR:
New cardholders get 60,000 bonus points for spending $4,000 during the first three months of membership, which equals $900 in travel when redeemed via Chase Ultimate Rewards. Sapphire Reserve cardholders can also enjoy:
5 points per dollar on air travel and 10 points per dollar on hotels and car rentals booked through Chase Ultimate Rewards — applicable after first spending $300 on travel-related purchases annually
50% more value when points are redeemed for travel bookings made through Chase Ultimate Rewards or statement credits
1:1 point transfers to the cardholder's choice of leading airline and hotel loyalty programs 
How Many Points Can a Cardholder Typically Earn Using Shop Through Chase?
Offers may vary and change between logins to the Shop Through Chase portal. Some merchants offer up to eight Ultimate Rewards points for each dollar spent. On average, though, one to four points is what's usually awarded per dollar spent.
Tips To Maximize Earnings:

Avoid item returns to prevent points from being revoked
Check for point caps and other conditions in the offers available
Compare the rewards offered with other discounts available
Monitor offers on the Ultimate Rewards site
Use the right credit card depending on the shopping category
Is Using Shop Through Chase Worth It?
Shop Through Chase can boost point earnings quickly, so using it to make purchases is worth it when used correctly. Accessing the portal is a convenient way of finding hundreds of merchants all in one place, and purchasing through it brings fairly powerful point-earning potential.
Benefits
These points can later be redeemed by booking flights or hotels, purchasing gift cards or using them toward statement credits. Ultimate Rewards points can also be transferred to shop at Amazon or Apple, for example, or to a host of travel partners. A single Ultimate Rewards point has a cash value of $0.008 when they're used at check out.
There's no cap to the number of points a cardholder can earn when they make purchases through Shop Through Chase. There are also no spending limits per purchase unless otherwise specified by the merchant.
Drawbacks
Despite all of these advantages, there are also some drawbacks. Cardholders may find prices a bit higher while using the Shop Through Chase portal, for example, getting a better deal if they buy directly with the merchant. Also, if a cardholder does decide to make a purchase through the portal, they typically won't see their rewards immediately.
Good To Know

Points awarded for purchases made using a Chase credit card don't expire as long as the account remains often. There's no limit to the number of points that can be earned.
Cynthia Measom contributed to the reporting for this article.
Editorial Note: This content is not provided by any entity covered in this article. Any opinions, analyses, reviews, ratings or recommendations expressed in this article are those of the author alone and have not been reviewed, approved or otherwise endorsed by any entity named in this article.
Rates are subject to change; unless otherwise noted, rates are updated periodically. All other information on accounts is accurate as of Sept. 15, 2022.
The information related to Chase credit cards was collected by GOBankingRates and has not been reviewed or provided by the issuer of these cards. Product details may vary. Please see issuer website for current information. GOBankingRates does not receive commission for these products.