Are Credit Card Rewards Taxable?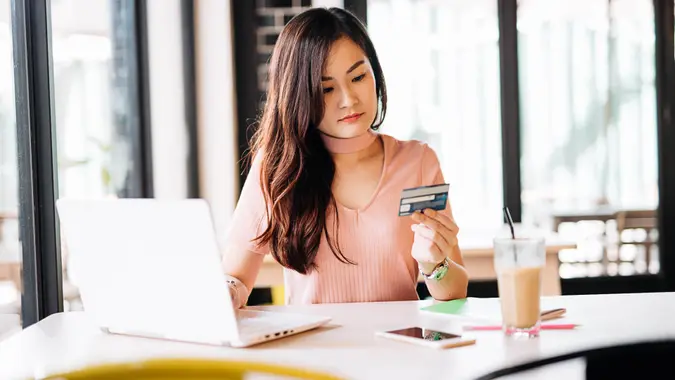 Drazen_ / Getty Images
Update: Some offers mentioned below may have changed or are no longer available. View current credit card offerings from our partners at CardCritics here on the issuer's website.
The deadline for filing 2021 tax returns, which falls on April 18 this year for most taxpayers, is just around the corner. Most taxpayers received their W-2 forms and other earnings information between January and February, and many are still getting ready to file before the deadline. However, if you have at least one rewards or cash-back credit card and are still doing some tax prep, you might be wondering whether the rewards you got in 2021 are taxable. Here's everything you need to know.
What Exactly Is Credit Card Cash Back?
Some credit card issuers offer cash back and other rewards every time an account holder makes an eligible purchase using their credit line. This type of offer can be rather bankable over time, often allowing customers to use their cash back toward paying their outstanding credit card balance. This option is one of the reasons why cash-back credit cards are among the most popular in the market. 
Most card issuers offer cash-back credit cards with different characteristics to suit different lifestyles and needs. Here's a look at some of the top options available today:
Cash-Back Card
Benefits
5% on rotating categories
5% on travel booked through Chase Ultimate Rewards
3% on dining
3% at drugstores
1% on all other purchases
6% at U.S. supermarkets (on up to $6,000 in purchases a year, then 1%)
6% on eligible U.S. streaming subscriptions
3% on transit
3% at U.S. gas stations
1% on other eligible purchases
5% on cardholder's top eligible spending category
1% on all other eligible purchases
Discover it Cash Back
2x Cashback Match bonus on purchases made in the first year
5% on everyday purchases that fall within rotating categories
1% on all other purchases
Unlimited 2% cash back on purchases
Information is accurate as of April 5, 2022.
Cash-back credit card rules usually vary. The issuer will specify in the contract which purchases are eligible for specific cash-back rates and other rewards. A travel credit card, for example, may reward users who buy plane tickets, but not for groceries or gas. By contrast, a cash-back card would likely reward those everyday purchases.
Redeeming Cash-Back Rewards
Cash back is like actual cash, but sometimes there's a catch. Depending on the card, issuers may require users to accumulate a certain amount before redeeming their rewards. Others give users their money at the end of each billing cycle or quarter. Here are a few common ways cardholders get cash back:
Statement credit, which can be applied directly toward their bill payments
Direct deposit or check, which can be used for more purchases or left untouched in a checking or savings account
Gift cards, which are redeemable with participating merchants
Some issuers may limit how much cash back cardholders can earn during each billing cycle. This amount is always stated in the agreement contract.
Types of Rewards
While some rewards credit cards offer cash back, others give account holders miles, bonuses or transferable points. For redemption purposes, users may feel these rewards are pretty much the same. Yet to the IRS, they fall into two entirely different categories:
1. Rebates and Discounts
These are bonuses and rewards users earn for eligible purchases or with participating merchants. Some examples include:
Points and Cash Back
As long as these rewards result from the cardholder's daily spending or are a gift from the issuer in exchange for a few transactions (a welcome bonus, for example), the IRS doesn't consider this income. Because the cardholder uses their own money when getting cash back and points, rewards are viewed as discounts. Cash-back rewards fall into the same category as vouchers, coupons or discount codes.
Miles and Travel Rewards
Travel cards typically offer members points and miles for booking accommodations, transportation and flights, as well as dining out. These rewards are hardly ever taxable. Like with cash-back rewards and points, the IRS treats miles earned through personal travel expenses like a discount or rebate.
In some cases, miles earned through business travel could theoretically be considered income, as noted by Forbes Advisor. However, back in 2002, the agency issued an announcement stating it wouldn't pursue tax enforcement on frequent flyer miles, whether they're earned through personal or business-related trips. The IRS hasn't changed its position on the subject since.
2. Taxable Income
When financial institutions give cardholders money, gifts or points when nothing was done to earn them, it's considered income. Here are some examples of how this can happen.
Sign-Up Bonuses
Sometimes, card issuers have special promotions to encourage people to sign up for a new credit card account. This could come as redeemable points, frequent flyer miles or even cash deposits. 
Most welcome bonuses are not taxable because they require users to spend a predefined amount of money or make a few transactions before they can retrieve them. On the other hand, if the issuer offers a monetary incentive just for opening a credit card account with them, then it's subject to taxes.
Referral Bonuses
Certain financial institutions appreciate their longtime clients bringing in more business. That's why they offer incentives to cardholders for referring their friends and family. When a bank gives cardholders money for every successful application resulting from their referrals, that's seen as taxable income. The IRS considers this a commission for a sale the issuer made.
So Are Credit Card Rewards Taxable?
The answer is generally no, credit card rewards are not taxable. The IRS considers most credit card rewards — including cash back — like a discount, and discounts aren't taxable. Receiving 1% cash back on $1,000 in purchases, for example, is viewed as a $10 discount that cash-back credit cardholders don't need to claim. Some issuers may disclose that all rewards earned through their cash-back program could be reported as income. In this case, cardholders will typically get a 1099-MISC form.  
Tax requirements on credit card cash back, bonuses, miles and points depend on the situation. It isn't in the way cardholders choose to redeem their rewards, but whether they earned them by spending their own money.
All information about American Express card offers have been collected independently by GOBankingRates and have not been reviewed or approved by American Express. These offers are not available through GOBankingRates.
Editorial Note: This content is not provided by American Express. Any opinions, analyses, reviews, ratings or recommendations expressed in this article are those of the author alone and have not been reviewed, approved or otherwise endorsed by American Express. American Express credit card products are not available through GOBankingRates.com.
Our in-house research team and on-site financial experts work together to create content that's accurate, impartial, and up to date. We fact-check every single statistic, quote and fact using trusted primary resources to make sure the information we provide is correct. You can learn more about GOBankingRates' processes and standards in our editorial policy.