Bilt Credit Card: 6 Things You Need To Know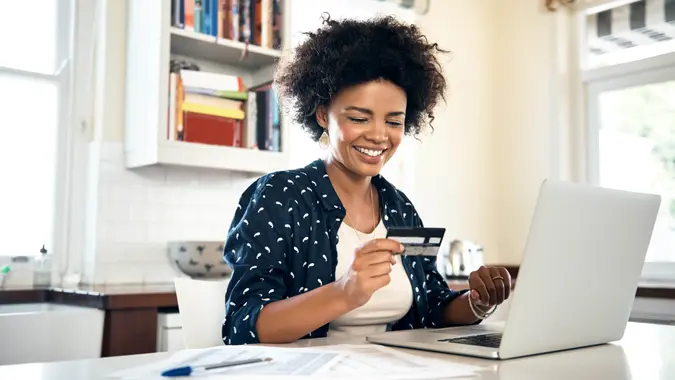 shapecharge / Getty Images
If you're a fan of credit card rewards, you've probably dreamed of paying your rent with a credit card to earn points. There's always been a roadblock, though — the credit card transactions come with hefty fees that offset potential credit card rewards. 
But with no fees for rent payments and generous rewards, the Bilt Mastercard aims to change that. Here's what you should consider to determine if the Bilt credit card is the right fit for you. 
1. Pay Rent To Earn Points
With the Bilt credit card, you can pay your rent without extra fees. Most rental management companies charge a fee to process credit card payments. The cost is usually around 3% of the rent amount, which offsets any potential rewards you could earn with a credit card.
But there aren't any fees when you use your Bilt credit card to pay rent. Cardholders earn 1 point for every $1 spent on rent payments for up to 100,000 points yearly. 
Plus, if you have to pay rent with a check, you can pay with your card in the Bilt Rewards app and earn points. Bilt sends a check to your landlord on your behalf.
2. Everyday Purchases Earn Points Too
You must use the Bilt credit card at least five times each billing cycle to earn points. But as long as you use the card the minimum number of times, you'll be able to earn at least 1 point for every $1 you spend on purchases.
But you can earn more depending on what you buy. Bilt card holders earn points at different rates depending on the purchase category. 
You'll earn 1 point for every $1 spent on rent and 2 points for every $1 spent on travel. You'll earn 3 points for every $1 spent on dining purchases, including delivery services. Bilt also offers double rewards for every category, except rent, on the first day of each month.
3. You Can Use Points for a Down Payment
Another unique feature of the Bilt credit card is that you can redeem reward points toward a down payment on a home. Points are worth 1.5 cents each. 
It might not sound like much, but points can add up quickly when paying rent each month. For example, 75,000 points equal $1,125 toward a down payment. 
It's easy to redeem the points. All you need to do is email proof of home purchase to homeownership@biltrewards.com. Remember to state how many points you want to use in your email. 
4. Points Transfer to Various Partners
Putting points toward a down payment isn't the only way to use points, though. You can also transfer points to Bilt travel partners, including World of Hyatt, American Airlines, Hawaiian Airlines, United Airlines, Air Canada and more. Points transfer at a 1:1 ratio.
You can also transfer points to Bilt fitness partners, including Rumble, Y7 Studio and SoulCycle. If you prefer to spend points on mandatory monthly expenses, you can use points to pay rent or buy items on Amazon. 
5. The Card Offers Unique Perks
The Bilt credit card offers rewards tiers based on your total points balance. Each tier has different perks, including access to a homebuying concierge, the ability to earn interest on points and exclusive gifts. 
The card includes additional benefits like a free three-month DashPass membership, purchase security protection for theft and damage, trip cancellation and delay protection and Lyft credits.
6. Rewards Credit Cards Typically Require Good Credit
The Bilt card is a rewards credit card, meaning cardholders earn points for every purchase. Card issuers utilize rewards as an incentive for potential applicants, especially those with solid credit. 
Because of that, applicants for rewards credit cards usually need to have good or excellent credit. As a rewards credit card, the Bilt card is best for people with an established credit history. 
If you're establishing credit or raising your score, other credit cards might be a better fit. 
Bottom Line
With no annual fee and no transaction fees for rent payments, it's free to take advantage of the card's numerous perks. But if you carry a balance, interest and late fees can quickly offset potential earnings, so paying your bills on time and in total is essential. 
If you're interested in earning rewards for everyday purchases, especially rent, the Bilt credit card is a great option. But before you apply, consider how you plan to use the card, calculate potential rewards earnings, and ensure it's the right fit.
FAQ
Can you pay your mortgage with the Bilt credit card?

You cannot pay your mortgage with the Bilt credit card. But if you're a renter, you can use the credit card to pay your rent and earn rewards without any fees. Plus, you can use Bilt rewards toward the down payment if you plan to buy a home. 

Is Bilt Rewards legitimate?

The Bilt credit card, which comes with the Bilt Rewards program, is a reputable Mastercard offered by Wells Fargo. The Bilt Alliance, the card's namesake, owns and manages over 2 million rental properties across the United States. 

Which bank is the Bilt credit card from?

Wells Fargo offers the Bilt credit card. If you have a Bilt card, you'll use Wells Fargo's website to manage the account, pay bills and transfer funds. But you'll have a separate account with Bilt to collect your rewards.
Information is accurate as of June 27, 2023.
Editorial Note: This content is not provided by any entity covered in this article. Any opinions, analyses, reviews, ratings or recommendations expressed in this article are those of the author alone and have not been reviewed, approved or otherwise endorsed by any entity named in this article.