Black Americans Are More Likely To Be Denied Credit — Here's Why, According to Experts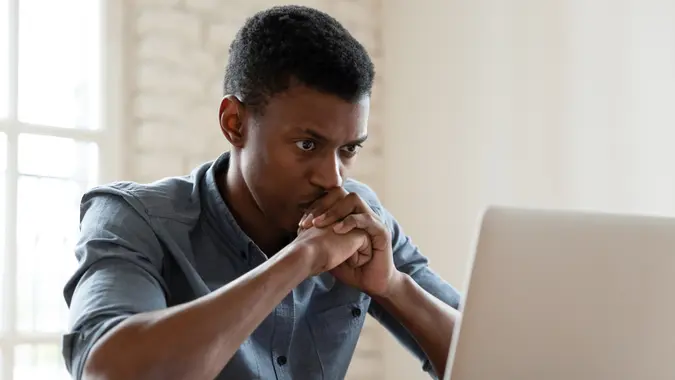 fizkes / Getty Images/iStockphoto
Systemic racism and racial disparities continue to persist within the finance industry, and the credit lending space is no exception. According to a new study by LendingTree — which analyzed data from the U.S. Census Bureau, the U.S. Bureau of Labor Statistics and the Federal Reserve — Black adults are more than twice as likely to be denied credit or approved for less than requested when compared to their white counterparts. The study suggested 46% of Black adults who applied for credit were denied (or approved for less than requested), compared with 22% of white adults.
See: Want a Higher Savings Rate? Ask Your Bank for a Raise
Find: If Your Credit Score is Under 600, Make These 3 Moves ASAP
Why is this happening?
Lack of Access to Banks in Black Neighborhoods
Annette Harris, the founder of Harris Financial Coaching, said this bias (in the credit industry) against Black individuals results from a historical inability to access banking institutions in Black neighborhoods, or via technology.
"The ease of access to a banking institution enables individuals to deposit their income into a bank to develop a rapport with that banking institution," Harris told GOBankingRates. "In Black neighborhoods and other rural populations, ease of access to banks is more difficult. The inability to access a bank or the wariness of depositing one's funds into a bank does not allow one to build a financial snapshot of their wealth. As a result, it is difficult for creditors to access an individual's finances to access their creditworthiness. This then results in the denial of credit applications."
Higher Interest Rates
Cordearo Dadson — founder of Pocketcows and co-president of the Private Directors Association, South Florida Chapter (PDA) — noted that another way the credit industry is biased is through the interest rates lenders charge borrowers.
"Studies have shown that people of color pay higher interest rates than their white counterparts on average," Dadson said. "This disparity is caused by factors such as race, ethnicity, income level and employment status."
Predatory Lending
"The bias in the credit industry can also be seen in the form of predatory lending practices," Dadson said. "Predatory lenders target vulnerable communities and individuals, often preying upon those with limited financial literacy and resources. Such lenders provide short term loans at incredibly high interest rates, further trapping people of color into a cycle of debt and poverty."
"All of these practices serve to limit access to capital and resources for people of color, creating an uneven playing field in our economy and widening the gap between the wealthy and the poor," Dadson continued. "This is why we must address the bias in the credit industry and work towards creating a more equitable system."
Addressing the Bias
The question of how to address said bias in order to create a more equitable system remains.
"Continuing conversation and action are required to bridge the Black wealth gap and prepare our youth to function in society as financially literate adults," said Harris. "The commitment is for parents, employers and the government to enhance the Black community's financial literacy and access to capital. The ease of access to banking institutions is a critical piece of this. To make it easier and more attractive for Black individuals to gain trust in banks and get comfortable talking about financial literacy, adding Black banking institutions into rural areas is a first step. This can help Black individuals build a financial snapshot of their income and can aid in understanding credit, savings, and wealth creation opportunities."
What Affected Consumers Can Do
"Start talking about money," said Jasmine Paul, founder of The Wealth Playground. "COVID-19 has shown us that the global economy has shifted, and the 'once stable' job is no longer stable. Creating conversations around money is imperative, whether with friends, family members or colleagues."
Take Our Poll: How Big of a Sign-Up Bonus Would It Take for You To Change Banks?
More: Why Did My Credit Score Drop? 10 Common Reasons for a Sudden Decrease
Paul also recommended talking to a certified financial educator, certified financial planner, or attending workshops at a financial education non-profit.
"Organizations like GreenPath and Operation Hope offer free financial literacy resources," Paul said.
More From GOBankingRates