Warren Buffett's 10 Most Surprising Investments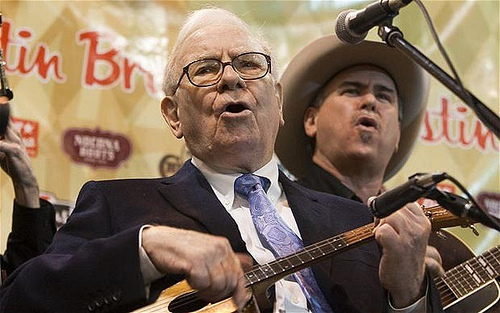 His net worth of nearly $66 billion speaks volumes to the financial savvy that's made Warren Buffett one of the greatest investors of the last century. From Wells Fargo to Coca-Cola, Wal-Mart to Exxon, the Berkshire Hathaway president still digs his dollars deep into almost every industry, company and commodity you can think of.
Buffett's popularity with his followers is bolstered by his astute ability to predict what makes a good investment, and what doesn't. But not even the most ardent of Buffett fans know everything about the man's money strategies. Take a look below at 10 little-known investments from the Oracle of Omaha himself.
10 Rare Buffett Investments: Mickey Mouse, Motorcycles and More
1. Disney
Buffett has an on-again, off-again investing relationship with the cartoon conglomerate. According to Jon C. Ogg of Yahoo! Finance, as far back as the 1960s, Buffett paid just $5 million for 4 percent of the company's stock, but later sold it, much to his regret. "It is obvious that [Buffett] still would admit selling Disney was one of his biggest mistakes," Ogg wrote.

2. Harley-Davidson
"Biker Buffett" doesn't sound too far-fetched after the Oracle's 2009 dealings with the motorcycle manufacturer. Struggling in the downtrodden economy, Harley-Davidson turned to Buffett, who invested $300 million for some senior unsecured notes with a 15% APR. Buffett's financial aid, noted Dan Caplinger of The Motley Fool, "allowed Harley to keep offering financing to its customers, which was crucial to help it survive the recession."
3. American Express

Fifty years ago, the credit card company fell victim to the "salad oil scandal." Its stock values plummeted after  a vegetable oil manufacturer watered down its product just to obtain collateral for loans; so, a young Buffett took notice and bought up $13 million in AmEx stock, a dollar amount that's worth more than $7.8 billion today — his third largest investment to date, noted Brian Reed of InvestingAnswers.
4. Chinese Electric Cars

Why is Buffett so enigmatic? Because he's often contradictory. Infamous for passing on the tech and dot-com industry, Buffett did a (slight) 180 in 2008 when he bought 10 percent of BYD stock for $230 million. Though a successful venture, Marc Gunther of CNN Money said that Buffett went against his better judgement when investing in the Chinese electric car and battery maker.
"I don't know a thing about cellphones or batteries," Buffett was quoted as saying. "And I don't know how cars work."
5. Mike Tyson and Alex Rodriguez
Buffett is surely an expert when it comes to investing in companies and commodities — but he invests in people, too? Berkshire Hathaway did just that when it bought a life insurance contract for the former heavyweight brawler and paid for the current New York Yankees slugger's disability coverage. Buffett's good financial sportsmanship netted him "tens of billions of dollars in long-term funds for Berkshire to invest," noted Erik Holm and Serena Ng of The Wall Street Journal.
6. Pepsi
Proof that the soda-loving billionaire couldn't stay content with the likes of Coke and Dr. Pepper, Buffett once acted as the financial backer for a bound-to-fail Pepsi sweepstakes. In 2003, wrote Jordan Wathen of The Motley Fool, the soft drink company offered its Billion Dollar Sweepstakes, but couldn't actually afford the losses, even though none of the contest's 100 participants had more than a one-in-1 million chance at getting lucky.
Nobody actually won and Pepsi was grateful, because Berkshire Hathaway insured the risks for less than $10 million, cashed in on the premium and "enjoyed the proceeds," Wathen wrote.
7. Chocolate
Buffett has a sweet tooth. Coke, Pepsi, Dairy Queen — but don't forget candy. Buffett once bought up shares of struggling confectioner Rockwood & Co., at $34 a piece, sold them back to the company for $36 in their own cocoa beans, and then turned around and sold the beans for $36 each to outside buyers.
"The process netted [Berkshire Hathaway] instantaneous return of about 6 percent," Wathen wrote. "Considering the transaction could be done in less than a week, it worked out to a sky-high annualized return."
8. Manhattan Real Estate
Buffett once made a real estate move by buying up a string of vacant retail shops adjacent to New York University. Situated in Lower Manhattan, the property wasn't faring well when the commercial real estate bubble popped, but Buffett saw the investment potential; "the property's location was also superb: NYU wasn't going anywhere," he said in a recent shareholders letter.
Business Insider's Steven Perlberg reported that annual distributions from the $1 million purchase in 1993 now exceed 35 percent of the original investment. (The properties have since been leased by several successful businesses.)
9. Silver
Not everything that glitters is gold, though Buffett should have reconsidered this adage after abandoning a lucrative investment in silver. He's long been adamant about avoiding gold as an investment, but once gave silver a try in 1997, collecting up to 37 percent of the planet's known silver, as low as $4 per ounce, Wathen wrote.
"Unfortunately for Buffett, this is one area where he made a mistake," he noted. Buffett later sold the silver for nearly triple the price — a good idea, it seemed, until the metal went on to sell for nearly $50 an ounce years later.
10. Farmland
Buffett says he knows nothing about agriculture, but that didn't stop him from purchasing a 400-acre farm back in the 1980s for just $280,000.
"I needed no unusual knowledge or intelligence to conclude that the investment had no downside and potentially had substantial upside," Buffett said in his 2013 annual report. "There would, of course, be the occasional bad crop and prices would sometimes disappoint. But so what? There would be some unusually good years as well, and I would never be under any pressure to sell the property."
Today, according to Buffett, the farm is worth at least five times its original value, with tripled earnings to match — even if farming still isn't his forte. "I still know nothing about farming and recently made just my second visit to the farm," Buffett admitted.
Photo credit: thetaxhaven