Robinhood Review: Is It the Best Zero-Commission Trading App?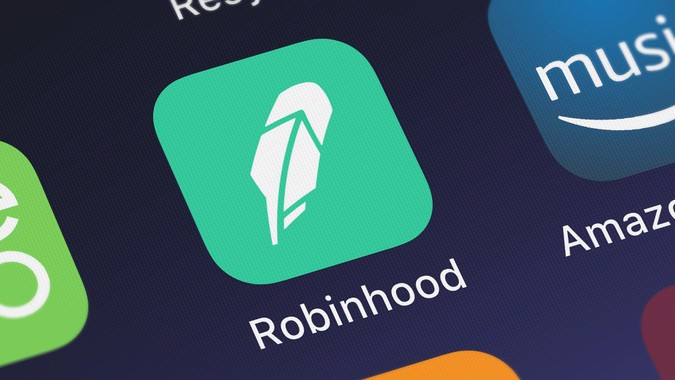 OpturaDesign / Shutterstock.com
Robinhood is an investment app that was developed by two college roommates at Stanford. The idea behind the firm was to use technology to keep costs low and pass those savings on to customers via zero-commission stock, ETF and options trades. 
Robinhood of course still makes money via a number of sources, including margin loan interest, monthly fees for its premium Robinhood Gold service, and payments received from trading venues to receive customer orders.
Read on to see if Robinhood is a good option for your investment needs.
Robinhood at a Glance
Here's a look at some of the features of Robinhood:
Robinhood at a Glance
Account Minimum

$0

Stock Commission

$0

Option Commission

$0

ETF Commission

$0

Cryptocurrency Commission

$0

Outgoing Transfer

$75

Domestic Wire Transfer

$25

International Wire Transfer

$50

Paper Statements

$5

Investment Selection

Stocks, ETFs, options, cryptocurrency

Customer Service

Via email only

Current Promotions

Open account, get one free share of stock
Individual Services Reviews
The headline draws for Robinhood are its $0 account minimum and its commission-free trading. When stacked against competitors across key metrics, however, certain aspects of the Robinhood experience are lacking. 
Sponsors of
Trading Experience
The Robinhood trading experience has both highs and lows. On the one hand, Robinhood makes it extraordinarily easy to place market orders for shares of stock.
For example, if you want to buy some Amazon stock, simply type in the stock symbol AMZN, tap the "Buy" button, indicate whether you want to buy in dollars or shares, then indicate the amount you'd like to purchase. Within seconds, your trade will be executed.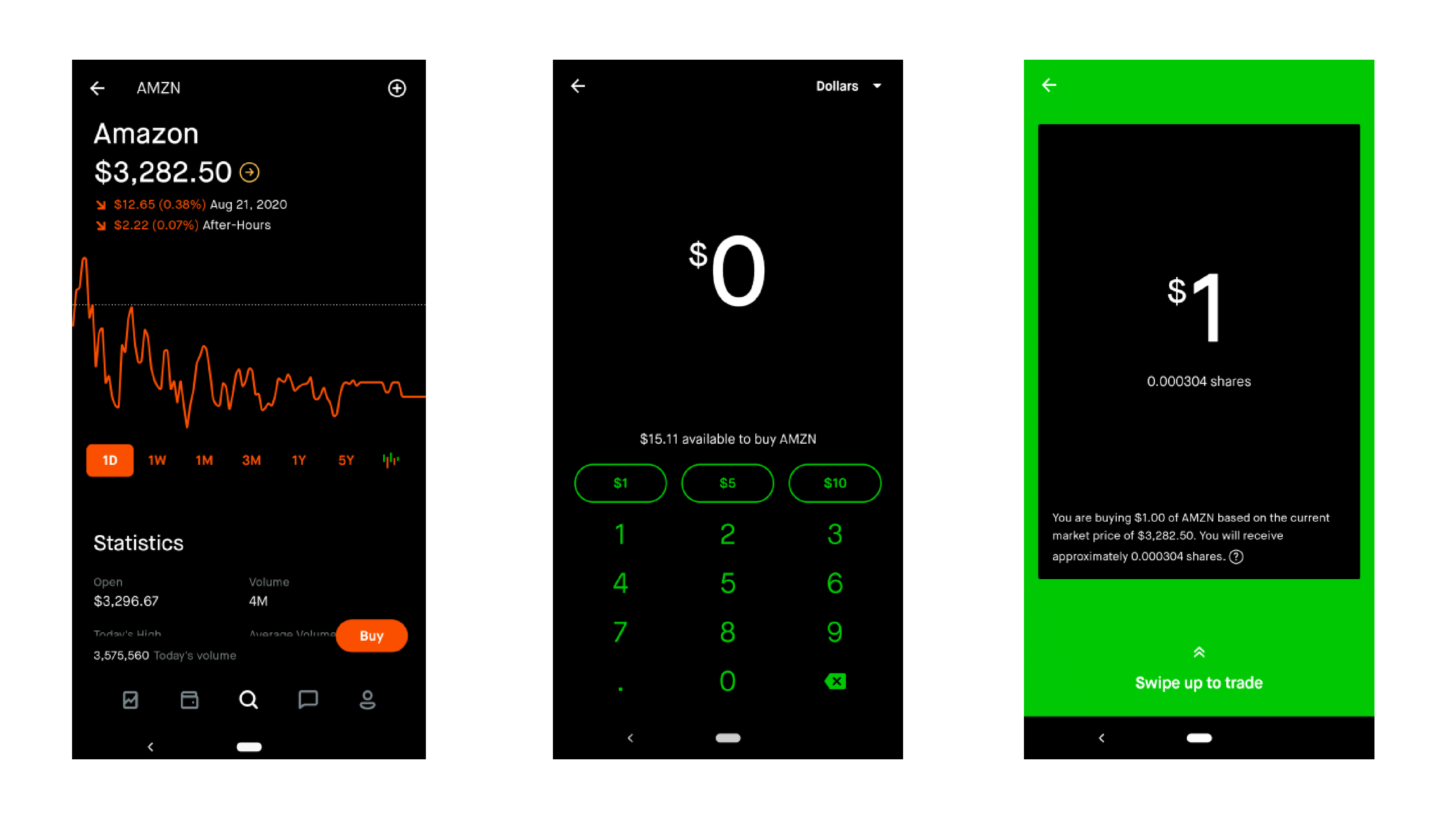 On the other hand, anything beyond these types of simple trades can be much more complicated, particularly for the beginning investors Robinhood hopes to attract. 
Account and Investment Minimums
Account and investment minimums are zero across the board. This is one of the areas where Robinhood shines.
Commissions and Fund Expenses
Zero commissions on all trades is another major highlight of the Robinhood platform. There are no minimums or tiers involved in earning this low rate, which applies to all investors from day one.
If you buy ETFs via Robinhood, you'll pay the same expense ratio as everyone who owns each individual fund, but Robinhood will not levy any additional fees on top of that. Robinhood doesn't offer mutual funds.
Trading Technology
The average execution speed for market orders of under 2,000 shares is 0.049 seconds. In the second quarter of 2020, 89.52% of customer market orders in S&P 500 stocks were executed at the National Best Bid and Offer, also known as the NBBO. The National Best Bid and Offer is the best quote available to customers across multiple exchanges. 
Usability
In one sense, the lack of financial research and investment information at Robinhood is a blessing when using the mobile app, as the interface is streamlined and easy to use for the most part. Investors simply looking to buy and sell stocks using market orders may well find Robinhood to be all the app they need, as it's very usable in this sense.
The app is also good at providing very basic financial information at the touch of a button or the swipe of a finger. If you're tracking Apple stock, for example, you can easily pull up a chart, see basic statistics such as the stock's highs, lows and dividend yield, and get recent news headlines. It's also easy to trade the stock. 
Sponsors of
Good to Know

If you're looking to construct custom charts or tailor your in-app experience in other ways, you may find the app limiting compared to some more powerful online competitors.
Mobile and Emerging Tech
Although you can access your Robinhood account online, the firm's trading platform was born as a mobile app. 
Investment Selection
For an investment broker, the range of offerings at Robinhood is quite limited. Although the firm offers a broad range of stocks and ETFs, options and cryptocurrencies are also available, that's the end of the line at Robinhood. You can't buy or sell mutual funds, bonds, annuities or any other types of investments at Robinhood. 
News and Research
News and research is not a strength at Robinhood. When you pull up an individual stock, you can get some basic background on the company, along with basic statistics such as collective analyst opinions and earnings report information. 
Looking for More?

Investors can access professional research from third-party research company Morningstar, but only if they are members of Robinhood Gold, which costs $5 per month. 
Customer Service
For such a cutting-edge investment firm, customer service at Robinhood is sorely lacking. Robinhood offers no phone-based customer service, which isn't very helpful if you've got real-time trading problems in a fast-moving market. You can only reach Robinhood via an online email form. 
Withdrawals of up to $50,000 per day can be made online or via the mobile app without the need to contact customer service. 
Security
As a brokerage firm, Robinhood security accounts carry $500,000 in Securities Investor Protection Corp. insurance, including $250,000 in protection for cash. However, this insurance does not apply to crypto accounts. 
Data is protected via industry-standard encryption, including the BCrypt hashing algorithm for passwords and the Transport Layer Security protocol for mobile and web applications. Two-factor authentication is also available. 
Cash Management
Robinhood is in the process of rolling out a cash management account, which acts as a hybrid between a checking account and a savings account.
New customers must currently join a waitlist, but those who already have access to the account earn a 0.30% APY as of Aug. 27. Features of the account include: 
Up to $1.25 million of FDIC insurance

No account minimums

No transfer fees

No foreign transaction fees

Debit card access at 75,000-plus fee-free ATMs
Costs
Costs are one of the biggest draws for Robinhood, as for the most part there aren't any. Robinhood doesn't charge commissions, account fees, transfer fees or maintenance fees. 
The firm does pass on the same trading costs imposed by self-regulatory organizations that all investors pay. This amounts to $2.21 per $100,000 of principal on sell orders. 
Robinhood also passes along the trading activity fee assessed by the Financial Industry Regulatory Authority, or FINRA, which amounts to $0.000119 per share for stock sales and $0.002 per share for options sales, with a maximum of $5.95. 
If you buy American depositary receipts, which are issued for foreign stocks that trade on a U.S. exchange, you'll pay the same $0.01 to $0.03 per share as other investors. 
Who Is Robinhood Best For?
Robinhood has plenty of attractive features, but it's not for everyone. Although trading stocks for free sounds great, there are some limitations to the platform. Here's a look at some of the highs and lows.
Who Might Want To Choose Robinhood?
Robinhood is tailor-made for members of the younger generation, who might not have a lot of money to invest but are comfortable making big life decisions over a smartphone interface.
Since Robinhood has no minimums to open an account and charges no commissions, it's a very accessible platform. This ease of use makes Robinhood suitable for new or younger investors, or those who don't require a high level of financial advice or account servicing.
Its crypto offerings may also appeal to nontraditional investors.
Who Might Want To Skip Robinhood?
The catch with Robinhood is that after its commission-free trading platform, there's not much extra on offer for investors.
Robinhood doesn't offer retirement plans, mutual funds, bonds or any other investments besides stocks, exchange-traded funds, options and cryptocurrencies. Robinhood also doesn't offer any in-person branches or financial advisors.
Taken as a whole, Robinhood isn't a good home for investors looking for comprehensive financial planning and/or investment options, retirement accounts or a high level of customer service and accessibility.
How Does Robinhood Compare to Other Online Brokers?
When Robinhood first announced its zero-commission trading platform in 2013, it "completely disrupted the trading industry," according to CNN. 
However, one of Robinhood's main competitive advantages vanished in 2019, when online brokerage powerhouses including E-Trade, TD Ameritrade, Interactive Brokers and Charles Schwab, among others, all announced their shift to a zero-commission online trading policy.
As a result, Robinhood has had to roll out additional features. In addition to its premium Robinhood Gold platform, which includes access to Morningstar research and margin trading, Robinhood also unveiled fractional share trading and its cash management platform. 
Should You Invest With Robinhood?
Robinhood does one thing very well: It keeps costs low. From its zero-minimum investment platform to its commission-free trading of stocks, ETFs, options and cryptocurrencies, Robinhood is the place to go if you want a low-cost way to trade in the palm of your hand. 
Beyond these strengths, however, the Robinhood platform is sorely lacking. You won't find popular investment options like bonds and mutual funds here; in fact, you can't invest in anything beyond stocks, ETFs and some cryptocurrencies at Robinhood. The lack of retirement accounts is also limiting, as is the firm's email-only customer service.
Final Thoughts

If you're looking to limit your commission costs and buy and sell stocks via smartphone, Robinhood may have some appeal. And to its credit, Robinhood is looking to branch out with additional product offerings such as a cash management account. However, those looking for long-term financial planning or a comprehensive investment platform will likely prefer other choices.
Information is accurate as of Aug. 27, 2020.
This content is not provided by Robinhood. Any opinions, analyses, reviews or recommendations expressed in this article are those of the author alone and have not been reviewed, approved or otherwise endorsed by Robinhood.
Our in-house research team and on-site financial experts work together to create content that's accurate, impartial, and up to date. We fact-check every single statistic, quote and fact using trusted primary resources to make sure the information we provide is correct. You can learn more about GOBankingRates' processes and standards in our editorial policy.