10 Best Crypto Trading Bots for 2023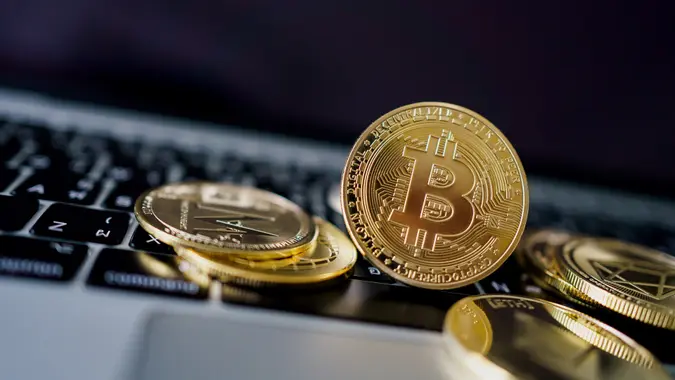 Phira Phonruewiangphing / iStock.com
Automated trading helps stockbrokers, retail investors and others who trade digital assets daily. Crypto trading bots can streamline trading and potentially lead to greater profits.
See: 3 Things You Must Do When Your Savings Reach $50,000
Crypto trading bots use a combination of machine learning, artificial intelligence and other advanced technologies to process big data in the crypto market, predict trading signals, and make automated trades based on those signals.
Choosing the right crypto bot is crucial if you want to make money trading crypto. Here's what you need to know about some of the best options.
10 Best Crypto Trading Bots
These are some of the best crypto trading bots based on consumer reviews and research:
Keep in mind that many disreputable, dysfunctional and even illegal crypto trading bots exist. It's important to read reviews, talk to professionals in the field, and choose a bot that you can trust before you start your crypto trading career or hobby. Some crypto trading bots offer a free trial so you can decide if the app is the right one for you before you invest any money.
1. 3Commas
3Commas is widely regarded as one of the best crypto trading bots for its ease of use and wide range of choices for any level of trader. It offers four tiers of service, including a free app. Beginners can set up presets to mimic the actions of experienced traders. 3Commas supports 16 major crypto exchanges, including Binance and Coinbase.
2. Zignaly
Advertised to offer "all of the profit, none of the work," Zignaly helps you copy the moves of top digital asset managers, with no minimum investment required. Unlike many other crypto trading bots, you don't pay a monthly fee. Instead, you only pay when you collect a profit.
3. Cryptohopper
Dubbed the "most powerful" and "most customizable" crypto trading bot, Cryptohopper offers four tiers of service, including a free version that provides access to unlimited Copy Bots, as well as free manual trading. Hold up to 20 open positions per exchange. Advanced offerings provide greater customization and more open positions, plus simulated trading, a strategy designer and other tools for more experienced traders.
4. Coinrule
Designed for beginners and hobbyists up to entry-level traders, Coinrule offers four tiers of service. Beginners might appreciate the capabilities of the Hobbyist level for $30 per month, which offers access to three connected exchanges and up to $300,000 in monthly trade volume. Save 25% when you pay for one year upfront.
5. Bitsgap
Bitsgap allows you to set up proven, tested strategies or create your own strategies and let its smart bots do the work. Bitsgap does not offer a free version, but you can test the Pro level app (normally $119 per month) free for seven days with no credit card required.
6. Trality
Trality is unique because it enables you to rent crypto trading bots created by experts or build your own bot using Trality tools. Choose from the best-performing, most popular or newest bots on the platform. Trality connects with a few of the most popular exchanges, including Binance, Coinbase and Kraken.
7. TradeSanta
TradeSanta provides automated trading through a free trading terminal, making it easy to manage all your investments from one easy-to-use mobile app. You can copy trading strategies from successful crypto investors or choose from a variety of trading signals to create your own strategy. TradeSanta offers four tiers of service ranging from free to $45 per month, with pricing based on the number of bots you can access plus some customized features.
8. Pionex
Pionex is a crypto trading exchange that includes its own crypto trading bot, making it easy to get started as a crypto investor. You can create your own strategy based on your answers to questions or prompts, or describe your trading strategy to have PionexGPT artificial intelligence software create a bot. You can also choose bots from the GPT Marketplace and share in the profits from their trades.
9. HaasOnline
HaasOnline lets you create your own trading bots without requiring any coding knowledge. It is supported by 30-plus common crypto exchanges, and it receives high marks from reviewers on Trustpilot, SourceForge and other consumer review websites. The free package allows you to create and use one bot that can place up to 15 orders per month. High-volume traders can choose from the Standard and Professional packages, allowing up to 10 or 25 trade bots, respectively, with 25 and 50 trades per bot.
10. eToro
EToro is a social trading platform that has its own copy trading bot, CopyTrader. You won't pay any account fees for eToro, but you will pay 1% in transactional charges. For those just getting started, you can learn the basics of crypto trading by following and copying the strategies of top traders. You can even set up a $100,000 virtual portfolio to practice without risk. When you are ready to trade, customize your risk tolerance to protect your investment.
Bottom Line
You can find crypto trading bots that can simplify crypto trading for beginners or enhanced traders. Take advantage of free trials before making your choice.
FAQ
Are crypto trading bots worth it?

Crypto trading bots make trading bitcoin and other cryptocurrencies easy and efficient. They can save time and reduce stress. You don't have to be on your phone or in front of your computer 24/7 to try and sell crypto when it hits a daily high or buy low. If you want to save time and earn passive income day trading crypto, it can be worth it to try using a bot.

Are crypto trading bots profitable?

Crypto trading bots can be extremely profitable if you choose the right one. However, you are not guaranteed to make money trading cryptocurrency. The strategies you program into your bot, market conditions and other factors can make crypto trading using bots profitable or unprofitable.

Are there any legitimate crypto trading bots?

Yes. GOBankingRates analyzed crypto trading bots to find 10 legitimate crypto trading bots that you can rely on to begin trading bitcoin and other cryptocurrencies.

Is using a crypto trading bot illegal?

 Crypto bots are legal and highly recommended to improve your odds of profitability when trading crypto. However, acts that would be considered illegal, such as pump-and-dump strategies or creating a spoof bot, are illegal, whether or not you use a bot.
Information is accurate as of June 20, 2023.