Getting Paid in Crypto? 3 Ways To Protect Yourself From a Possible Scam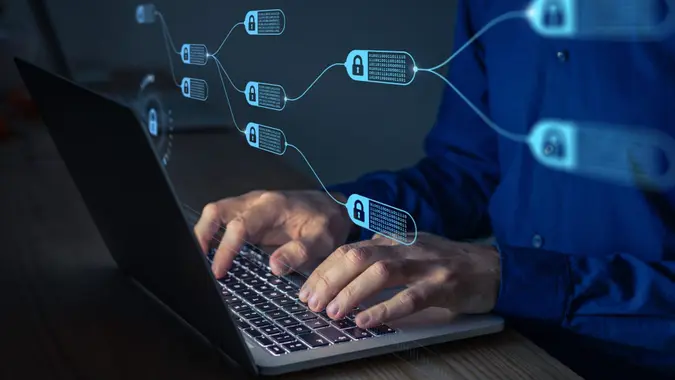 NicoElNino / Getty Images/iStockphoto
Cryptocurrency has become a more mainstream form of payment in recent years, with anti-money laundering service AMLBot reporting that one-third of the American freelance workforce is now being paid in crypto. And while in some cases, this may provide better returns than being paid in traditional currency, it also comes with an increased risk for fraud.
Check Out: 8 Best Remote Jobs That Pay at Least $50 an Hour
Looking To Diversify in a Bear Market? Consider These 6 Alternative Investments
If you are getting paid in crypto, use these tips to protect yourself from a possible scam.
Check the Employer's Wallet
Make sure the crypto wallet your payments will be coming from seems legitimate.
"This can be tricky to determine because you cannot simply ask or identify if the payer is trustworthy," said Slava Demchuk, CTO of AMLBot and the crypto wallet AMLSafe. "Receiving crypto on your account is just the tip of the iceberg. What happens under the hood is much more complex, and this is where the network checks and validates each transaction. Because a person cannot see or track all these processes, anyone can have a small amount of illegal funds in their account without even knowing it. Everything seems fine — until it's not. Even payers you trust can unwillingly put you at risk."
Before you receive any payment, use anti-money laundering screening services — such as AMLBot, Chainalysis or Elliptic — to ensure that it's from a trustworthy source.
Take Our Poll: Do You Think Student Loan Debt Should Be Forgiven?
Choose a Secure Crypto Wallet for Yourself
In addition to checking the legitimacy of the wallet your payments are coming from, you also want to make sure you choose a secure wallet for receiving your payments. Look for safety features like multi-signature authentication and two-factor authentication.
You also want to take into account a few other factors when choosing the best crypto wallet for your needs, such as ease of use.
"Look for one with an easy and intuitive interface, especially if you are a newbie," Demchuk said.
Functionality should also be considered, as Demchuk added, "Determine whether you're interested in long-term safekeeping or active trading, then pick one with the right features."
You may also want to look for a multi-currency wallet.
"Some wallets only support one or two cryptocurrencies, while others offer a much more comprehensive range," Demchuk said. "Choose the one that supports the currencies you want to use."
If you're working with multiple vendors, you may want to have multiple wallets.
"Create one for your trusted contacts and another for high-risk or unknown contacts," Demchuk said. "This will help you keep your funds safe and secure, and minimize your risk in case you receive 'dirty crypto' on one of your wallets."
Choose a Secure Crypto Exchange
To keep your funds safe, choose a trustworthy cryptocurrency exchange.
"Trade crypto only on the exchanges that require Know Your Customer (KYC) verification," Demchuk said.
What To Do If Your Crypto 'Payment' Turns Out To Be a Scam
Even if you take all the precautions, it's possible to become the victim of a crypto scam. If "dirty crypto" — crypto that originates from a hack, criminal activities or unregulated exchanges — is deposited into your account, your wallet can get banned and you could lose access to the funds within it. If this happens to you, there are actions you can take to try to recover your funds.
"You should first dispute the decision with the exchange," Demchuk said. "You can also ask for professional help from companies that offer crypto dispute resolution services and investigations."
It's also possible that the payer themselves was scammed, and sent you a bad payment unknowingly.
"Inform the payer that they may be the victim of a scam and warn them to be extra vigilant in future transactions," Demchuk said. "Lastly, ensure that you never receive any other payments from the same source, and be super careful when dealing with future payments and transactions."
More From GOBankingRates