Housing Market 2023: 1 in 4 Americans Expect To Take Over 5 Years To Save for a Home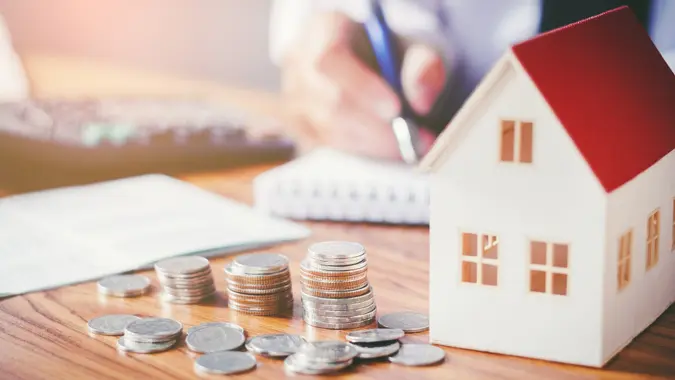 SARINYAPINNGAM / iStock.com
If you're in the market for purchasing a home, you've likely noticed that the prices are through the roof while interest rates continue to climb. This combination has resulted in many potential homeowners accepting that it will take longer to purchase their first home. In fact, a GOBankingRates survey conducted in August found that over 25% of Americans believe that it will take them over five years to save for a home purchase.
Here's a look at the results of the survey and some expert suggestions for how you can purchase your first home much sooner.
Americans Expect To Wait Longer To Save for a Home
According to the GOBankingRates survey, about 1 in 4 Americans — of those who want to purchase a new house at all — expect that saving for a home would take over five years. The current market conditions have many prospective homebuyers concerned about the time it will take to buy their first piece of property. 
Here are some additional takeaways from the survey:
Only about 10% of the respondents who want to buy a new house feel they could do so in the next six months. 
Of those who want to purchase a new home, almost 20% believe they'll never be able to afford real estate.
Only 7.43% of respondents in the 35 to 44 age group believe they could buy a home within the next year, while 36.84% of those in the 55 to 64 demographic believe they could never afford a home. 
Women tended to be more slightly confident that they would be able to buy a house within five years — 55.74%, compared to men at 54.28%.
However, men were slightly more likely to believe they could afford a house in the future at all — 81.28%, compared to 80.09% of women.
The survey displays that many Americans think it would take over five years to buy a home or that they could never even afford to make this purchase. Luckily, there are some options for speeding up this process if you're concerned about becoming a homeowner.
How Can You Save For a House Faster?
GOBankingRates contacted real estate experts who shared various strategies for those who don't want to wait five years to purchase their first home.
FHA Loans
"Home buyers in the U.S. have access to FHA loans, which require only a 580 credit score and a 3.5% down payment," remarked Lauren Keen Aumond, a real estate investor and founder of House Money Media. "With the average household income in the U.S. around $6,000 per month, this means the average home payment can be $2,000. This means the average household can buy a $300,000 home. When you add side hustles or if you work to increase your income, homeownership is not out of reach." Aumond firmly believes that anyone can become a homeowner. 
Did you know that FHA loans have been around since 1934? These loans are enticing because you can have a lower credit score to qualify compared to other loan options, the lender can accept a smaller down payment and the FHA closing costs can be calculated into your loan. If you don't want to wait until you have the money saved up or for housing prices to drop, you should look into FHA loans.
House Hacking
"Most people don't know that you [can] actually buy an investment property with just 3.5% down. How? House hacking," said Cody Berman, a real estate investor who's a huge advocate for house hacking. He added, "As long as you're living in the property, you can get loans for as low as 3.5% down while finding renters for your additional bedrooms or units. After accounting for closing costs, you could buy a $300,000 owner-occupied rental property for as little as $15,000."
With a combination of FHA loans and house hacking, you may not have to wait over five years to save for your first home. You could enter the market in the near future if you start to get your finances in order right now. While having roommates may not always be the most enticing idea, you can get your first property and start building equity.
Look for Underdeveloped Communities and Homes
"I started at the bottom: a duplex in college and then a rough, undesirable condo in Dallas," commented Tom Brickman, a real estate investor and founder of The Frugal Gay.
While it may not be feasible to move into the downtown core of a major metropolis in the next year, you can likely enter the real estate market if you're willing to move into an area on the rise. You don't have to start your real estate journey in the most luxurious community, and you can get started by taking a risk on an undesirable property just to get into the market.
When prompted about his Dallas property, Brickman responded, "I fixed it for over two years while living there, and then I sold it off and moved into a nicer property." The good news is that you don't have to stay in that developing home or community for the long haul. You can put your time in and move on to the next property once you've built enough equity. Brickman took a risk on this condo, because he didn't want to wait much longer to save up for a down payment on a more expensive home. 
"Sometimes, you have to start at the bottom and work your way up," Brickman concluded. The general sentiment from many real estate experts is that if you want to enter the real estate market within the next five years, you will have to make some sacrifices.
Move to a Low Cost Of Living (LCOL) Area
"Depending on the LCOL area you choose to live in, the purchase price for your home could be much lower than the national average, so you'll have a lower monthly mortgage and could also have lower property taxes," remarked Aja McClanahan, a financial writer and real estate agent from Space Coast Move HQ. She's a supporter of moving to a LCOL area to save some money while you build up your equity. 
McClanahan went on to endorse the idea of moving to a LCOL area if you want to enter the real estate market in the near future:
"Another benefit of LCOL areas is that you can save on home maintenance and repair costs. For instance, trades and other services workers may charge less for their services in these real estate markets. If you're fortunate enough to earn a decent salary and can work remotely, living in a low cost of living area can be a great benefit, because the disparity between your income and your cost of living allows you to live more comfortably and save more money."
A low cost of living area tends to have cheaper prices for the basics for average citizens. This means that necessities like food, gas and utilities won't be as expensive as in other parts of the country, so you can make the most of your money. If you're interested in this option, browse the cost-of-living index to see which states have the lowest numbers. You may find a state near the bottom of the list that entices you.
You can also find a LCOL area that suits your desired lifestyle. "There are different types of LCOL areas that can suit your taste and lifestyle. In some cases, it may be a sparsely populated rural area or a busy urban area." McClanahan said that there's a community that could match your preferred way of living in the country.
Closing Thoughts
It's important to remember that everyone is on a different timeline. You may not have to wait over five years to enter the real estate market, depending on your current finances. If you take any of the suggestions in this article, you could have your first property much faster than you originally thought.
Methodology: GOBankingRates surveyed 1,091 Americans aged 18 and older from across the country between Aug. 14 and Aug. 16, 2023, asking twenty different questions: (1) Have you had trouble paying your utility (gas, electric, heat, internet, etc.) bills in the last 6-12 months?; (2) Which of the following bills/expenses has been the hardest to keep up with over the past year?; (3) Have you bought a car/truck in the last 6-12 months?; (4) Have you ever been on food stamps?; (5) Have you or would you use artificial intelligence (AI) to earn a passive income?; (6) Where do you shop for the best deals on groceries?; (7) What is your current annual income?; (8) How much were you able to contribute to your savings this year?; (9) How much have your savings/investments decreased over the past year?; (10) Next year's (2024) Social Security Cost of Living Adjustment (COLA) will be 3% instead of the 8.7% it saw in 2023. Will this affect you?; (11) What assets do you have in your retirement portfolio? (select all that apply); (12) How much money do you currently have saved for retirement?; (13) How much personal savings do you currently have?; (14) What's the first step you would take if you were starting a small business?; (15) If given the choice between your current job and starting your own business, which would you choose?; (16) If you have any plans to start a small business, what is the timeline?; (17) How much do you currently spend on rent?; (18) How much do you currently pay monthly on your mortgage?; (19) How much has your housing (rent, mortgage, etc.) gone up over the past year?; and (20) How long do you believe it will take you to save, in order to buy a house?. GOBankingRates used PureSpectrum's survey platform to conduct the poll.
More From GOBankingRates