2021's Competitive Housing Market: How Pricing, Inventory and More Changed Over the Year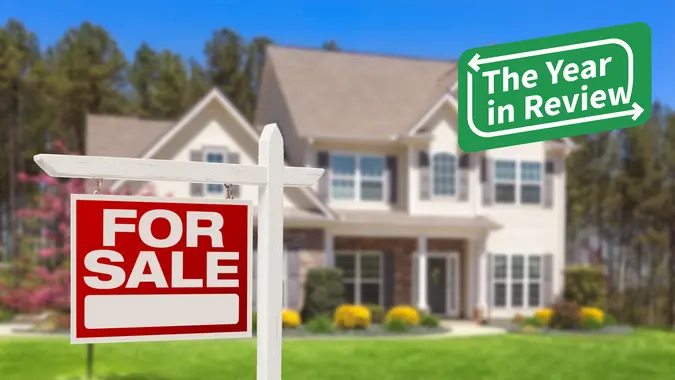 Feverpitched / iStock.com
To say the 2021 real estate market was competitive might be the understatement of the year — at least in many areas. White hot buyer demand from 2020 carried over into the new year, creating headaches for buyers and big profits for sellers.
Good To Know: 20 Home Renovations That Will Hurt Your Home's ValueFind Out: 8 Affordable Ways To Upgrade Your Primary Bedroom
However, buyers will be pleased to hear more houses are slowly creeping back onto the market. A GOBankingRates study revealed that total for sale inventory increased 9.37% this year from January to October.
Inventory hit an all-time low from about May 2020 through May 2021, said Jonathan Spears, a real estate agent and founder of Spears Group, based in Santa Rosa Beach, Florida. However, he said inventory began to slowly increase in June.
"We're still not back to pre-pandemic levels of inventory by any means, but we were at two weeks of inventory in our market that is usually at six months of inventory," he said. "Right now, we're sitting at around two months of inventory, so certainly not anywhere close to where we were prior to the pandemic, but [we're]definitely starting to see the markets normalize a bit."
Learn: Avoid These Home Renovation Horror Stories
As inventory slowly increased, the median list price rose 13.64% from January to October, while the median sale price saw a 13.31% boost from January to September, according to the GOBankingRates study. Home values also experienced 15.32% growth from January to October.
"The 2020 versus 2021 housing market was a pretty exceptional jump," Spears said. "In 2020, we had a slow down across most major markets in the early second quarter to third quarter timeframe — and most of that was caused by the pandemic."
See: 5 Affordable Ways To Make Over Every Room in Your House
Find: 26 Home Makeover Ideas That Each Cost Less Than $500
From there, he said the market took off in the late third quarter of 2020 and never stopped going into 2021. While most real estate firms achieved record-high sales in 2020, he said 2021 has been another banner year — one that exceeded 2020 in overall sales.
"For example, our team did $265 million in 2020, which was a record year for us," he said. "In 2021, we've eclipsed over $400 million-plus, with more to go during the last month of the year, based on that rocket ship that we were carrying into 2021."
Until recent months, Jason Gelios, a realtor in Southeast Michigan, saw the same buying frenzy in his area.
"With the absence of 2020, the housing market accelerated, creating record home sales, with most homes selling for well above asking price, with home inspection and appraisal waivers," he said. "We would see this record-level activity continue until the end of summer 2021."
Discover: Home Improvements That Are Not Legal To Do Yourself
In Southeast Michigan, Gelios said many homebuyers halted their searches, due to the pure exhaustion of losing out to plentiful amounts of competition. Specifically, he said first-time buyers were often far outbid by their more seasoned counterparts.
"Here we are approaching December 2021 with mortgage rates inching upwards and an increase in homes hitting the market," he said. "I believe this is the start of the housing market transitioning towards a buyers' market."
Check Out: 30 Ways To Upgrade Your Home Without Blowing Your Budget
This could be the case, as the difference between sale and list prices increased 19.27% from January through September. As Gelios noted, interest rates are also on the rise.
In 2021 so far, the 30-year fixed mortgage rate has ebbed and flowed, starting at 2.79% in January, rising to 3.05% in October. However, the 15-year fixed mortgage rate has only fluctuated slightly, starting at 2.23% in January and climbing to 2.30% in October.
While the market might be slowly starting to cool, buyers could still find their dream home this winter. Beatrice Genco, a licensed real estate agent in New York, who specializes in South Central Brooklyn, said sellers have made their own rules when it comes to putting their home on the market.
"The trend that I am seeing, because of how COVID affected the market, is that sellers are no longer waiting till the spring or early fall to list — they list when they are ready," she said. "This is because there are plenty of people still looking for a home to call their own."
Not only is that good news for buyers, but those searching for a home will be glad to hear price cuts are on the rise. This could mean the days of competing against sometimes dozens of buyers for a property might become less common.
The share of listings with a price cut surged 46.51% from January through October, according to the GOBankingRates study. Additionally, the average price cut increased 19.42% during this time period.
Only time will tell what the 2022 real estate market will bring, but the numbers indicate it's poised to become at least slightly more pleasant for buyers. This will certainly become a welcome relief for many — especially those who halted their search or opted to delay it entirely, due to the intense competition.
However, despite many numbers trending in the right direction for buyers, it's important to remember that home values, median list prices and median sale prices all steadily increased in 2021. Therefore, slightly higher inventory levels might create less competition on properties, but overall prices could be higher — at least in some areas.
If you're looking to buy, sell or do both in 2022, you'll need to keep a close watch on the ever-changing market to ensure you get the best possible deal.
More From GOBankingRates