3 Ways Gen Z Is Influencing Real Estate Trends — Will Their Moves Hurt Other Generations' Home Ownership Dreams?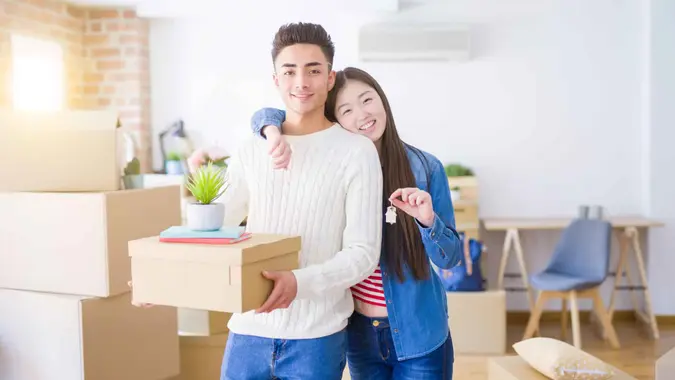 AaronAmat / Getty Images/iStockphoto
Gen Z Americans — alongside millennials, both digitally native generations — seem to be influencing the real estate market.
For instance, a recent Redfin report found there are more Gen Z homeowners than millennials and Gen X Americans at the same age. Indeed, a Redfin report found that zoomers are tracking ahead of their parents' homeownership rate, as 30% of 25-year-olds owned their home in 2022, higher than the 27% rate for Gen Xers when they were the same age.
"Millennials and Gen Zers are living at home longer, getting married later and having children later than ever before so they are essentially passing over the period when past generations would be living in their 'starter' homes," said Dottie Herman, vice chair and former CEO of Douglas Elliman Real Estate.
Herman added that others may have purchased when rates were at historic lows, therefore they are not planning to move anytime soon given current rate highs.
Instead, she indicated that young homeowners in this situation might make some home improvements — or additions — to the home they already purchased, but are broadly planning to stay put.
"There is a growing trend of hybrid remote work, where they will not have to commute as much. As a result, they are moving into homes that are more permanent, where they can stay for a longer period of time," she said.
No More 'Starter Homes'?
When mortgage rates are high, it takes longer to build up equity that can be used for trading up. Therefor, it's very rational that members of Gen Z are thinking about homeownership as a longer-term undertaking, said Danielle Hale, chief economist at Realtor.com.
Hale said Realtor.com's calculations show that with a 3% mortgage rate, it takes less than five years to have paid down 10% of the loan balance. However, it takes six years to reach this milestone with a 5% mortgage rate — and nearly nine years when the rate is at 8%.
"Amid the uncertainty, purchasing a home that one can live in for the medium-to-longer term makes a lot of sense," she said.
Yet, as she explained, life may not play out exactly as expected. Family and career changes are common for younger individuals and can cause plans and housing needs to shift.
Zoomers Snatching up Houses in Regional Cities
This generation has more opportunities to work remotely, and as a result they are opting for smaller cities where there is a better quality of life, more value for their dollar and a more balanced lifestyle, according to Herman.
"Medium-sized cities offer all the things many Gen Z home buyers are looking for and can be better suited to their work-life balance," she said.
And as Hale added, even as buying costs have soared, a recent Realtor.com Rental Report found that the monthly costs of buying a typical starter home in Memphis, Pittsburgh, and Birmingham were lower than renting a similar sized home.
"For Gen-Zers looking to reap immediate financial benefits, buying in low-cost markets can lead to a quick return over alternatives like renting," she said.
Other Gen Z Real Estate Trends
According to Charles Williams, CEO of behavioral data firm Percy, Gen Z is adopting a wait-and-see approach to home buying, as they're young and in no rush to buy.
"Mortgage lenders are just now beginning to cater their home loan products to this important generation," said Williams.
Another phenomenon is that zoomers are the most likely generation to have either moved in with their parents or be open to that kind of arrangement — doing so in order to make ownership a reality, according to a recent Realtor.com survey. 
"With Gen Zers more likely to be single than older generations, but still very interested in homeownership (72% want to own one day), they are getting creative about how to approach an increasingly expensive housing market," said Hale.
How Does All of the Above Impact the Housing Market?
According to Williams, baby boomers are staying put and will likely age in place for the long term. In turn, Gen Z will look to buy newly built homes, which take time to come to market.
"Homebuilders are moving as fast as they can, but keep in mind that macroeconomic issues impact their business… the high cost of materials, and fewer workers available," he said. "For many Gen Zers, buying a home will remain out of reach in 2024."
Matt Dunbar, SVP of Southeast Region at Churchill Mortgage, also explained that the housing tendencies of Gen Z are not in isolation – they create ripples throughout the real estate sector, affecting both the market dynamics and the aspirations of other generations.
For instance, the escalating demand from Gen Z in regional cities might inadvertently elevate property prices there, potentially eroding the very affordability that drew them to these areas in the first place, he said.
"This could make these cities less financially accessible to other generations," added Dunbar.
He added that the general economic landscape — marked by factors such as heightened home prices, rising interest rates, and the resumption of student loan payments — casts a shadow over the homeownership aspirations of not just Gen Z, but all generations.
"As the housing market continues to evolve in response to these myriad forces, it's crucial to recognize that while each generation might have its unique challenges and preferences, the broader economic environment impacts them all," he added.
More From GOBankingRates