32% of American Homeowners Spent 2 to 5 Years Saving for a Down Payment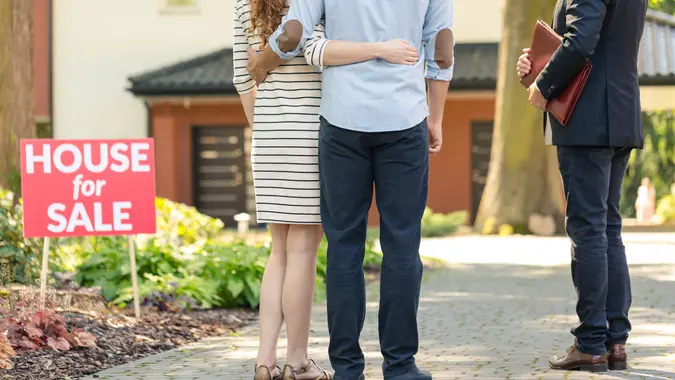 KatarzynaBialasiewicz / iStock.com
How long would you estimate it takes to save money for a down payment on a home? In GOBankingRates' 2023 real estate survey, 1,004 Americans were polled on questions related to homebuying and spending. For 32% of overall respondents, it took two to five years to save up for a down payment. 
Interestingly, 26% of overall respondents said they expect to buy their next home in the next two to five years. If we use the reference point of how long it typically takes to save for a down payment, buyers would need to start saving now to meet their goal of buying sometime between 2025 to 2028.
What does the average down payment look like in 2023? What can buyers struggling to come up with enough money for a down payment do to ensure smart saving? Let's take a closer look at how 32% of Americans spend two to five years saving for a down payment.
Average Down Payment in 2023
Eric Robb, owner and team lead at Robb Realty Group, said in the first quarter of 2023, the average down payment on primary residences was 13%. This is a median amount of $26,250. 
However, Robb said different generations of purchasers will put a different average percentage as a down payment. Purchasers between the ages of 23 to 31 put down an average of just 8% of the home price. In contrast, buyers between ages 76 and 96 put down an average of 30% of the purchase price as a down payment on a home.
"The down payment the bank is going to tell you that you need to qualify for the loan is going to vary greatly from the down payment you may actually need to secure an accepted offer in this ulta-competitive market," said Kelly Provost, broker and Realtor at The Pros Real Estate Services.
Provost adds some loan programs still offer from 0% to 3.5% down. However, the down payment still ultimately shows a buyer's liquidity and their financial strength. 
"Many downsizers are competing in the same market as first-time buyers. You have some coming in with cash offers. Some buyers have sold homes and can put down 40% to 50%," said Provost. "This is important to the seller, as the appraisal may not be as important to the buyer and their lending institution, therefore, would not delay or cause a renegotiation if it were to come in low."
Tips on Saving for a Down Payment
Even as the inflation rate has recently experienced a decline, many potential buyers still need time to save money for a down payment. This is especially true of those who aren't already homeowners and don't have the ability to downsize or sell an existing home and use the proceeds to buy their next home. Here are some helpful tips to save in a smart way starting right now.
Make Real Estate Ownership a Priority
If you want to be a homeowner, you need to prioritize real estate ownership. 
Provost recommends starting by making small financial changes, like bringing your own coffee and lunch to work or driving an older car model instead of buying a new model with a more expensive monthly payment. Some buyers may consider moving in with family for a while, if there's the opportunity to do so, to save on rent.
Prioritize Saving
In addition to prioritizing real estate ownership, Robb said buyers need to prioritize saving money to overcome the challenges of having enough for a down payment.
There are several approaches buyers can, and should, use to do this. These include creating a budget, automating savings, reducing expenses and increasing income.
Explore Assistance Programs
For first-time homebuyers, it is possible their down payment could be as low as zero depending on assistance programs available in the area and if they qualify. 
Dominique Vescuso, broker and owner of Your Home Imagined, uses the example of down payment assistance programs available in California, like Cal-HAFA, which make it possible to purchase a home without a down payment. 
Get Used To Paying the Mortgage Payment
How does this work exactly? Vescuso recommends speaking to a lender now and deciding on what price range of home you would like to purchase. Once you know what your monthly payment will be and if it is more than your current housing payment, start putting the difference into a savings account. By doing so, Vescuso said you will start to become used to paying this amount. 
Set Up Your Down Payment Savings Account at a Different Bank
If the savings account for your down payment is at a different bank than the one you typically bank with, Vescuso said it will take more effort to access the money. "The key is to make it easy to put money in and difficult to take money out."
Pay Off Any Existing Debt
Before you start to save for a down payment, you need to pay off any outstanding debt. 
"Your credit cards should be below 30% for sure, but it is better to have them around 10%," Vescuso recommends. "Most lenders are looking for a credit score of 620 or better. If your debt-to-income ratio is too high, you will not be able to purchase a home."
Do Not Use Retirement Funds 
You may feel tempted to dip into a 401(k) for your down payment, but Robb does not recommend using retirement funds or making risky financial decisions to save for a down payment. 
Remain Optimistic
While the timeline to save for a down payment may seem long to eager buyers and the market feels tough, Provost recommends buyers stay hopeful. 
"The real estate market is constantly evolving. What was once good for buyers is now good for sellers. And someday it will be in the buyer's favor again."
More From GOBankingRates