What Does Homeowners Insurance Cover?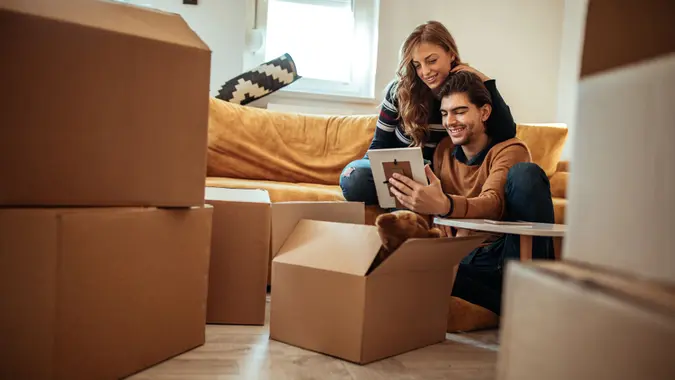 bernardbodo / Getty Images/iStockphoto
Homeowners insurance coverage is a must if you have a mortgage loan, and it's strongly advised even if you don't. It covers damage to your property from a wide range of sudden and accidental events, referred to as perils, and pays legal and medical expenses if someone is injured on your property.
Keep reading to learn how homeowners insurance works, and understand why you need this coverage to protect you against losses from damage to your home or personal property.
What Are the 6 Categories Covered by Homeowners Insurance?
Your home insurance policy offers six categories of coverage:
Coverage A — Dwelling: Covers your home's structure, including the roof, walls, ceilings, floors and anything built in or attached to your home
Coverage B — Other Structures: Covers detached structures such as a garage, fence, shed, pool or playground equipment
Coverage C — Personal Property: Covers personal belongings like furniture, clothing and other contents of your home and detached structures, including items you store elsewhere
Coverage D — Loss of Use: Covers the cost of food, accommodations and other necessary expenses while you're displaced from your home due to a covered peril. Also called additional living expenses coverage.
Coverage E — Personal Liability: Covers damage or injury, such as a dog bite or a fall, to someone on your property. Also covers accidental damage you, your pet or a member of your household causes to another individual or their property.
Coverage F — Medical Payments: Covers the cost of medical care for someone other than a member of your household who is injured on your property
Who Needs Homeowners Insurance?
People who have a mortgage loan on their homes are required by their lenders to have homeowners insurance coverage. The insurance protects the lender's investment in your home by ensuring that your home will be repaired or rebuilt in the event of damage from a covered peril. It also protects you from losing your home as a result of a lawsuit stemming from an injury that takes place on your property.
You're not required to have homeowners insurance after your mortgage loan is paid off, but it's still a good idea. If you were to suffer losses in a major catastrophe such as a fire, it's unlikely that you could repair or rebuild your home and replace your belongings out of pocket without suffering serious financial hardship. 
What Does Homeowners Insurance Cover?
Homeowners insurance coverage varies by policy type. The policy types are referred to as "forms," and they differ in terms of the types of property and the types of perils they cover. 
HO-1: Basic Form
A basic-form policy is the most limited type, providing coverage for 10 "named" perils — meaning it only covers the perils specifically listed in the policy. The named perils include:
Fire and lightning
Wind and hail
Explosions
Aircraft
Smoke
Vandalism
Vehicles
Theft
Riots and civil unrest
Volcanic eruption
HO-1 policies don't provide liability or personal property coverage, according to Progressive. Because it's so limited, most states have discontinued HO-1 insurance, and mortgage lenders generally don't accept HO-1 policies as meeting their homeowners insurance requirements.
HO-2: Broad Form
Broad-form insurance expands on the named perils covered by basic-form insurance, adding the following: 
Falling objects
Weight of snow, sleet and ice
Flooding from your appliances, plumbing, HVAC or fire-protection sprinkler system
Damage to electrical parts caused by artificial electrical currents
Glass breakage
HO-3: Special Form
Special form is the most common homeowners insurance, accounting for about 80% of policies for owner-occupied homes, according to the National Association of Insurance Commissioners. HO-3 policies provide "all-risk" coverage. Unlike named-perils coverage, all-risk coverage, sometimes referred to as "open-peril" coverage, covers anything, including perils covered by HO-2 policies, not specifically excluded by the policy. Specifically excluded events include earthquakes, war, government action and nuclear hazard.
HO-3 policies include coverage for personal liability, medical expenses and loss of use of the property. Note, however, that personal property is covered on a named-peril basis. In the case of certain types of personal property — "scheduled" property such as jewelry, furs, art and electronics — coverage restrictions and limitations apply. 
HO-5: Comprehensive Form
HO-5 insurance is similar to HO-3 except that it covers personal property on an all-perils basis. And whereas HO-3 policies base coverage for personal property on the items' actual cash (depreciated) value, HO-5 policies cover your belongings for the cost to replace them.
HO-6: Condo Form
You'll use HO-6 insurance if you own a condo. These policies provide coverage for personal liability, personal property and additional living expenses, but not common areas covered under the condo association master policy.
HO-7: Mobile Home Form
Also referred to as mobile home policies, HO-7 policies protect your investment in your mobile or manufactured home. They provide similar coverage as an HO-2 broad-form policy.
HO-8: Modified Coverage Form
HO-8 modified coverage is named-perils insurance for homes that were built 40 or more years ago. Older homes require different insurance because changes in building materials, processes and standards can make them more expensive to repair or rebuild. In some cases, the cost can exceed the property's value — a situation that might make a home difficult to insure using other forms.
Coverage Limitations
Even comprehensive insurance coverage has built-in limitations.
Deductible
Your insurance policy deductible limits your reimbursement amount right out of the gate because it's subtracted from your claim, leaving you to pay an initial amount out of pocket before the insurance company pays the rest. 
The deductible is usually a set dollar amount, such as $500 or $1,000, you're responsible for paying on a damage claim. Alternatively, it might consist of a percentage of your home's insured value, according to the Insurance Information Institute. In either case, the lower your deductible, the higher your insurance premium is likely to be because the insurance company is shouldering additional risk compared to a policy with a high deductible. 
You'll usually pay a separate deductible for each claim you file. However, deductibles typically don't apply to liability claims.
Scheduled Personal Property
Insurance companies limit coverage for expensive personal property like antiques, musical instruments, electronics, furs, jewelry, collectibles and fine art. These items are considered "scheduled" property, and standard policies limit coverage to a certain dollar amount.
Review your policy to understand limits on these items.
Other Structures
Some homeowners insurance policies limit coverage for additional structures, landscaping and hardscaping to a certain percentage of the total amount for which you're insured. For example, the limit might be $50,000 if you have a $500,000 policy.
What Homeowners Insurance Doesn't Cover
Homeowners insurance coverage specifically excludes damage from:
Weather-related floods
Earthquakes
War
Nuclear accidents
Landslides
Mudslides
Sinkholes
Settling soil
Hurricanes
Power failure
Pollution
Water backup from sewers or sump pumps
Mold resulting from a non-covered peril
Damage from deferred maintenance is also excluded. Your insurance would cover a necessary foundation repair that resulted from an explosion, for example, but it wouldn't cover damage resulting from poor drainage that could've been remedied. Nor would it cover damage from wood-boring insects, such as termites, that can be prevented with routine maintenance. Damage from a slow leak would also be considered a preventable maintenance issue.
Expanding Coverage
You can add optional features to your homeowners policy to cover gaps in coverage. These features are called riders and endorsements, and they customize and expand your coverage.
Scheduled personal property: Increases coverage on jewelry, furs, collectibles, electronics, art and other expensive appraised items. Can consist of blanket coverage or coverage for specific items.
Building ordinance coverage: Covers the cost of demolition and cleanup if local laws or ordinances require it
Earthquake coverage: Adds earthquakes to covered perils
Sinkhole coverage: Covers damage resulting from sinkhole or ground collapse. In Florida and Tennessee, home insurers must make sinkhole insurance available.
Water backup: Expands water damage coverage to include drain, sewer and sump-pump backups
Identity theft: Pays for losses resulting from theft of your personal information
Green improvements: Lets you replace damaged or lost property with more energy-efficient versions
Short-term rental: Covers damage and liability while your home is rented to short-term guests
Another way to expand your coverage is to insure your home's contents for replacement value rather than cash value. Cash value represents depreciated value, which might not cover the cost of replacement.
How Much Homeowners Insurance Do You Need?
Underestimating how much homeowners insurance you need can leave you vulnerable to major financial losses in the event of a disaster. However, there's no benefit to being overinsured. A little due diligence will help you estimate an appropriate amount of coverage.
Dwelling and Other Structures
You should have enough dwelling coverage to rebuild your home at current costs — not the resale value of your home, which includes land, but the cost of rebuilding the dwelling and other structures. Consider the size of your home as well as exterior and interior finishes, improvements and whether or not your home was up to current building codes. A local builders' association might be able to provide guidance on some of these items.
Personal Property
Most homeowners insurance policies provide coverage for your personal property at 50% to 70% of the insurance on your dwelling, according to the Insurance Information Institute. To determine whether that's adequate for your belongings, create an inventory list of all your personal possessions and estimate their value in two ways: the actual cash value, which reflects depreciation, and replacement value, which replaces items regardless of their cash value. The III notes that you'll pay about 10% more for replacement value. Remember that expensive items might require a scheduled-item endorsement.
Loss of Use
In the event you're displaced from your home while it's being repaired or rebuilt, you'll want enough additional living expenses to provide a reasonably comfortable lifestyle. This coverage will reimburse hotels or rent, meals and other expenses you incur as a result of your displacement. Coverage is generally limited to about 20% of your insurance on your dwelling, according to the III, but that figure varies from one company to the next.
Liability
The standard homeowners insurance policy provides at least $100,000 worth of liability coverage, according to the III. Experts recommend increasing that to $300,000 to $500,000. However, high-net-worth individuals might consider purchasing an excess liability or umbrella insurance policy to protect assets above that amount.
How To Save Money on Homeowners Insurance
According to the most recent data from the National Association of Insurance Commissioners, the average HO-3 homeowners insurance premium for a home valued at $300,000 to $399,000 was $1,496 in 2019 and was increasing more than 2% per year. These tips will help you get the most value for your money:
Improve your credit: Your premium is based in part on your insurance score. Your insurance score represents your risk of filing a claim. Insurers calculate it by looking at the claim histories of policyholders with similar credit profiles.
Reduce risk: Add or update safety equipment such as smoke detectors and home security devices, and avoid dangerous equipment like trampolines.
Review your deductible: A higher deductible can reduce your insurance premiums. Consider opening a savings account with the amount of your deductible to guarantee you'll have the cash on hand in the event you need to file a claim.
Bundle your policies: Purchasing home and auto insurance from the same company can earn you a discount on both policies.
Shop around: Compare companies, rates and coverages to look for the best deal.
Prepare for the Worst
No one likes to think about losing their home or belongings to a catastrophic event. When the worst does happen, however, comprehensive homeowners insurance coverage is your best bet for protecting your investment. Although your homeowners insurance cost might be steep, it's a small price to pay for peace of mind.
Barri Segal contributed to the reporting for this article.
Our in-house research team and on-site financial experts work together to create content that's accurate, impartial, and up to date. We fact-check every single statistic, quote and fact using trusted primary resources to make sure the information we provide is correct. You can learn more about GOBankingRates' processes and standards in our editorial policy.