5 Major Metro Areas Where Homes Are Massively Undervalued and Overvalued (and What It Means for Their Housing Markets)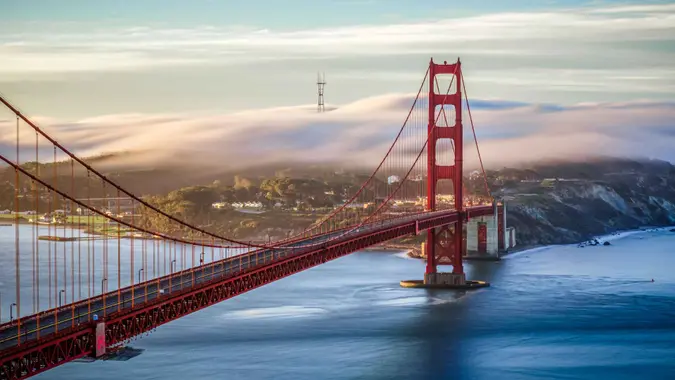 Eloi_Omella / Getty Images
Just over a year ago, research firm Moody's Analytics claimed that the home values in 97% of the largest housing markets in the U.S. were "overvalued" and due for a fall in house prices of between 5% to 10%.
Shifting the focus to this year, of the 404 metropolitan statistical areas it looked at, Moody's found that little has changed. Almost 96% are overvalued and among those 387 markets, 157 are overvalued by at least 25%, including large markets like Austin (36.62%), Nashville (46.66%) and Tampa (37.56%).
17 markets were deemed "undervalued," including major hubs like Chicago (-2.10%), Baton Rouge (-3.37%), and the two most undervalued housing markets in the country, California's San Francisco (-25.66%) and San Diego (-21.38%).
However, many of these overvalued metropolitan areas saw price corrections during the second half of last year as house prices began to decline and household incomes started to rise, per Fortune.
Overall, the American housing market was overvalued by 16.85% in the first quarter of 2023. This is down significantly from the second quarter of 2022, when Moody's determined the U.S. housing market to be overvalued by 26.98%.
How Moody's Analyzes the Housing Market
Moody's regularly provides Fortune with analysis of U.S. housing markets to get an indication of which housing markets are at risk of a home price correction — and whether local income levels could support local home prices.
"The Moody's Analytics housing valuation measure is the percent difference between actual house prices and house prices historically consistent with wages and salaries per capita and construction costs," explained Moody's Analytics chief economist Mark Zandi. "The price of a house is ultimately determined by the value of the land upon which it resides which is tied to the opportunity cost of the land as measured by wages and salaries, and the cost to build the home.
"Nationwide, approximately one-half of a home's value is the land and the other half the structure, but this varies considerably across the country," adds Zandi. "In San Francisco, for example, the land is far and away the biggest part of the home's value, while in Des Moines, Iowa, it is the opposite. Our housing valuation measure accounts for these differences."
While the cities that rank among the most overvalued have the greatest chance of home price declines, identifying cities where homes are grossly undervalued or overvalued can be subjective and dependent on various factors such as local market conditions, economic trends and other demographic factors.
Fortune is quick to point out that housing markets can be considered overvalued for years and that a drop in average home prices isn't guaranteed by high values or occasional dips in overvalued markets. "When fundamentals do improve, it's often through rising incomes — not falling home prices," Lance Lambert, editorial director for Fortune Education, indicated.
However, some experts are anticipating significant housing market downturns by the end of next year as the housing boom generated by the pandemic levels out. As the New York Post reported, a recent Goldman Sachs note to clients predicted that home prices in many large cities will experience double digit declines by the fourth quarter of 2024.
Although Goldman predicts that many Northeastern, Southeastern and Midwestern markets could see milder housing corrections, overheated housing markets in the Southwest and Pacific coast "will likely see boom-and-bust declines of more than 25%." Four areas in particular — San Jose, California; Austin, Texas; Phoenix, Arizona and San Diego, California — were identified as the cities who became the most detached from fundamentals during the pandemic and are the most likely to see severe price declines in 2023.
According to Moody's U.S. housing market map, here are the seven largest undervalued and overvalued markets in the U.S. for Q1 of 2023:
Undervalued U.S Housing Markets
7. Redding, California: -5.04%.
6. Chico, California: -5.35%.
5. Montgomery, Alabama: -5.62.
4. Santa Rosa-Petaluma, California: -6.24%.
3. Morgantown, West Virginia: -8.97%.
2. San Jose-Sunnyvale-Santa Clara, California: -21.38%.
1. San Francisco-Oakland-Berkley, California: -25.66%.
Overvalued U.S. Housing Markets
7. Victoria, Texas: 60.14%.
6. Kahului-Wailuku-Lahaina, Hawaii: 64.62%.
5. Muskegon, Michigan: 68.36%.
4. Rome, Georgia: 71.69%.
3. Pocatello, Idaho: 74.77%.
2. Sherman-Denison, Texas: 81.68%.
1. Dalton, Georgia: 82.79%.
More From GOBankingRates