53% of Gen Z Say They'll Buy a House Within 5 Years — Is This Realistic?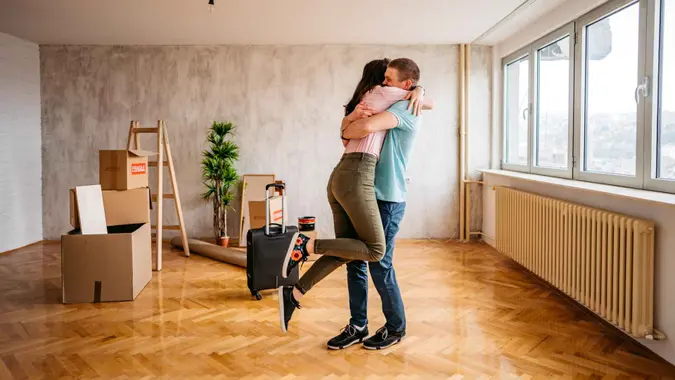 urbazon / Getty Images
According to a recent survey by GOBankingRates, more than half of Gen Z respondents want to buy a house within the next five years. But is this realistic?
Housing affordability continues to decline with record-high prices and increasing interest rates. Mortgage, insurance and property taxes are getting more expensive each month, and with low inventory across the U.S., first-time homebuyers are struggling to afford a home.
Let's dive into the survey details to see how Gen Z is faring with increased housing prices — and determine if they can actually afford a home in the near future.
Does Gen Z Have Enough To Buy a House?
In GOBankingRates' survey, a poll was taken on the current savings account balance for all respondents. Unsurprisingly, older generations had more money in the bank than younger generations.
Specifically, of the Gen Z respondents (those in the 18-24 age group), less than 35% had over $3,000 in savings. Twelve percent said they don't have any savings at all, and 35% said they had $1,000 or less in the bank. These aren't promising numbers, considering the high down payment costs of mortgages.
This doesn't mean that Gen Z can't save up down payment funds in the coming years, but coming up with tens of thousands of dollars in just a few years might prove to be a challenge.
Current State of the US Housing Market
In addition to low savings balances, the odds are stacked against Gen Z to buy a home because the state of the current housing market is dismal. Housing affordability has dropped to levels lower than 2007 (just before the housing bubble burst), according to the Federal Reserve Bank of Atlanta.
Using data from the Home Ownership Affordability Monitor (HOAM) index, housing costs around 43% of the median household income. Since a house is considered "affordable" when its costs only amount to 30% of the median income (or less), 43% is some of the worst affordability seen in at least 20 years.
Here's how the June data breaks down:
Median home price: $372,825
Median income: $76,072
Interest rate: 6.7%
Median monthly P&I: $2,168
Total median monthly payment (P&I, taxes, insurance, PMI): $2,737
Annual total payment share of median income: 43.2%
Considering interest rates have ticked up to over 7% and median home prices haven't dropped much, the data is actually worse than originally reported. 
How Much It Costs To Buy a Home
With increased interest rates and higher taxes to go with inflated home prices, paying for a new mortgage is getting very expensive. But it's important to not only consider the monthly costs, but the upfront costs to buy a home as well.
Here's a breakdown of the upfront costs of buying a home (using a $400,000 house example):
Down payment: For Gen Z, they may qualify for a low down payment through the first-time homebuyers program through the FHA. This requires 3.5% down, which would equal $14,000 on a $400,000 home. 
Closing costs: Closing costs can be negotiated, but buyers usually have to come up with 2% to 5% of the total home price. This means paying an additional $8,000 to $20,000, depending on how the purchase is structured.
Moving costs: Moving to a new home comes with costs, such as moving company fees, materials and more. Expect to pay at least $1,000 to move to your new home.
Emergency fund: It's important to have an emergency fund in place before buying a home. Experts suggest at least three to six months of funds in reserves, which might be anywhere from $15,000 to $30,000 (or more). 
In addition to the initial costs of purchasing the home, it's important to consider the ongoing costs of owning a home, including:
Mortgage: Mortgage payments consist of principal and interest payments. The mortgage on a $400,000 house is around $2,600 per month with a 7% APR.
Property taxes: Property taxes vary by location, but are typically around 1% of the assessed home value. If the home is assessed at $400,000, that means around $4,000 per year in taxes.
Insurance: Homeowners insurance costs vary a lot, but can be anywhere from $100 to $500 per month for a $400,000 house.
Mortgage insurance (if applicable): Mortgage insurance is required by lenders when you put less than 20% down on a home. For a $400,000 home, this could be around $150 per month.
Home maintenance: Experts suggest setting aside around 1% of the home value per year for maintenance costs. For a $400,000 house, this would be around $4,000 per year.
So, totaling those costs — $14,000 for the down payment, $10,000 for closing costs, $1,000 to move and $15,000 in an emergency fund — you'd need a minimum of $40,000 saved to buy a $400,000 home.
Ongoing costs are also pretty steep. With a $2,600 mortgage, $333 in property taxes, $250 in homeowners insurance, $150 in mortgage insurance and $333 set aside for maintenance, that's about $3,666 in total costs per month, or $44,000 per year.
Considering Gen Zers make less than $40,000 on average in many states, this would be a stretch.
Steps To Get Ready To Buy a Home
While it may look bleak for Gen Z savers to ever be able to afford a house, there are steps you can take to start saving for a future home purchase.
Check Your Credit Score
Your credit score will determine a lot when buying a home. A good credit score (above 700) will help you get a lower interest rate, and ultimately, a lower monthly payment. 
It's important to check your credit score to ensure you are moving in the right direction. While Gen Zers may not have had a lot of time to build a credit history, it's important to pull your credit report to see where you stand. You can go to annualcreditreport.com and pull a report from all three major credit bureaus for free. This will let you know if there's any negative activity on your credit history, and can help you clean it up to boost your score. 
You can also check your score for free with online credit score monitoring services like CreditWise and Credit Karma. Knowing your score will help you make the right moves to give it a boost.
And speaking of a boost, you can boost your credit score by focusing on making on-time payments, opening up credit accounts (such as a secured credit card) and removing any negative marks from your credit report.
Figure Out How Home Much You Qualify For
Once you know your score, it's important to check with a mortgage lender to understand how much you can qualify for. Mortgage lenders will review your finances and credit history to help determine how much money you can borrow to purchase a home.
Most lenders have a prequalification process that allows you to submit your financial information and run a credit check to qualify you for a home loan. This allows you to see the maximum amount you can borrow, and makes a more compelling offer when you do decide to buy a home.
Save a Down Payment
Once you know how much you can qualify for, it's important to start saving for the down payment. Many first-time homebuyers only need 3% to 5% saved for a down payment, but if you want to avoid private mortgage insurance (PMI), you'll need to save at least 20%.
For a $400,000 home, that means you need a minimum of $14,000 to $20,000 saved, but if you want to put a full 20% down, you'll need to come up with $80,000. This may take some time, so the sooner you can start saving, the better.
Can Gen Z Really Afford a House?
Gen Z looks to be in a tough spot for buying a home. With high interest rates, high home prices, high taxes and low inventory, the housing market is a hostile place for buyers right now. And Gen Z hasn't had a lot of time to build up a nest egg of their own, making it even harder to come up with the tens of thousands of dollars required to get a house.
There are a few alternative ways that Gen Z can get into a home, but it might not match their homebuying dreams.
Multifamily home: First-time homebuyers can qualify for a multifamily property purchase (up to four units) with only 3.5% down using an FHA loan. What's more, they can use income from renters to help qualify for a loan. This can lower the barrier to entry to buying a home. Plus, if you get a good deal, renters might even totally cover your housing costs each month.
Family loan: If your family has the ability to help with down payment funds, you might consider a family loan to get into a home. While this may cause tension, a well-structured loan agreement may help you buy a home quicker and pay minimal interest on the family loan.
Buy a condo: Condos aren't always as attractive as single-family homes, but they are much cheaper up front. Getting a $200,000 condo is much less expensive than a $400,000 home, and it can get you into the market quicker. Just watch out for high homeowner's association (HOA) dues.
The other option to getting into a home is simply building up more income streams outside of your day job to increase your income. This can accelerate your savings and increase your homebuying budget.
More From GOBankingRates