8 Tips To Prep Your Home for Spring Selling Season — and Why It's Worth the Cost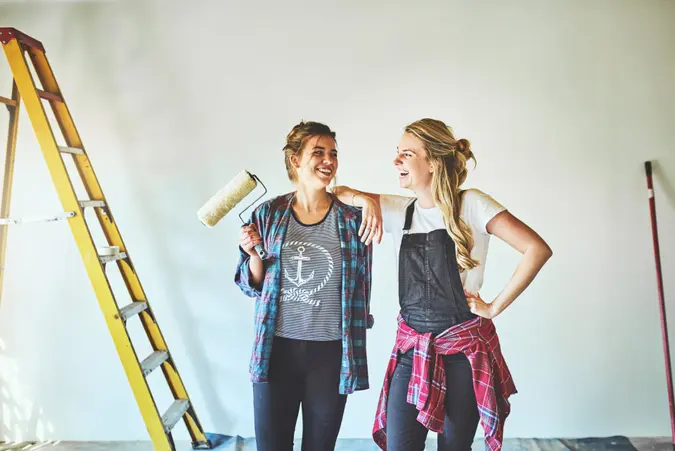 Charday Penn / Getty Images
In many parts of the country, the weather outside is currently frightful, but you're ready to get out of your home — for good. Whether you're moving for business or pleasure, you're preparing to put your house on the market this spring.
"Buyers are visual for the most part, so focusing on things they will see in photos and when they walk into your home should be the main focus," said Ashley Oshinsky, a real estate agent with the James Real Estate Agency, LLC, based in Waterford, Michigan. "Then they think about what will cost them money down the road, so large projects should be taken care of before hitting the market."
Make the Right Moves: Home Renovations That Will Pay You Back
Check Out: Surprising Data Reveals The Top 25 Tax-Friendly States To Retire
If you're willing to put in the work, this should be a profitable move, as 2022 home sales are expected to reach 16-year highs nationwide and in many metro areas, according to Realtor.com. Even areas where declines are forecasted are still expected to have the second highest sales level in the past 15 years — trailing only 2021 levels.
Ready make your home irresistible to buyers this spring? Here are eight tips to make it happen, along with potential costs for each.
Declutter and Clean
It's hard for buyers to get excited about a house that's brimming with clutter, so Oshinsky recommended doing your spring cleaning early.
"The less stuff strung throughout your home, the more spacious it will appear to buyers," she said. "More perceived space equals more perceived value."
Practice Makes Perfect: 5 Affordable Ways To Make Over Every Room in Your House
Understandably, people also have a hard time picturing themselves living in a dirty home, so she said now is the time for a deep clean.
"The cleaner the space, the more buyers will think you took care of the house, which equals more value in their eyes," she said.
These activities will take time to complete, but they require little-to-no monetary investment. In fact, you might even be able to make money selling items you get rid of during the decluttering process.
Paint the Interior
Nothing changes the look and feel of a room like a fresh coat of paint. Oshinsky advised making this update, but choosing the colors wisely.
"Stick to neutral tones like off whites, gray whites or light grays," she said. "In small spaces, lighter colors make the space appear bigger."
If you opt to tackle this project on your own, plan to spend approximately $100 to $300 for a 10-by-12-foot room, according to HomeAdvisor. Alternately, having a professional do the work will cost you around $2 to $6 per square foot.
The Economy and Your Money: All You Need To Know
Deferred Maintenance
It will likely be the most expensive task on your list, but Oshinsky said completing big projects like repairing or replacing your roof or furnace will save you money in the long run.
"If you take care of it before hitting the market, the cost is in your control," she said. "If you wait until you hit the market you'll be at the buyers mercy of how much they think the job will cost."
For reference, the average cost to replace a roof ranges from $8,700 to $22,000, according to Angi. Less expensive, but still pricey, you can expect to spend approximately $5,500 on a new furnace.
Read: 20 Ways To Pay Less at Costco
This might seem like a lot to spend on a house you're planning to sell, but Oshinsky said buyers will see the value in this type of improvement.
Power Wash the Exterior
If the exterior of your home is literally dirty, buyers will likely give it a hard pass from the street. Therefore, Eric Kucharik, a real estate agent and team leader with Realty One Group Supreme, based in Quakertown, Pennsylvania, advised power washing the outside before putting it on the market.
"Curb appear is essential," he said. "If your house looks dirty, then buyers will skip your pictures and never see the amazing kitchen."
The average cost to power or pressure wash a home is $295, according to HomeAdvisor.
Discover: 22 Side Gigs That Can Make You Richer Than a Full-Time Job
Landscaping
Speaking of curb appeal, Mercedes Smith, a real estate agent with Equity Real Estate, based in Salt Lake City, Utah, said landscaping is another key part of this.
"Investing even a small amount in landscaping and trimming can make a world of difference to buyers as they first approach your home," she said. A fresh mow of the lawn, along with a few fresh flowing plants and trimmed bushes will likely only set you back a few hundred dollars at the most."
Related: 30 Ways To Upgrade Your Home Without Blowing Your Budget
Paint the Front Door
Potential buyers might not notice every detail of your home, but they will definitely see the front door.
"For clients who really want to pull buyers in, I often recommend that they paint their front door with a pop of fresh color," Smith said.
If you take on this project yourself, plan to spend $20 to $80 per gallon per can of outdoor paint, according to HomeAdvisor. Alternately, hiring a professional will cost approximately $100 to $500.
Modern Money Etiquette: Should You Pay a Friend Who Does You a Professional Favor?
Update Old Light Fixtures
They illuminate a room, but dated light fixtures can also really age the space. Travis Johnson, a real estate agent and co-owner of MN Nice Home Buyers Inc., based in Monticello, Minnesota, said trading in old light fixtures for new will give your home a bright and modern feel, without breaking the bank.
"You typically can update all your interior lights and exterior lights from a hardware store for under $700," he said. "However, if you hire an electrician, do expect to pay roughly $1,300 to swap out all of your light fixtures at your home."
Economy Explained: Understanding Interest Rates — How They Affect You and the US Market 
Swap Out Old Faucets
Outdated faucets covered with years of calcium buildup will easily date your kitchen and bathroom — and will likely cause buyers to consider the space rather grody. Therefore, Johnson recommends updating them before putting your home on the market.
"Hire a plumber to swap out your kitchen and bathroom faucets, as the modern looks these new facets come out with will ensure you get your money's worth," he said. "You typically will spend $1,000 for labor and parts to update."
More From GOBankingRates