Adjustable Rate Mortgage Demand Spiked 15% — 3 Reasons To Use Caution When Taking the Loan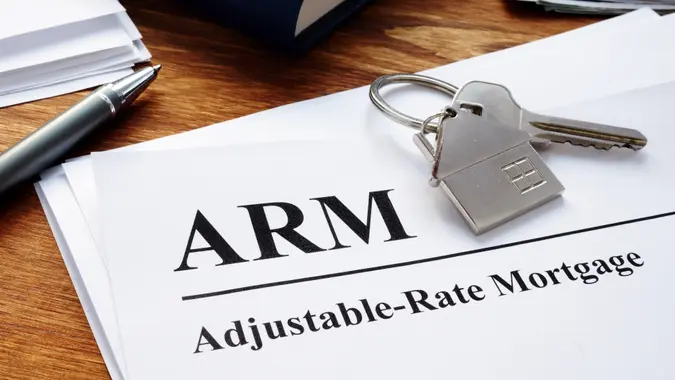 designer491 / Getty Images/iStockphoto
The average interest rate on a 30-year fixed-rate mortgage surged to its highest level in 23 years. Since then, more homeowners have looked to adjustable rate mortgages, or ARMs.
According to the Mortgage Bankers Association's seasonally adjusted index, the average contract interest rate for a 30-year fixed-rate mortgage increased to 7.67% for loans with a 20% down payment, CNBC reported. The average contract interest rate for 5/1 ARMs decreased to 6.33%.
"The level of ARM applications increased by 15% over the week, bringing the ARM share up to 9.2% of all applications, the highest share since November 2022," wrote Joel Kan, MBA's vice president and deputy chief economist, in a release, CNBC reported. "The yield curve has become less inverted in recent weeks and ARM pricing has certainly improved."
An ARM generally comes with a lower rate than fixed-rate mortgages, giving buyers a lower monthly mortgage payment during the loan's fixed period. Because lower interest rates make it easier to qualify, it also means buyers can afford more house than they would with a higher rate.
You could save money on interest, but ARMs aren't the best option for everyone. Here's why.
Interest Rates Could Rise
According to Freddie Mac, the initial period on an adjustable-rate mortgage doesn't change for six months to 10 years, depending on the terms of your loan. The most common ARM terms have an initial period of three, five or ten years. After this period, most ARMS change during the adjustment period.
Your interest rate could drop, but there's also a chance that it could rise. When rates go up, so do your monthly mortgage payments.
Mortgage Payments Could Be Too High
A lower interest rate can make qualifying for a more expensive home easier, but if rates rise, you may not be able to afford the higher mortgage payment. You could lose your home if you can't make payments after the initial period.
You May Not Qualify for Refinancing
Don't count on being able to refinance to a fixed-rate mortgage before your interest rate and monthly mortgage increases. According to the Consumer Financial Protection Bureau, you may not qualify for refinancing if your home's value goes down or something unexpected damages your financial situation.
More From GOBankingRates