Money Expert Barbara Corcoran: Do These 3 Things If You're Buying a Home Now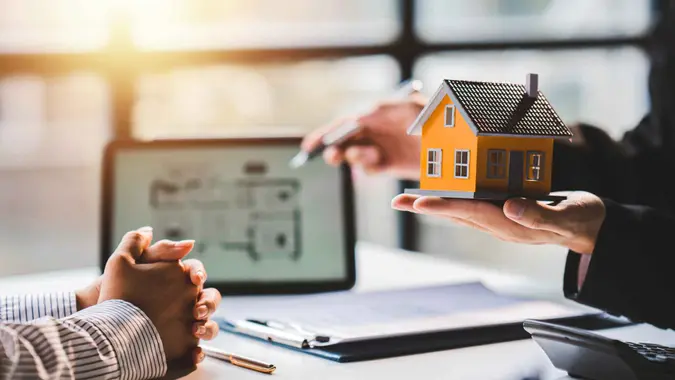 Daenin Arnee / Getty Images/iStockphoto
If you're buying a home now, you're not crazy. In fact, now is the very best time to buy a house, according to money expert Barbara Corcoran.
"The days of the 2 or 3% interest rates are never going to come again," Corcoran said to her Instagram followers. "Forget about that, but they will come down. The minute they drop and come down to anything with a five in front of it, the whole world is going to jump back into the market, there's going to be no houses around and prices are going to go up by 10% or even 15% — so don't get out of the market."
Here are three things Corcoran says you should do if you're buying a home now.
Don't Be Hard on Yourself
The pressures of buying a home are real, but Corcoran says that you don't have to take it so seriously. She recently told her Instagram followers that homebuyers shouldn't put too much pressure on themselves during the homebuying process.
And while she acknowledged that buying a home is a big purchase — possibly the biggest one you'll make in your life — she stressed that this particular purchase doesn't have to be your forever home. Instead, she made the point that you can always "trade up" if you wish. Of course, you can also downsize if that makes more sense.
Take a Realistic Look at Your Budget
Corcoran realizes that your money won't go as far as it used to due to inflation and higher prices. However, she said not to look at the added cost of a house or the added cost of a mortgage. Instead, she said to figure out what your mortgage payment is and ask yourself if you can realistically afford that payment every month. 
Shop Around for the Best Mortgage Rate
"Don't forget to shop for the best possible rate," advised Corcoran. "People don't do this. People go to a mortgage company, of course, but start with your own bank. You might want to ask them, do they have any special discount for a good customer who's been banking with them for a while? It'll very often save you a full quarter percent. Doesn't sound like a lot, but it adds up."
Other Reasons Why Now Is Still a Good Time To Buy a Home
"I completely understand why a buyer would be hesitant to purchase a new home with today's current market volatility," said Michael Brown, senior loan officer at Churchill Mortgage. "However, I do believe this is a good time to purchase a home for several reasons.
"Sellers are very willing to negotiate on price today," he continued. "Most sellers are also willing to pay a portion of the buyer's closing costs. In some cases, the sellers are paying all of the closing costs."
Brown explained that home prices in 2020 and 2021 were appreciating at a very aggressive rate and buyers were willing to pay over the asking price due to limited inventory. Now, there are more homes on the market with fewer buyers, "causing home prices to cool off." 
How To Get Best Mortgage Rate
Besides Corcoran's advice to check with your own bank first, here's Brown's advice for getting the best rate on a mortgage. 
"Inflation has come down a lot, and we believe interest rates will also come down within the next 12 months," said Brown. "Once interest rates do come down, you will see an influx of buyers back in the market. Inventory across the country is still low, and once buyer activity ramps up, you will see home prices increase as well. You may get a lower rate if you wait, but you will also pay more for the same home. Take advantage of the lower home prices and available seller concessions now, and refinance down the road when rates come down. Long term, this strategy will save you a lot of money."
More From GOBankingRates