5 Barriers for Millennial Homebuyers — and How They Can Overcome Them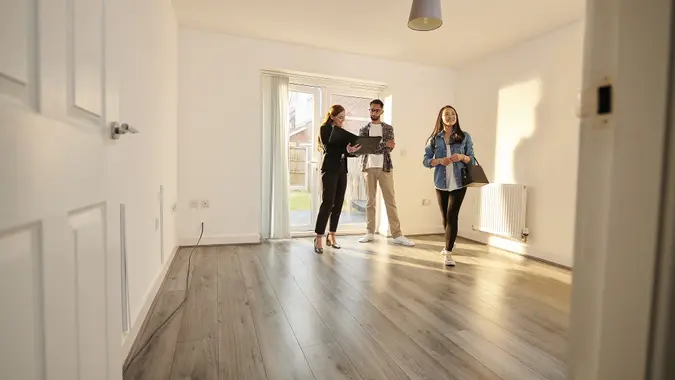 :sturti / iStock.com
It's a tough time to be a millennial homebuyer. When interest rates were low, demand for homes soared, leading to higher prices, and many millennials got priced out of the market.
Mortgage Interest Rate Forecast for 2023: When Will Rates Go Down?
Discover: 3 Things You Must Do When Your Savings Reach $50,000
Now, interest rates are on the rise, which could pose new problems for prospective buyers. Plus, inflation is making it harder to cover basic needs, so putting a down payment on a home might seem out of the question.
Here's a look at the biggest financial barriers millennial homebuyers are facing — and how to best overcome them.
High Interest Rates Are the Biggest Financial Barrier for Millennial Homebuyers
A recent Real Estate Witch survey found that nearly half of millennials (47%) consider high interest rates as a barrier to homeownership. However, there are plus sides to the current rate environment.
Take Our Poll: Are You Planning To Buy or Sell a House This Year?
"Buying a home when interest rates are high is tough, but there are some advantages," said Jaime Seale, data writer at Clever Real Estate. "There's typically less buyer competition, so millennials probably won't find themselves in a bidding war that drives prices up even further.
"As competition wanes, sellers may also be more willing to negotiate their price, as well as other contingencies. As high interest rates cool the market, homes may take longer to sell, which means buyers will have more options and better chances of finding a home in their price range that meets their needs."
Of course, higher interest rates do mean the cost of buying a home is higher. Millennials should do the math and make sure they can actually afford their mortgage before signing on the dotted line.
"Millennials shouldn't buy more house than they can afford; doing so could lead to regret," Seale said. "In fact, 22% of millennials regret that their interest rate is too high — making it the most common regret among millennial homebuyers. Buyers who are unhappy with their high interest rate can, however, refinance when rates start to decline."
Home Prices Are Another Major Barrier
When asked about the biggest financial barriers they are facing, 46% of prospective millennial homebuyers said homes are too expensive. However, there are ways to find a home that can fit into your budget — it just might require some compromise.
"Millennials can make their home purchase more affordable by looking for smaller homes with less square footage," Seale said. "They may also need to look in more affordable neighborhoods, such as those farther away from the city center.
"In some cases, it might be worthwhile to relocate to more affordable regions of the U.S.," she continued. "Obviously, buying a home in Missouri will likely be much more affordable than buying a home in California. Some states will even pay them to move there. Finally, millennial homebuyers can also get cash back from their purchase by working with a real estate agent who offers a homebuyer rebate."
4 in 10 Millennials Don't Think They Can Save Enough for a Down Payment
Forty-one percent of those surveyed said saving for a down payment is a financial barrier to homeownership. But you might not need to save as much as you think.
"Conventional wisdom says homebuyers should put down 20% on a home," Seale said. "There are benefits to putting down 20% up front — you can avoid paying for private mortgage insurance — but it's possible to put down much less. Some government-backed loans require as little as 3%, and loans from the VA and USDA don't require a down payment at all."
There are a number of ways for millennials to save up for a down payment that are more effective than siphoning off a part of your paycheck into a traditional savings account.
"Millennials can open a high-yield savings account, invest in stocks and bonds, work a side gig, cut unnecessary expenses or explore first-time homebuyer assistance programs that make a down payment and closing costs more affordable," Seale said. "More than 2,500 assistance programs exist in the U.S. with different eligibility requirements. Some may offer grants or loans that don't have to be repaid, while others may offer deferred-payment loans that only have to be repaid once you sell the home."
Over a Third of Millennials Worry About Qualifying for a Mortgage
The survey found that 37% of millennials see qualifying for a mortgage as a financial barrier to owning a home. If you're in this boat, there are steps you can take to make your mortgage application more likely to be approved.
"One of the best things millennials can do to make their mortgage application more attractive is to pay off their debt," Seale said. "A low debt-to-income ratio is one of the most important factors that will affect mortgage approval. Paying off debt can also help improve their credit score if it's low.
"Besides a low [debt-to-income ratio], lenders also want to see steady employment and income, so millennials thinking about changing jobs might want to wait until they're approved," she continued. "It also helps to have a large down payment, if possible, because it reduces the lender's risk."
Many Millennials View the Real Estate Market as Too Competitive
Over a quarter of millennials (28%) said the competitive market is a barrier for them. But the market is actually cooling.
"Buyer competition is less of a barrier to homeownership than it was just a year ago," Seale said. "In 2023, 28% of millennials expect buyer competition to be a barrier to homeownership, compared to 59% in 2022."
Even if you do face competition, there are ways to make your offer stand out.
"A good way to stand out is to get pre-approved for a mortgage and submit the approval letter with the offer," Seale said. "It shows the seller that they're serious buyers and can afford the purchase.
"It may not be possible for cash-strapped millennials to entice sellers with financial incentives, such as paying in cash, bringing a large down payment or paying sellers' closing costs," she said, "but there are other ways to sweeten the deal. Millennials can waive contingencies or offer to close on the seller's timeline."
More From GOBankingRates