10 Basics You Need To Understand When Selling Your House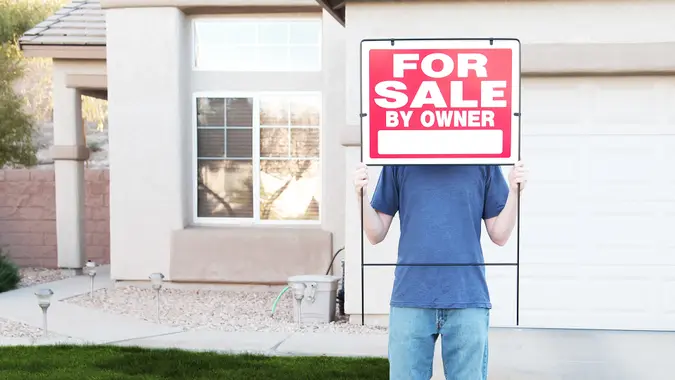 jhorrocks / Getty Images/iStockphoto
You're preparing to sell your home, and you want to learn as much as possible about what's in store. Whether you're a first-time seller or just haven't sold a property in a long time, you're hoping to go into the process as informed as possible. 
To help you learn what to expect, GOBankingRates spoke with two real estate professionals to learn more about selling process. Keep reading to find out what they had to say.
Fees To Expect
Here are some items you should be prepared for when selling.
Realtor Commission
"When you sell a house the most obvious cost is the commission," said Desiree Avila, a real estate agent at Charles Rutenberg Realty Fort Lauderdale, in South Florida. 
Standard real estate commission is 5%-6% of the home's sale price, according to Redfin.
Standard Selling Costs 
The costs sellers have to pay vary by state, Avila said. She said Florida real estate contracts specifically spell out the costs sellers are responsible for paying.
"The settlement fee to the attorney [and/or] title company is not stipulated in the contract," she said. "This is a service for which each party contracts a title company or attorney of choice — cost will vary."
Personally, she said she provides clients with a net sheet that has all the known expenses at the time she puts it together.
"So as long as there are no surprises, they should know most of the costs at the outset," she said.
Costs That May Be Unexpected
They're standard expenses, but Avila said she has seen the following hidden costs take sellers by surprise:
Documentary stamp taxes
Prorated or unpaid property taxes
Outstanding liens or code violations
Unpaid condo maintenance fees
Upcoming property assessments — typically limited to HOAs or condo associations 
Permits not properly closed out
"For example, if any owner or previous owner has not properly paid service providers like roofers or plumbers, there can be a lien against the property for the work performed," she said. "Sometimes the previous title company wasn't thorough enough and they miss a lien."
If this happens, she said sellers have to address it or it can be a deal breaker.
Inspection Issues
"Sellers may have to, especially in the current market, spend money on repairs to appease the buyer and close the deal," she said.
For example, if the home inspector discovers issues with your roof, the buyer might ask you to either make the repairs or provide a credit. Failing to comply could cost you the deal.
Preparing the Property for Sale
"This cost is usually not prohibitive and well worth the investment, as it will pay off when buyers get a good impression of the home," she said. 
She said she cannot emphasize enough how important this step is to ensure you get the most from the sale of your property.
Transaction or Processing Fee
It's possible your agent will charge you a transaction or processing fee that covers costs such as document storage and management. The cost can vary from $295-$625, according to Realtor.com.
"I pick it up for my clients, so it never hurts to ask an agent if they will pick it up for you," Avila said.
Terms You Need To Know
If you're not intimately familiar with real estate, you'll likely encounter several terms during the home-selling process that leave you a bit confused. 
To make this a bit easier, Shaun Martin, owner and CEO of We Buy Houses in Denver, shared and decoded some of the most common terms.
Contingencies
"A contingency is a condition in a contract that must be met for the agreement to be valid," he said. "Common contingencies include financing, property inspections and appraisals."
He said the sale cannot move forward until all of the contingencies have been met.
Earnest Money Deposits
"An earnest money deposit is a payment made by a buyer to show that they are serious about purchasing the property," he said. "This money is typically held in an escrow account until closing and can be used as leverage in case the sale fails to go through."
This is usually 1%-3% of the home's purchase price, according to Zillow.
Listing Agreements
"A listing agreement is a contract between you and your real estate agent that outlines how they will represent you in the sale," he said. "This agreement specifies how much commission they will earn when the property sells, as well as other details such as marketing efforts and listing timelines."
The three types of listing agreements are exclusive-right-to-sell (the most common), exclusive agency listing and open listing, according to the National Association of Realtors.
Escrow
"Escrow is an arrangement where a neutral third-party holds documents or funds on behalf of two other parties until the agreement is complete," he said. "This ensures that all aspects of the sale are completed and that both the buyer and seller are protected."
The title company performs a variety of duties, including title research, escrow account management and overseeing the closing of the property.
More From GOBankingRates