I'm a Real Estate Agent: Here Are 5 Cities Baby Boomers Should Consider Investing in Property for Retirement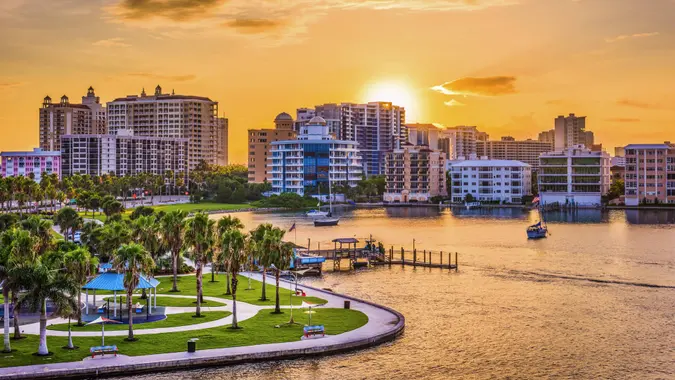 Sean Pavone / Shutterstock.com
Retirement is a huge step in anybody's life, but it can come with a substantial change in your lifestyle. You may be trading in your 9-to-5 for a more relaxing existence or want to become more active with outdoor adventures in the future. Deciding where you will spend your retirement can be challenging. With so many options to choose from, you may not know where to begin. 
We asked realtors from across the country where retirees might want to think about relocating so that they can get the biggest return on their investment. Here are the five cities in the United States where they say baby boomers should consider investing in property for retirement. These cities offer it all, from a lower cost of living and access to outdoor recreation to affordable homes and the potential for rental income.
Sarasota, Florida
Boyd Rudy, a team leader and associate broker with MiReloTeam Powered by KW Professionals said, "Sarasota offers a warm climate, beautiful beaches, a thriving cultural scene, and excellent healthcare facilities. It also has a lower cost of living compared to other popular Florida cities like Miami or Naples."
According to Zillow, the average home value in Sarasota is $466,067 and is up 2% over the past year. Houses tend to sell fast, going pending within around 18 days. Lake Sarasota and Fruitville are two of the most affordable neighborhoods in the city, while Hammocks and Proctor Road are the most expensive.
Asheville, North Carolina
"Known for its natural beauty, mild climate, and vibrant arts community, Asheville is a popular destination for retirees," said Boyd. "It offers a lower cost of living compared to many other retirement destinations, along with access to outdoor activities like hiking and fishing."
The average home value in Asheville, North Carolina, is $457,007. It has gone up 3.8% over the past year. Houses typically go pending within 23 days. 
Take Our Poll: Are You Planning To Buy or Sell a House This Year?
San Antonio, Texas
"Forbes recently included San Antonio on its list of best places to retire – and for a good reason. Not only are median home prices about 30% below the national average but there is also no state income tax," said Delaney Juarez, a realtor for Keller Williams City View in San Antonio.
"So," she continued, "for retirees who are very money-conscious, San Antonio is a great pick. On top of the financial benefits, San Antonio is really attractive because the winters are very mild—though summer gets pretty toasty, it has a really strong community culture, and there are a lot of outdoor spaces to enjoy around the city. San Antonio is also one of the fastest growing cities in the US so that usually bodes very well from an investment perspective."
The Zillow average home value in San Antonio is $267,060 and is up 1% since last year. Homes usually go pending in approximately 16 days, meaning this market moves fast.
Fort Collins, Colorado
According to Brett Johnson, who owns Cash For House Pro, "Fort Collins, Colorado, investment properties offer baby boomers a strong rental market driven by Colorado State University, ensuring consistent demand for student housing."
He added, "With steady growth and appreciation in real estate values, the city presents potential for long-term capital appreciation, making it a valuable asset for wealth-building. Its diverse economy, outdoor recreational activities, excellent healthcare facilities, and vibrant downtown area provide a desirable lifestyle for baby boomers seeking both active living and financial gains."
Zillow's average home value in Fort Collins is currently $566,534, which is down 1.9% over the past year. However, homes move fast, usually going pending in around seven days.
Durango, Colorado
Johnson, who is also an active Colorado real estate investor and licensed Colorado real estate agent, said, "Durango, Colorado, investment properties appeal to baby boomers with a thriving tourism industry, ensuring consistent demand for vacation rentals and rental income." 
He continued, "With its stunning natural beauty, including the scenic San Juan Mountains, Durango attracts outdoor enthusiasts, making it an ideal investment location. The friendly community and relaxed pace of life create a welcoming environment for retirees seeking to enjoy their investment property and embrace the local lifestyle."The average home value is $686,591, according to Zillow. This represents a 2.2% increase over the past year. Properties usually go pending in approximately nine days.
More From GOBankingRates