10 Cities Offering the Best Gains on Vacation Rentals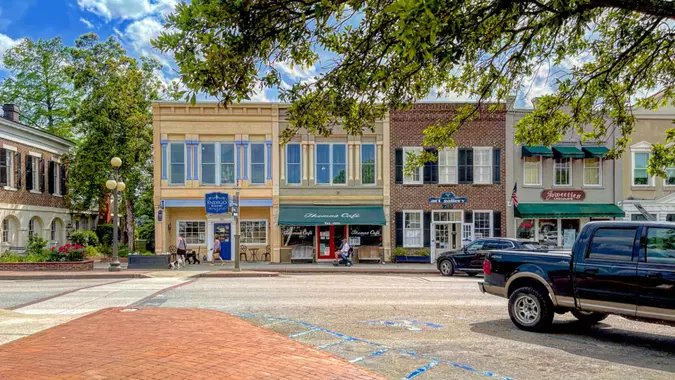 Tony Cane-Honeysett / Getty Images
Those who enjoyed staying at a vacation rental this summer might be contemplating purchasing homes or properties to list as short-term rentals in 2024. But where might this investment really pay off?
To find out, Realtor.com examined the top U.S. markets where short-term vacation rentals have the greatest earning potential. While some of the cities mentioned are found in popular tourist-friendly destinations, others are cities where investors can utilize low home prices to earn a profit.
From the least to highest potential annual profit, these 10 cities offer hosts the best gains on vacation rentals.
10. State College, Pennsylvania
Median home list price: $450,000
Annual mortgage payment: $35,185
Annual revenue potential: $95,778
Potential annual profit: $60,593
9. Olean, New York
Median home list price: $142,500
Annual mortgage payment: $11,142
Annual revenue potential: $72,371
Potential annual profit: $61,229
8. Daphne, Alabama
Median home list price: $525,000
Annual mortgage payment: $41,049
Annual revenue potential: $102,936
Potential annual profit: $61,887
7. Cambridge, Maryland
Median home list price: $275,000
Annual mortgage payment: $21,502
Annual revenue potential: $84,056
Potential annual profit: $62,554
6. Kalamazoo, Michigan
Median home list price: $325,000
Annual mortgage payment: $25,411
Annual revenue potential: $93,485
Potential annual profit: $68,074
5. Georgetown, South Carolina
Median home list price: $462,400
Annual mortgage payment: $36,154
Annual revenue potential: $106,438
Potential annual profit: $70,284
4. Ellensburg, Washington
Median home list price: $749,950
Annual mortgage payment: $58,637
Annual revenue potential: $139,070
Potential annual profit: $80,433
3. Roanoke Rapids, North Carolina
Median home list price: $214,000
Annual mortgage payment: $16,732
Annual revenue potential: $100,306
Potential annual profit: $83,574
2. Kapaa, Hawaii
Median home list price: $1,617,500
Annual mortgage payment: $126,470
Annual revenue potential: $214,023
Potential annual profit: $87,553
1. Crestview, Florida
Median home list price in August: $725,000
Annual mortgage payment: $56,687
Annual revenue potential: $147,997
Potential annual profit: $91,310
More From GOBankingRates