4 Cities on the Rise in 2023 To Consider for Affordable Living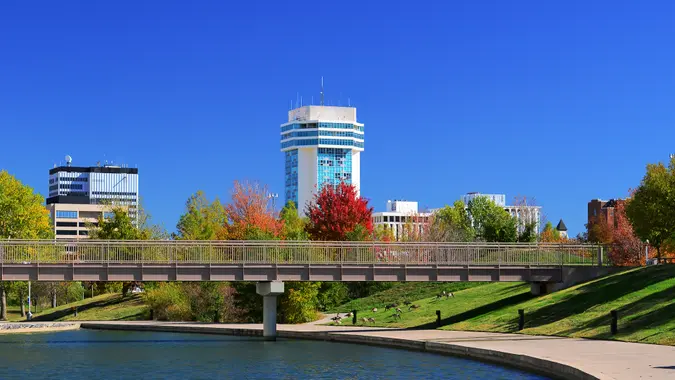 Davel5957 / iStock.com
Over the last few years, remote work freed millions of people to live wherever they wanted, but at the same time, sky-high inflation priced them out of most places worth living. The good news is there are still a handful of affordable cities that are on their way up in terms of factors like jobs, population, living standards and schools.
Read: GOBankingRates' Best Neobanks 2023
More: 3 Things You Must Do When Your Savings Reach $50,000
Also: Unplug These Appliances That Hike Up Your Electricity Bill
Using cost-of-living data from Sperling's Best Places, livability scores from AreaVibes, home values from Zillow and insight from a variety of industry experts, GOBankingRates identified four cities that offer excellent amenities, strong growth and lots to do despite their lower-than-average living costs.
Are you looking for a nice place to live that you can actually fit in your budget? Keep reading to learn about the best affordable cities on the rise this year.
Decatur, Alabama
Cost-of-living index: 80.4
Livability score: 74
You'll spend about 20% less than the national average to live day to day in the river town of Decatur, but you'll still enjoy an excellent quality of life.
"The economy of Decatur benefits from the fact that it is home to one of the most active ports on the Tennessee River and the Marshall Space Flight Center, which is located in adjacent Huntsville," said Owen Redford, founder of the travel website Things To Do. "The Wheeler National Wildlife Refuge, the Carnegie Visual Arts Center, and events like the Alabama Jubilee Hot Air Balloon Classic all contribute to the growth of tourism in the area, which is another important industry for the region's economy."
Despite the Decatur housing market's 18% year-over-year price increases, the typical home there still costs less than $205,000.
"The housing expenditures in Decatur, including mortgage payments and rent, are around 35% less expensive than the average for the whole country," Redford said.
Take Our Poll: What Are Your Financial Priorities in 2023?
Mercedes, Texas
Cost-of-living index: 72.6
Livability score: 70
Home to a little more than 15,000 people, Mercedes scores just between a B and B- in terms of livability — and you'll spend less than $73 there for every $100 you'd spend in a city that mirrored the national average.
"Mercedes offers cost-effective and affordable lifestyles with plenty of entertainment options," said Casey Ames, licensed realtor and founder of the real estate company Gem State Cash Offer. "This is a small city in Texas on the edge of the Mexican Gulf. Home prices are cheap, and more than 70% of the population owns their homes."
"Cheap" is an understatement. The typical home in Mercedes still costs less than $125,000 despite a 17% increase over the last year.
"Other preliminary expenses like utility bills and manageable loan repayment options are also more affordable than in other cities in Texas," said Ames. "To enjoy outdoor activities, there are exotic and lush green golf courses. Different community events are organized all over the year."
Wichita, Kansas
Cost-of-living index: 81.6
Livability score: 60
The tradeoff for Wichita's enviably low cost of living is a livability score that's just OK — but those who know Cowtown insist it's a city on the rise.
"Wichita is an affordable city in Kansas that is experiencing a resurgence," said Alex Capozzolo, a real estate industry veteran and co-founder of SD House Guys. "It has plenty of job opportunities, especially in the healthcare and aviation sectors." 
The typical home there can still be had for just over $185,000 and Capozzolo says the average rent is about $800. "In addition to its affordability, Wichita also offers great outdoor activities and an active arts scene," he said.
According to Forbes, its economic anchors are its historic and still-mighty aviation industry, Intrust Bank Arena, restaurants, entertainment and nightlife venues, shopping centers and colleges, most prominently, Wichita State University.
Noblesville, Indiana
Cost-of-living index: 98.7
Livability score: 86
The cost of living in Noblesville is lower than the national average, but not by much — but the city scores a stellar livability score that's classified as "exceptional."
Joshua Massieh, a mortgage broker and CEO of Pacwest Funding, owns properties in Noblesville and nearby Greenwood, which are on opposite sides of Indianapolis.
"They are affordable cities with relatively low costs of living compared to other cities in the country," said Massieh.
Noblesville's typical home value is roughly on par with the national median — it's even lower in Greenwood.
"Both cities also have relatively low property taxes," Massieh said. "With effective tax rates of around 1.2% in Noblesville and 1.1% in Greenwood. Both cities have a diverse mix of industries and are home to a variety of large employers. Both cities also have access to the resources and amenities of Indianapolis, which is fairly close with no traffic."
More From GOBankingRates