Here Are 10 Cities Where Rent Prices are Decreasing Throughout the United States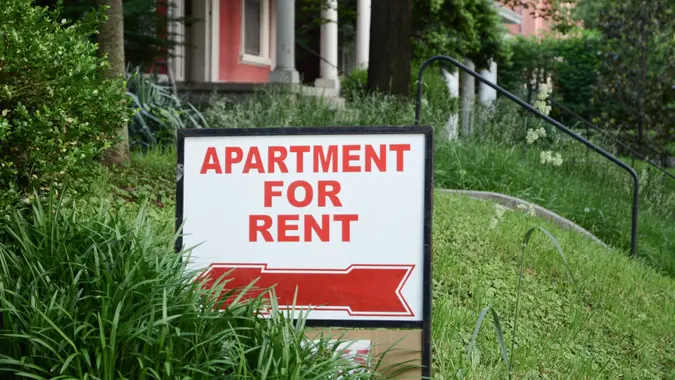 dcsliminky / Getty Images/iStockphoto
If you've been in the market for an apartment recently, you know how deep you'll have to reach into your wallet to come up with rent every month. And there doesn't look like there's much relief in sight.
According to Rent.com, rents have increased nationwide every month since February by an average of 0.89%. Prices rose more than 1.72% from May to June and have grown by more than 3% since April. In the past two years, rents have risen by more than 15.5% in the U.S., boosting monthly rents by more than $275.
Rent.com found the highest year-over-year rent growth in these states:
South Dakota (+27%)
Mississippi (+27%)
Iowa (+16%)
North Dakota (+12%)
New York (+12%)
However, not all the news is bad. Back in March, Redfin reported that the median U.S. asking rent fell 0.4%, the first year-over-year decline in 13 months. And while rent has steadily increased since then, the national median rent price is 1.8% less than it was in August of 2022, when monthly average rents reached $2,053. The median monthly rent for June sits at $2,029.
While inflation has cooled considerably since the four-decade high in June 2022, housing and consumer prices are still inconveniently high. Lack of inventory and affordable rentals, the end of pandemic-era rent freezes, increased demand, and ongoing home buying hurdles are all contributing to the current high cost of rent.
In its July 2023 Rent Report, Rent.com found that prices fell the most in Cincinnati, Ohio (-15%), Austin, Texas (-14%) and Seattle, Washington (-14%) year-over-year for June. Overall, 26 of the 50 most populous metropolitan areas tracked saw yearly declines, with 15 recording rent decreases of more than 3%.  
The five states that have had the largest yearly rent decreases are:
Washington (-7%)
Idaho (-6%)
Arizona (-5%)
Texas (-4%)
Nevada (-3%)
And these are the ten metropolitan areas in the United States that have enjoyed rent continued declines since June 2022:
Chicago-Naperville-Elgin, IL-IN-WI (-4.84%)
Birmingham-Hoover, AL (-5.57%)
Houston-The Woodlands-Sugar Land, TX (-6.66%)
Portland-Vancouver-Hillsboro, OR-WA (-9.52%)
Las Vegas-Henderson-Paradise, NV (-11.49%)
Oklahoma City, OK (-11.49%)
New Orleans-Metairie, LA (-12.26%)
Seattle-Tacoma-Bellevue, WA (-13.56%)
Austin-Round Rock-Georgetown, TX (-13.59%)
Cincinnati, OH-KY-IN (-15.20%)
More From GOBankingRates