I'm a Real Estate Agent: Here Are 3 Cities You Should Not Buy Property in If You Want To Be Rich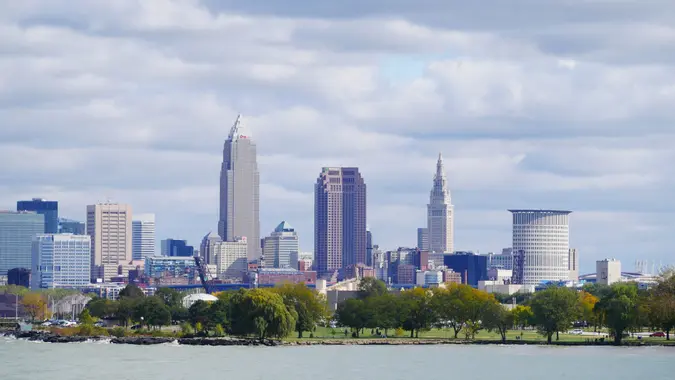 Vernon Stockton / Getty Images/iStockphoto
In real estate, different markets offer different opportunities and risks — there's no such thing as a good or bad city. Long-neglected and overlooked metros can be hot prospects if they offer the chance to buy at the bottom in a town on the rise.
"It is crucial to recognize that investment potential can change over time, and cities may undertake efforts to overcome their challenges and create new opportunities for real estate investors," said Mike Qiu, owner of Good as Sold Homebuyers. "Real estate investment requires meticulous evaluation of numerous factors, including economic trends, population dynamics and local market conditions."
That said, some cities leave too many boxes unchecked for average investors who could probably do better elsewhere. If you're considering buying property in one of the following cities, make sure you're sure before you sign.
Cleveland, Ohio
Several experts mentioned Cleveland, Ohio, as an especially challenging real estate market for even seasoned investors to navigate.
"The city has experienced a decline in population, economic struggles and persistently high poverty rates," said Qiu. "Vacant properties have become a common sight, leading to declining property values and a stagnant real estate market."
Your Investment Cash Should Follow People Into a City, Not Out
Struggling cities poised for a rebound can offer excellent investment opportunities, but they're characterized by people and businesses returning — in Cleveland, the tide is moving in the other direction.
According to Cleveland.com, Cuyahoga County lost 11,767 people between 2021 and 2022 — more than Ohio overall. The year before, the county lost 14,715 people. The Greater Cleveland counties of Lake, Summit and Geauga are also experiencing population declines.
That's not to say it's all bad news in Cleveland.
"There have been revitalization efforts in certain neighborhoods," said Denis Smykalov of Wolsen Real Estate.
The Lincoln Institute of Land Policy chronicled a series of bold, innovative and successful campaigns to restore the city after decades of decline. But even so, Cleveland remains a patchwork of locales whose fortunes can shift unpredictably.
"As with any investment decision, thorough research and consultation with local experts are imperative to make informed choices," said Qiu.
Las Vegas, Nevada
It might be tempting to buy into one of the country's greatest tourism and party towns — but Las Vegas has proven to be an unpredictable market.
"While the city has all of the features of an exciting and attractive destination, it can also be quite volatile for real estate investments," said Carmelo Carrasco, realtor, interior designer and co-founder of Axel Property Management. "Las Vegas' economy is highly reliant on tourism, which makes it susceptible to downturns when the number of visitors decreases. This can lead to decreased home values and difficulty in selling properties, making it hard for investors to turn a profit."
Fittingly, Thrilling Highs and Scary Lows Define the Market
The pandemic put the city's overreliance on hospitality on full display. According to UNLV, the unemployment rate in March 2020 peaked at 30% in Las Vegas, more than double the national rate of 14% as the city put up the "closed" sign to the 42 million visitors it welcomed the year before.
But the market quickly overheated post-pandemic, creating wild swings not seen since "Las Vegas was the poster child of the housing crash of 2008," according to UNLV.
"The housing market in Las Vegas has been experiencing a boom, with prices rising by over 20% in the last year and over 40% since 2011," said Ari Chazanas, president and CEO of Lotus West Properties. "However, this growth is unsustainable and will likely lead to a crash in the coming years."
According to Heidi Rice, writing for Rice Real Estate in Las Vegas, "Increased household formations, institutional investors, iBuyers, pandemic migration, low interest rates and government policy helped create a 24-month perfect storm to inflate real estate values in Las Vegas during 2021 and 2022."
Ryan Fitzgerald, owner of Raleigh Realty, summed it up with local parlance.
"Las Vegas is a gamble right now," he said. "The housing inventory is plentiful, but the market conditions are as unpredictable as a roll of the dice on the Strip."
Stockton, California
According to Zillow, home values in Stockton have increased steadily for the better part of a decade, from $200,406 in 2015 to $419,631 today.
While doubling your money within 10 years might sound attractive, you might be making an investment in California housing inflation in a city that doesn't have the means to support it.
Stockton Is Still Recovering From 2008
Many cities are still reverberating from COVID, but Stockton is still trying to shake off the Great Recession 15 years later. According to the Stockton Record, the city was "Ground Zero for foreclosures," a reality that forced Stockton to declare bankruptcy. Then, political scandal engulfed much of the 2010s before COVID arrived. The result is a market that a local ABC affiliate describes as one of rising prices, high demand, increased construction and a level of unaffordability that has sent home sales falling by 30%.
"Stockton, California, has faced significant hurdles in the aftermath of the 2008 recession, particularly in the housing sector," said Qiu. "The city endured a severe housing crisis, leaving a substantial number of foreclosed properties in its wake. High unemployment rates and crime levels have also hindered the city's economic recovery. While efforts have been made to revitalize Stockton, its current economic challenges and unstable real estate market may dissuade investors from seeking secure and promising investment opportunities."
More From GOBankingRates