Cooling Real Estate Market: 6 Concessions Sellers Should Be Willing To Make (and 4 They Shouldn't)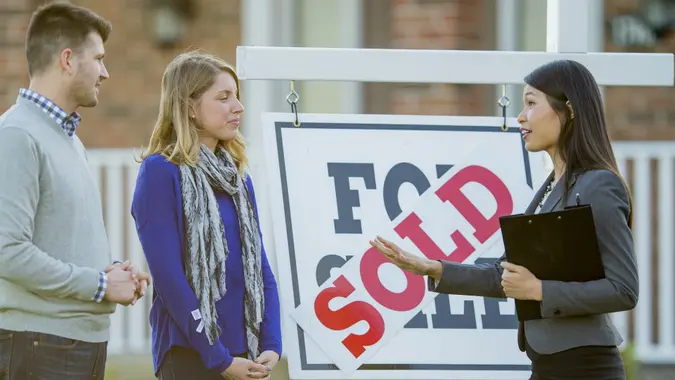 FatCamera / iStock.com
High mortgage rates have led to a cooling real estate market, so sellers are now making concessions to get their homes off of the market, CBS News reported.
Mortgage Interest Rate Forecast for 2023: When Will Rates Go Down?
See: 3 Things You Must Do When Your Savings Reach $50,000
While it may be tempting to give into all of a buyer's demands when you want to get your home sold, there are certain concessions sellers should not be willing to make, according to real estate experts. On the other hand, there are some concessions that are worth making to close the deal.
Here's a look at the concessions sellers should — and should not — be willing to make in the current market.
Concessions Sellers Should Be Willing To Make
"It is no longer enough to simply stick a 'for sale' sign in the front yard and expect quick results," said John Myers, owner-broker of Myers & Myers Real Estate in Albuquerque, New Mexico. "Potential buyers are now requesting more from sellers during negotiations."
Here are the concessions sellers should be willing to make during the negotiation process.
Paying for Repairs
"The slowing of the real estate market has changed how sellers prepare their property for sale," Myers said. "This means sellers may have to make critical home repairs to properly compete in the current market. Making repairs can sometimes be difficult; if this isn't an option, one way of placating buyers may be to offer partial closing costs as a concession toward any required repairs."
Listing at a Lower Price — and Accepting a Lower Offer
Sellers may not be able to get the same prices for their homes that they could during the hot real estate market of the past couple of years.
"With the market shift to higher interest rates, sellers have likely had to adjust their prices accordingly as a result," said Cara Ameer, an agent with Coldwell Banker. "However, a lower asking price does not mean that is the end of give and take for sellers. A seller may need to agree to accept a lower price in a negotiation than they would have a year ago."
Take Our Poll: How Much Salary Would Buy You Happiness?
Interest Rate Buydowns
Buyers looking to reduce the interest rate they are responsible for paying could ask for this seller concession.
"An interest rate buydown concession is very popular right now, whereby the seller gives the buyer a credit to essentially buy down or reduce the interest rate, which can make their monthly payment lower," Ameer said. "The buydown can be temporary — for anywhere from one to three years — or could be permanent."
Assisting With Closing Costs
Closing cost assistance can be an appealing concession to a prospective buyer.
"This can be particularly attractive to first-time homebuyers who may not have a lot of cash on hand to cover these expenses," said Mike Qiu, owner of GoodAsSoldHomeBuyers.com. "By offering to cover part or all of the buyer's closing costs, sellers can make their home more affordable and increase the chances of a successful sale."
Allow for a Longer Closing
"Another concession that may help you sell your home is working with buyers who may need a longer close of escrow," said Julie Upton, a Realtor with Compass Northern CA. "Providing a buyer a 45-day closing may allow them to pull together additional funds or more time to research alternative lending options."
Offering a Home Warranty
"Offering a home warranty can be an attractive option for buyers, as it covers them against costly repairs and upkeep in the event something goes wrong after they purchase a home," said Shaun Martin, CEO of We Buy Houses In Denver. "This is often seen as a sign of good faith from sellers, who are trying to build trust and allay any worries that prospective buyers may have."
Concessions Sellers Should Not Make
While sellers may be tempted to give into a buyer's demands to finalize the deal, there are some concessions that are not worth it for them to agree to.
'Carpet and Painting' Allowance
This is one concession a seller should not make, Ameer said.
"A seller can't give a buyer a credit for any kinds of cosmetic improvements unless they were providing a straight credit towards their closing costs," Ameer said. "They also shouldn't be making any home improvements for a buyer as part of the closing, such as having wood floors refinished, cabinets painted, carpet replaced, etc. It is much better to credit the buyer a negotiated dollar amount towards their closing costs versus agreeing to do any sort of home improvements. Let the buyer handle that after closing with vendors and products of their choice."
Allowing a Buyer To Move in Before Closing
This can be a risky move, so Qiu cautions against making this allowance.
"This concession puts the seller in a vulnerable position," he said. "If the sale falls through, the seller may have a hard time evicting the buyer and getting their home back."
Home for Sale Contingency
Some buyers would like to guarantee their own home sale before finalizing buying a new one, but allowing for this can also be risky, said Ashley Melton, a Realtor in Charleston, South Carolina.
"You not only need to worry about your buyer and closing, but you now have another home that needs to close before yours," she said.
Accepting Lowball Offers
While you should be willing to accept a lower price than asking in some cases, don't accept an offer that's significantly lower just to get your home off the market.
"Lowball offers are often made by buyers who are trying to take advantage of the seller's desperation to sell their home quickly," said Joy Aumann, a licensed realtor and founder of LuxurySoCalRealty.com. "Accepting a lowball offer can result in the seller getting far less than their home is worth, which can be costly."
More From GOBankingRates