Condo Values Have Fared Better Than Single-Family Homes — Where Have Prices Fallen the Most?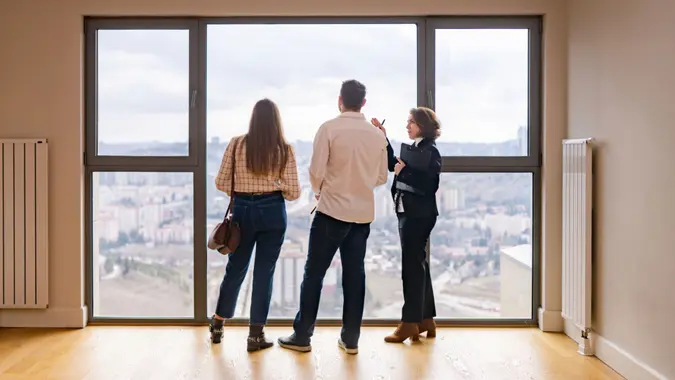 recep-bg / Getty Images
The recent dip in U.S. home prices has some housing analysts warning of a potential collapse in 2023, though if it happens, the pain won't be evenly distributed across the country. Some regions and states will feel the impact more than others. The same concerns apply to home types, with condominiums likely to hold their value better than single-family homes.
See: 7 Florida Cities That Could Be Headed for a Housing Crisis
Find: Should You Still Buy a Home in Today's Market?
Condo prices are much more resistant to price contractions right now as compared to single-family homes, according to a new study from real estate search portal Point2 Homes. It analyzed condo and single-family home prices in the 100 largest U.S. cities from May through October 2022.
Among the study's findings was that, when compared to their spring price peak, condo prices contracted by only 4.4% nationally vs. 8.6% for single-family homes. Condo prices decreased in 65 of the 100 largest markets, while single-family home prices fell in 88 markets.
Much of the difference has to do with buying patterns during the COVID-19 pandemic.
"When the pandemic forced everyone to cram their entire life inside their homes, spacious, single-family homes (preferably with a backyard) became a must," the Point2 study stated. "Consequently, homebuyers went into a real house hunting frenzy, jumpstarting a period of bitter bidding wars and rapidly escalating asking prices."
High Prices Lead to Softening Housing Market
The high prices for single-family homes sent many house hunters in search of more affordable options. This helped drive demand for condos, leading to higher prices in that market as well — particularly earlier in the year.
A report from Redfin found that the typical U.S. condo sold for a record $319,000 in February 2022, up 14.6% from a year earlier and 22.7% from two years earlier. That was still a bargain compared to single-family homes, however. That same month, single-family home prices hit a record $406,000, up 15.9% from a year earlier and 34.9% from two years earlier.
Now that the U.S. housing market is softening, single-family homes are going through a "dramatic price correction," according to Point2. That's not the case with condos. As Point2 noted: "Increasing demand for condos makes prices in this segment hold up much better than single-family home prices."
That doesn't mean you can't find good deals on condos. Even though prices have fallen only 4.4% nationally since their spring peak, some cities have seen much steeper declines.
Take Our Poll: Do You Think People Should Invest In Crypto?
More: 6 House Items Buyers Never Regret
If you're in the market for a condo and have the flexibility to move, here are the 10 U.S. cities that showed the biggest median price decreases between May and October 2022:
| | | | |
| --- | --- | --- | --- |
| City | Median condo price (May) | Median condo price (October) | Decrease |
| Stockton, California | $252,500 | $180,000 | 29% |
| Raleigh, North Carolina | $318,750 | $238,750 | 25% |
| New Orleans, Louisiana | $350,000 | $270,000 | 23% |
| Omaha, Nebraska | $248,000 | $195,900 | 21% |
| Glendale, Arizona | $221,000 | $175,000 | 21% |
| Oakland, California | $647,500 | $525,000 | 19% |
| Cincinnati, Ohio | $220,000 | $181,500 | 18% |
| Durham, North Carolina | $270,500 | $225,500 | 17% |
| Austin, Texas | $497,350 | $417,500 | 16% |
| Sacramento, California | $364,000 | $307,000 | 16% |
More From GOBankingRates