January's CPI Shows Housing Prices Are Still at an Above-Average High — Should You Wait To Buy?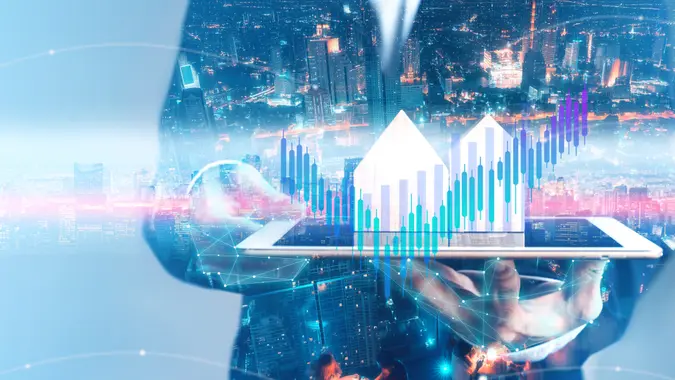 Wiphop Sathawirawong / Getty Images/iStockphoto
Inflation is a temperamental event, as a half-year of scattered declines across many key consumer price index (CPI) categories has led some experts to backtrack on their recession predictions for 2023. However, January's overall unadjusted 12-month inflation rate declined only 0.1% — and the month-over-month CPI rose 0.5%.
Stretch Retirement Savings: Experts Recommend 5 Expenses To Cut Easily
Find: 3 Things You Must Do When Your Savings Reach $50,000
With housing prices ("shelter" in the CPI tables) still high, it's hard to get a read on when exactly the right time is to buy. The index for all items minus food and energy increased 0.4% from December to January, influenced, in part, by the 0.7% rise in the shelter index, which makes up 34% of the inflation index. Per January CPI data, shelter costs have risen 7.9% year-over-year (YoY).
Industry Providers' Data Is More Encouraging Than CPI Numbers…
But, as Forbes noted, industry data from both Redfin and Apartment List paint a different, slightly rosier picture of housing price trends over the past 12 months than Tuesday's CPI shelter cost index suggests.
Due to differences in calculating shelter costs, the housing analysts at Redfin had U.S. home prices up just 1.3% year-over-year in December, while Apartment List's Feb. 2023 National Rent Report shows an increase of 3.3% in rental costs YoY and dropping. Forbes stated that discrepancies in these analyzed costs come from the CPI using a six-month weighted average in its calculations, while other industry data providers base their numbers on more up-to-date pricing.
…But the Housing Market Will Continue To Be Turbulent in 2023
Despite the marginally better stat lines from Apartment List and Redfin, the housing market has been in decline for some time — and now might not be the ideal time to buy a home. Considering the wide gap between home prices and consumer income, plus increased housing supply and high mortgage rates that are currently hindering sales, prices might not drop and balance out the market until later in the year.
As Doug Duncan, Fannie Mae senior vice president and chief economist, stated in his company's National Housing Survey statement last week, rates and prices continue to discourage prospective home buyers.
"January's HPSI [home purchase sentiment index] results showed that consumer sentiment toward the housing market remains subdued by historical standards," said Duncan. "For consumers, the same affordability issues are persisting, as they continue to indicate that high home prices and high mortgage rates make it a 'bad time to buy' a home."
Many housing pundits at KPMG, Goldman Sachs and Morgan Stanley are predicting houses will become more affordable and that the market will rebound this year. However, according to Business Insider, home prices are nearing unaffordability levels seen in the early 1980s, per National Association of Realtors' Housing Affordability Index data.
Take Our Poll: What Are Your Financial Priorities in 2023?
More: Is the Real Estate Market Ready for a Comeback? It Depends on Who You Ask
Until would-be buyers see reasonable prices attached to "for sale" listings, they might wait for signs of life in the housing market before they buy.
More From GOBankingRates