Despite Inflation, Almost 90% of Homeowners Renovated Over the Last Year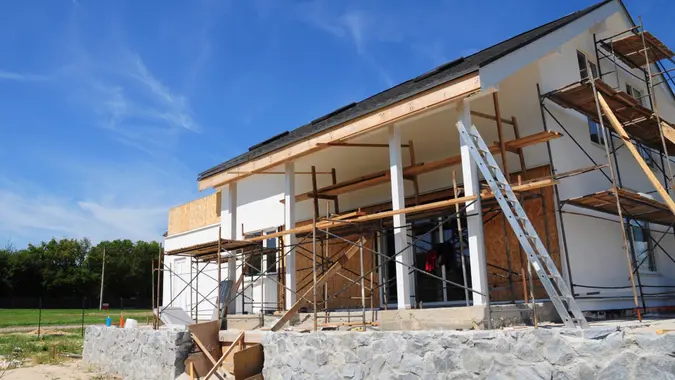 Lex20 / Getty Images/iStockphoto
As of May 2023, the current rate of inflation is 4.05%. While this is lower than it's been in recent years, it's still higher than the average, which is 3.28%.
Despite rising costs, many homeowners still renovated their homes last year. According to a recent GOBankingRates survey, over 50% of respondents spent between $500 and $10,000 on home improvements or related construction projects. Another 5.58% of respondents spent more than $10,000.
Other sources have seen a similar trend in homeowners renovating their properties. A report by Angi (formerly Angie's List) also found that people have continued putting money into their homes even throughout the pandemic.
Given survey data, it appears that inflation has had minimal impact on people's willingness to spend money on home repairs or renovations. In fact, it's possible that more homeowners are putting money into improving their existing home instead of buying new property. Many of them are just being more strategic — and creative — about how they go about it.
Why Homeowners Are Putting Money Toward Renovations
There could be many reasons why homeowners are reallocating funds into their homes, despite inflation, but here are some of the biggest ones:
It's often cheaper than relocating. The cost of moving can be high, especially when you consider the fees — upfront costs, closing fees, legal fees, appraisal costs, movers, etc. — associated with selling your home. If you love where you live but the cost of real estate is high, making a few strategic renovations could significantly improve the quality of your home without breaking the bank.
Renovations can increase the property value. Certain renovations, such as adding square footage or updating out-of-date appliances, can boost the value of your home. This is especially beneficial if you plan to put your home on the market.
It can match your lifestyle better. For many people, especially those living in an older house, renovating the property can make it feel more like home. Even small changes can make a big difference when it comes to matching your current lifestyle, needs, or preferences. Plus, it can be an enjoyable experience.
Home renovations could save you money on utilities. Swapping out old appliances or systems for eco-friendly ones can save you money on utility bills in the long run. For example, solar panels can reduce your energy bill by around $1,346 a year.
Has Inflation Deterred Homeowners From Making Renovations?
The impact of inflation on homeowners and their renovation projects depends on several factors, such as location, current interest rates, and individual goals and finances.
"While it's logical to assume that inflation might deter individuals from spending on renovations, sometimes the opposite occurs," said Artem Kropovinsky, Interior Designer and Founder at Arsight. "In periods of inflation, people often see their homes as secure investments. Instead of letting their money lose value in bank accounts, they spend on home improvements to enhance their property's worth."
Niki O'Brien, Exterior Construction Operations Manager at Custom Exteriors LLC, corroborated this by saying, "While we are sure there are customers who are postponing remodeling projects due to the uncertain financial climate, we are also experiencing the opposite. Many of our customers are not moving due to interest rates, inflation, and housing costs. Instead, they are reallocating funds for improvements to their existing property."
With inflation, people are becoming more creative about how they spend their money on their renovation projects. "People are becoming more selective, focusing on renovations that not only beautify their homes but also increase efficiency or add value, said Taylor Kovar, CFP and CEO at TheMoneyCouple.com. "So yes, inflation may have added some hurdles, but it seems to have also sparked a newfound resourcefulness and strategic thinking among homeowners."
Top Renovations for Homeowners
So, what types of home improvements or renovations are people spending their money on? Here are some of the biggest ones, according to experts:
Roof, window, and siding replacements: Swapping out these components can increase the value of your home, make it more energy-efficient, or improve the overall aesthetic. But this can be an expensive undertaking. "It is not uncommon for roof replacements, window replacements, and high-end siding replacements to be well over the $20,000 mark, with some inching closer to the $50,000 mark for higher-end, specialty materials and larger homes," said O'Brien.
Bathrooms and kitchens: Renovating these rooms can add significant value to your property. "On a per-square-foot basis, renovating kitchens and bathrooms are always the most expensive because they often involve new electrical, plumbing, cabinets and appliances," said John Garner, CEO and Co-Founder of Freemodel. "However, these are also the renovations that add the most to your quality of life and to the long-term value of your home."
Additional rooms or square footage: Adding an extra room or expanding your home can also increase the property's value and accommodate for any major lifestyle changes — like a new family member. But it's no easy undertaking. "Building an addition or extension to your home is an ambitious project, as it'll require original architectural design, framing and roofing, foundation work, as well as all of the other requirements such as insulation, flooring, walling, and electrical work," said Paul Brundell, CEO at Kosy Living. It also comes with its share of legal requirements.
Before starting any home renovation project, it's important to review your budget carefully — especially during times of high inflation. And remember, not all homeowners are going for the most expensive renovations right now.
Instead, many people are getting creative with their projects, or making smaller changes to their homes. Even a simple, more budget-friendly change — like updating kitchen appliances or installing a smart home system — can still add personal and economic value to your home.
More From GOBankingRates