Tiny Home Communities for Eco-Lovers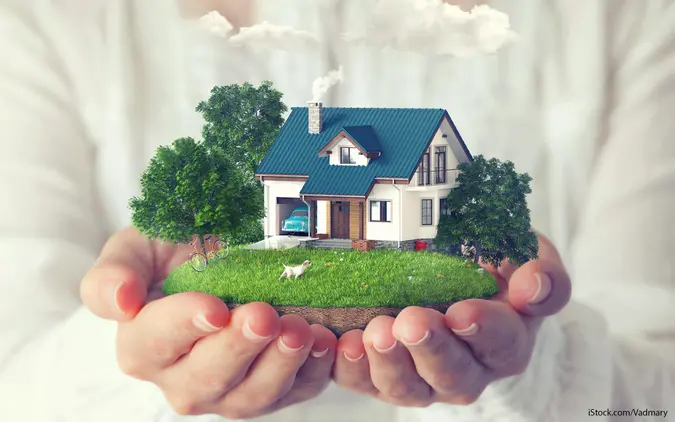 Moving from a standard-size home into a tiny house might seem odd — especially if the tiny home is less than 400 square feet in size. But, the tiny house movement is in full effect, with many people opting for these tiny homes to save money and adopt a more eco-conscious lifestyle.
"The biggest driving factor behind people adopting tiny homes is cost," said Dan Louche, founder of Tiny Home Builders, which sells and manufactures tiny home guides, plans and materials to get started. "The second is simplicity, and the third is eco-friendliness. Regardless of which reason gets you into a tiny home, you get to reap the benefits of all of them."
If you're conscious about the environment, a tiny house might be for you. Not only can a tiny house help you lower your energy use — and therefore some of your expenses — but some tiny house villages and communities offer eco-friendly amenities, too. So whether you want to live in a tiny house permanently, stay at a tiny house resort or just see what a tiny home looks like in person, here are some eco-friendly options.

1. The Village of Wildflowers
Location: Flat Rock, N.C.
Cost to live here: Approximately $5,000 annual lot lease fee; tiny homes start at $69,999; rental tiny homes start at $179/night
The Village of Wildflowers, a 26-acre community where homes are typically about 400 square feet, was founded on the idea that "smaller is smarter," according to its website.
The tiny homes are marketed as luxurious with first-class amenities and energy-saving appliances. Many are painted in earth-friendly colors, and the residential dwellings have large front porches, flower boxes, bay windows and energy-efficient garden windows. The village is clustered around ponds and courtyards, and the dog-friendly property also includes a pool, community areas and spots for group bonfires.
"We stress that people interested in a tiny house visit our property and determine if this is what they are looking for prior to starting the design of a tiny house of their own," said WW Gilman, founder of the village.

2. Orlando Lakefront at College Park
Location: Orlando, Fla.
Cost to live here: Lot leases range from $350/month to $550/month
Finding a place where it's legal to live in tiny homes can be tough. But the Orlando Lakefront at College Park is a revitalized 1950s RV park that is part tiny house village and part RV park. As of April 2016, the village has 13 tiny homes total.
This community offers plenty of amenities, such as a boat dock, fishing dock, park and laundromat. Some of its more eco-friendly features include the ability for homeowners to have incinerating toilets and use solar power.

3. Simply Home Community
Location: Portland, Ore.
Cost to live here: $600 to rent a tiny house, but additional fees do apply
Considering itself the first tiny house community in the U.S., the Portland-located Simply Home Community is home to seven people, ranging from 25 to 51 years old. There are four houses on the property: the traditional-looking, 1,400-square-foot Big House and three eclectic tiny houses ranging from 100 to 160 square feet. Collectively, the four houses have an estimated value of $500,000.
The residents eat dinner together seven nights a week — meaning each person only has to cook once. Helping out the environment, they also grow a lot of their produce in the community garden.

4. Blue Moon Rising on Deep Creek Lake
Location: McHenry, Md.
Cost to stay here: From $175/night to $299/night
Blue Moon Rising allows eco-conscious tiny home enthusiasts to take the experience for a trial run. The 125-acre resort, located on Deep Creek Lake, features more than a dozen small, traditional cabins visitors can rent.
The cabins were built by local tiny home builders Hobbitat and are made using reclaimed and refurbrished lumber. To limit car exhaust, guests must park at the entrance to the community and then walk or bike around while on the property. But, the resort offers solar-powered transportation in case you need to haul luggage or can't make the trek to the cabin.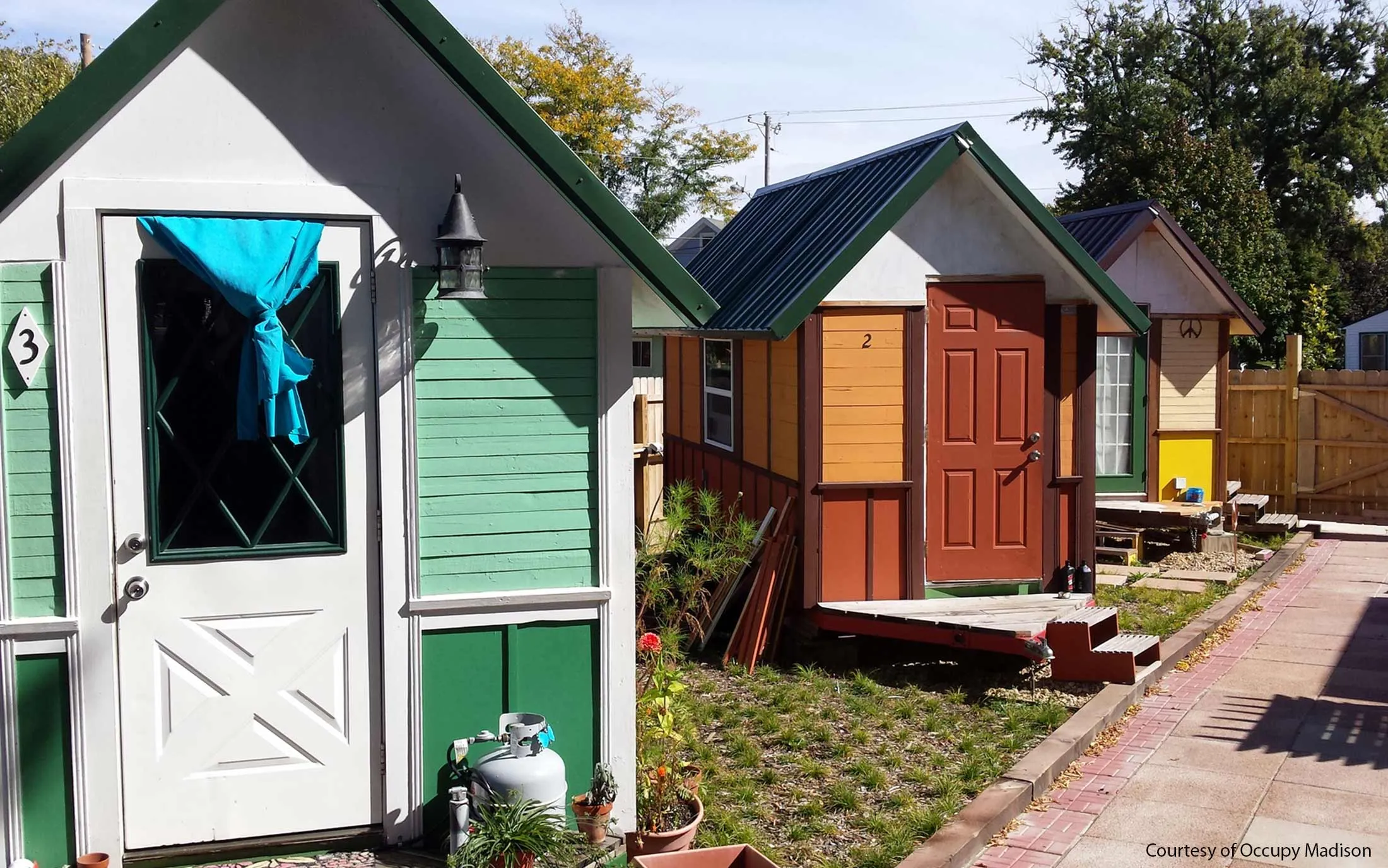 5. Occupy Madison Village
Location: Madison, Wis.
Cost to live here: Free, but residents have to participate in village maintenance
Occupy Madison's community, OM Village, is located in Madison, Wis., and "was established to help homeless and other marginalized people live successful lives in a community of support," said Luca Clemente, a media spokesman for the village. "While the majority of our members do care deeply about environmental sustainability, OM Village was founded for the purpose of providing safe, stable housing for individuals who would otherwise be homeless or facing homelessness."
According to Clemente, some of the village's eco-friendly amenities and features include community gardens, beehives, bird and bat houses all around the villages and composting bins. And, when possible, the houses are built with reused materials and feature low-power LED lighting. Currently, the village is also looking into solar power options.

6. Mobile Loaves & Fishes Community First! Village
Location: Austin, Texas
Cost to live here: Starts at $220/month – $380/month, depending on the housing
Mobile Loaves & Fishes serves the homeless and working poor, and recently expanded its efforts to establish the Community First! Village. The 27-acre village provides affordable, sustainable homes for the chronically homeless in central Texas.
Most homes are simple, but cheerfully decorated box structures roughly about 180 square feet each, along with a mix of RVs and canvas homes. The community, which just opened earlier in 2016, also has spaces for the community to share and gather, as well as a community garden, chicken coops and bee hives, a workshop, medical facility, outdoor theater, walking trails, and a bed and breakfast for visits. Plans call for up to 250 residents to call the community home by mid-2017, though about 50 live here so far.