Experts: 6 Safest Real Estate Investments for Beginners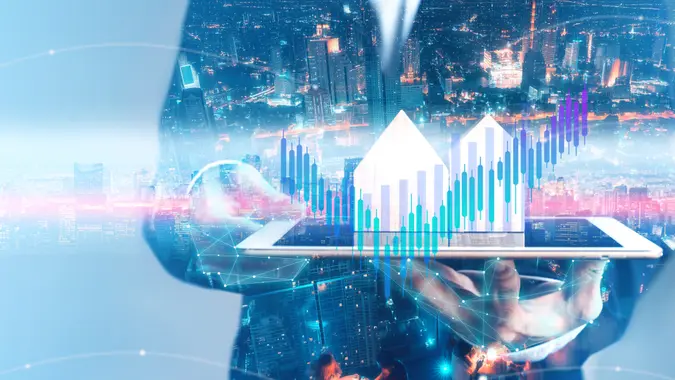 Wiphop Sathawirawong / Getty Images/iStockphoto
Historically, real estate is an asset that has appreciated in value over time. But as with any investment, there is some level of risk involved.
If you're new to the world of real estate investing, you may be looking for low-risk opportunities to start out with. GOBankingRates spoke with real estate investing experts to get their picks for the safest investments for beginners — here's what they chose.
Real Estate Investment Trusts (REITs)
A Real Estate Investment Trust is a way to get involved in real estate investing without having to actually buy property — and it's generally low risk.
"Some REITS are open to non-accredited investors for as little as $1,000," said Jamison Manwaring, co-founder and CEO of Neighborhood Ventures. "This is a huge benefit in an industry that is historically dominated by the very wealthy. Though nothing can be guaranteed when investing, typically, experienced REIT managers are well-versed and can assess the value of a property, what it will take to increase it and what it will sell for, giving their investors a generally good idea of what kind of return they can expect."
REITs can provide a steady income stream as well.
"REITs are required by law to distribute at least 90% of their taxable income to shareholders in the form of dividends. This means that investors can receive a steady stream of income from their REIT investments," Manwaring said.
While REITs are generally "safe" investments, it's important to note that there is some level of risk involved.
"Of course, like any other investment, REITs are subject to market risk," Manwaring said. "Value can fluctuate with changes in interest rates, economic conditions and other factors. However, because real estate is a fixed asset, your investments are less susceptible to things like inflation or a bank crisis versus a checking or savings account."
Take Our Poll: Who Has Given You the Best Money Advice You Have Ever Received?
Real Estate Mutual Funds
Real estate mutual funds are another way to invest in real estate without having to buy an actual property.
"Real estate mutual funds offer exposure to a diversified portfolio of real estate investments, including commercial and residential properties," said Denis Smykalov, real estate broker at Wolsen Real Estate. "They provide investors with a professionally managed investment vehicle that can offer good returns without the need for property acquisition and management."
Real Estate Crowdfunding
Smykalove also recommends crowdfunding as a relatively safe way to invest in real estate.
"Crowdfunding platforms allow multiple investors to pool their funds together to invest in real estate projects," he said. "This option provides individual investors with an opportunity to participate in larger real estate projects that they may not be able to afford on their own."
House Hacking
"House hacking" involves renting out a room in a property you currently own or a new property you purchase to live in yourself.
"This is one of the easiest and safest places to begin as a real estate investor," said Rinal Patel, professional house flipper and founder of We Buy Philly Home. "A potential real estate investor can go into the rental business and maximize profit while also playing it safe. House hacking presents a safe passage into the world of real estate investment, as it allows one to become a landlord to other occupants while also remaining an occupant of the same property."
A Single-Unit, Turnkey Property
The less money you have to put on the line, the less you have to lose, so starting with a smaller, affordable, move-in-ready property as a rental unit is a great way to dip your toe into investing in actual property.
"When it comes to safe investments, it is important to consider all the components of real estate that can make things complicated, such as the amount of rehab to do, the number of units to manage and the amount of capital required. By focusing on these components and making them as simple as possible, one can find some of the safest real estate investments," said Sebastian Jania and I am the owner of the real estate investment company Ontario Property Buyers.
"Considering these, a turnkey property with a single unit and in a more affordable market will minimize the investment challenge for a beginner. In these cases, there will be minimal rehab, so minimal contractor management, only one unit, so one tenant to manage, and in a cheaper market, which means less capital required to invest."
Vacant Lots
Buying a lot of land has lower risks than other types of real estate investments, said Danny Johnson, real estate investor and owner of Danny Buys Houses.
"For newbies to real estate investing trying to limit their risk in doing their first deal, vacant lots can be a great place to start," he said. "There are many benefits when investing in residential lots in older, established neighborhoods: 1) The prices are much lower than buying houses, 2) the property taxes will be much lower, 3) there's no worry about vandalism or need for property insurance and 4) there are no 'surprises' regarding what repairs a house may need."
More From GOBankingRates