8 Financial Benefits of Owning a Home Early in Life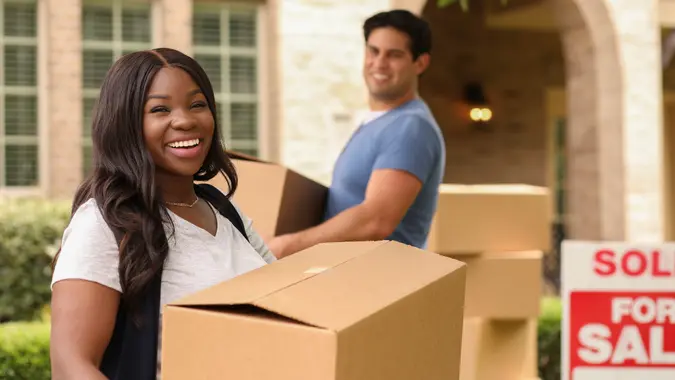 Chauntel Moore / iStock.com
If buying a home has been on your mind for a while now, and you're seriously thinking about going for it, then you have a lot to look forward to.
Last year, the average age of a first-time homebuyer was 35 years old, according to the National Association of Realtors' 2022 Profile of Home Buyers and Sellers. The median sale price of a home in the U.S. is $420,846, according to Redfin. If you have the means to afford a property in your area, this can be an incredible investment.
I'm a Real Estate Agent: These Will Be the Best States To Buy Property in the Next 5 YearsMore: 3 Things You Must Do When Your Savings Reach $50,000
Khwan Hathai, CFP, CFT, founder and financial therapist at Epiphany Financial Therapy, highlighted eight financial reasons buying a home early in life can be advantageous. Here's why you should get a head start on homeownership.
Build Equity
"Owning a home at a young age provides a unique opportunity to build equity, rather than paying rent that enriches someone else's investment portfolio," she said. "Over time, this equity turns into a valuable asset that can be used to secure other financial opportunities, setting the stage for long-term financial stability."
You'll never see rent money again, but your mortgage is essentially a payment to your future self — minus interest, taxes and other fees.
Tax Incentives
In addition to building equity, Hathai said you might be able to take advantage of tax incentives associated with property ownership.
"Mortgage interest and property tax payments often qualify for federal income tax deductions, which can be particularly impactful in the initial years of homeownership when interest payments constitute a large portion of the monthly mortgage," she said.
Building Wealth Through Property Appreciation
You've probably noticed that many houses currently on the market were purchased for significantly less — some even just a few years ago. There's no guarantee this will happen with your potential new home, but it's not unlikely.
"Although real estate markets fluctuate based on various factors such as location and economic conditions, property generally appreciates over the long term," she said. "Early homeownership allows individuals to tap into this long-term growth, positively affecting their net worth over an extended period."
Simpler Budgeting
It can be hard to follow a budget when you don't know what your rent will be next year.
"From a budgetary perspective, homeowners with a fixed-rate mortgage enjoy the advantage of predictable monthly payments," she said. "Unlike renting, where landlords can increase the rent annually, a consistent mortgage payment simplifies budgeting and financial planning."
She said this predictability will allow you to make more informed and strategic financial decisions.
Building Credit
If you're thinking about buying a home, your credit is probably at least decent. However, homeownership can help raise your score even higher.
"Maintaining a mortgage and making payments on time also serves as an effective way to build a strong credit history," she said. "A robust credit score facilitates future borrowing and can result in lower interest rates for other types of loans and credit cards."
Lower Housing Costs in Retirement
Retirement probably seems a long way off now. However, buying a home early in life can set you up for success down the road — especially if you decide to stay in the same home.
"For those considering long-term financial planning, early homeownership offers the prospect of reduced housing costs upon retirement," she said. "Once a mortgage is fully paid, the homeowner incurs significantly lower housing expenses, providing a form of financial relief during the retirement years when income may be limited."
Investment Diversity
More than just a place to live, Hathai pointed out that your potential new home offers an avenue for investment diversification.
"In addition to equities, bonds and other financial instruments, real estate offers a tangible asset that can provide a hedge against market volatility," she said. "This diversified investment approach can minimize risk and provide a more balanced financial portfolio."
Investment Growth
You might not stay in your first home long enough for the property to significantly appreciate on its own. That's OK, because as the owner, you have the ability to complete upgrades that can make the property more valuable in a short time period.
"While not purely a financial gain, the freedom to personalize and upgrade a home often leads to improved property value," she said. "Owners are generally more invested in maintaining and enhancing their property, which in turn, augments its market value and long-term financial return."
Buying a home is quite likely the largest purchase you'll ever make. Therefore, this isn't a decision you should rush into. However, if you can afford to do so — and are prepared to handle maintenance and upkeep — buying a home at a young age is a decision you probably won't regret. Making sound financial moves now can set the tone for a lifetime of good financial health.
More From GOBankingRates