Why Are So Many Homeowners Planning To Buy Again in the Next Five Years?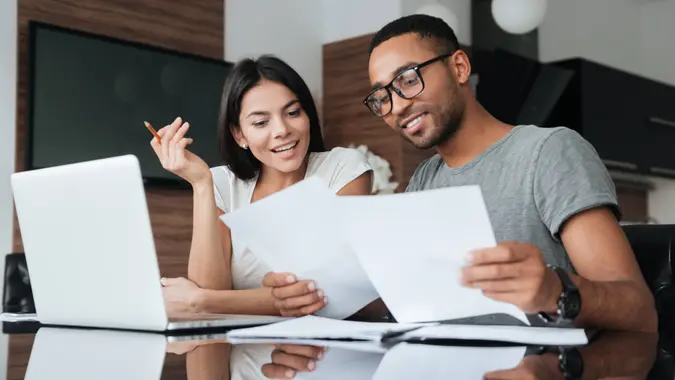 Dean Drobot / Shutterstock.com
A quarter of homeowners expect to buy new homes over the next two to five years, according to a new GOBankingRates survey.
During the pandemic, those seeking new homes could secure mortgages with incredibly low-interest rates. Mix that in with the heightened frenzy of a supply chain issue, and many felt the rush to purchase homes, even if it wasn't realistic. Now, many homeowners are looking to right their buying mistakes. 
If you find yourself in the same market, it's essential to be realistic and prepare as much as possible. 
The Market Is Different From the One You Previously Bought In
"Many homeowners purchased a home smaller than they thought they would need or they underestimated how much work their fixer-upper required," said Cait Howerton, cerfitied financial planner at Archer Investment Management.
As a result, many homeowners will wait two years at the minimum to avoid paying capital gains tax and relying on the equity in their current home to pay for their next one. 
Other homeowners may not have a choice. Many U.S. metro cities offer nothing to buy, making it difficult to find their next homes. It's even hurting those who are looking to purchase their first homes.
"Renters are seeing a bleak future where rents will continue to rise while wage growth and job prospects stagnate," said Alan Corey, author of "House FIRE: How to Be a Red-Hot Real Estate Millionaire with a Wealth of Time and Money to Burn" and founder of House Money Media.
Instead of worrying about consistently rising rents, it might make sense for some people to get fixed mortgages instead. 
Financing Options Aren't the Same
Of those looking to purchase homes, 23% plan to spend less than $200,000, according to the GOBankingRates survey. Real estate valuations have skyrocketed nationwide. For example, from November 2020 to November 2021, home prices in Phoenix increased by 32%.
"Right now, unless someone is willing to live in a largely rural area, they most likely won't be able to find a suitable property within this budget," Howerton said. 
About 30% of survey participants are paying a monthly mortgage of $1,000 or less.
"Those numbers only look realistic if someone wants to put 40% down on a property," Corey said.
Purchasing a home with long-term fixed-rate debt is one of the most significant advantages of being a homeowner. To take advantage of your financing options, Corey suggests putting as little money down as possible, even if it includes private mortgage insurance, as you'll be better off financially.
Relocation Isn't Always a Bad Idea
If you don't want to relocate to a rural area to own a cheaper home, consider relocating to an area experiencing consistent growth. Fast-growing cities can mean job and population growth, which are two factors that will always increase real estate prices. 
If you do consider one of the nation's fastest-growing cities, don't forget to assess the environmental risks that could be involved. Corey suggests watching for hazards such as wildfires, tropical storms, tornadoes, flooding, temperature increases and other factors that could cause you to move. 
Purchasing a home in two to five years isn't impossible, but you have to be realistic about what you can afford to buy wherever you want to reside. It's essential to stay up to date with purchasing trends while keeping an eye on the housing market in your area. Maybe your next home is different than you had initially planned, but the sooner you start, the sooner you'll be able to afford the dream home you want. 
More From GOBankingRates