I'm a Real Estate Agent: 7 Financial Reasons You Should Take Your Time Choosing Your Home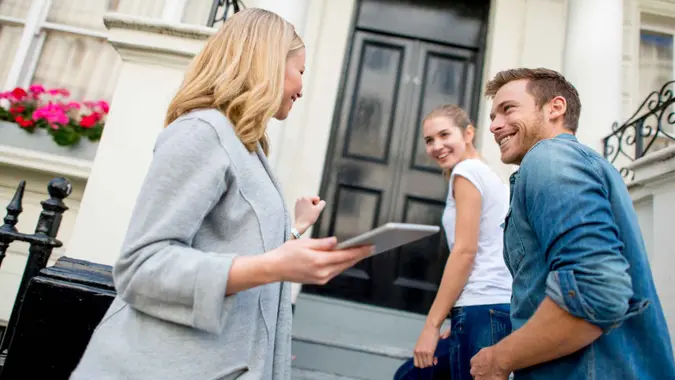 andresr / Getty Images
Buying a home is likely one of your biggest and most expensive financial decisions. Therefore, it should not be something that you rush into.
Even though the pressure can be great to find a home quickly, it is best to take your time when you're home shopping to find the best fit. Here's why.
Many Factors Can Influence Long-Term Costs of a House
You should make sure the home you are considering purchasing satisfies all your individual needs and that it's the best long-term financial choice. Besides price, there are a few factors that can influence the long-term costs of a house, and it's important to carefully examine all of them.
"Rushing into a home purchase due to external pressures or emotions can lead to financial regrets," says Richard Mews, founder of Sell With Richard. "Taking your time provides an opportunity to make a rational and well-thought-out decision, ensuring that the home you choose aligns with your financial capabilities and long-term needs, reducing the likelihood of buyer's remorse."
Location Is Crucial
Location is one of the biggest influences on the long-term costs of a house. Besides affecting the purchase price, location can also impact how much you pay for taxes. 
Proximity to employers, shopping, dining, entertainment and more can also impact the price of a house. The local school system also factors in significantly, as people will often pay more for a house in a good school district. 
If the home is near water, it can raise the price, but you may also pay more long-term. Areas prone to natural disasters like hurricanes, earthquakes or flooding may end up costing the homeowner more because of inflated insurance premiums. 
Condition Considerations
The house's condition will have a major impact on how much it will cost you in the immediate and long-term. If the home needs a lot of immediate repairs that the seller will not make, then you will need to budget more money than the home's purchase price.
You should also pay attention to the home inspection report, which will provide recommended repairs and replacements, and estimates of the remaining useful life of major systems and equipment. This can help you project future costs and when items must be replaced.
"Rushing might mean overlooking essential inspections," says Bailey Moran, COO of Austin TX Realty. "These inspections can uncover structural problems, mold, or outdated electrical systems. Identifying these issues ahead of time can save you significant unforeseen repair costs."
Expand Your Financing Options
Rushing into a purchase can limit your ability to find the best financing options. If you delay your purchase, you can save up for a larger down payment which could potentially eliminate the need for private mortgage insurance (PMI), lowering your monthly payment and the interest rate on your loan.
Don't Settle on Size
In addition to the actual square footage of the house, the usable space will determine the house's overall value. Unusable square footage could include things like the attic, garage, and an unfinished basement. Usable square footage includes the rest of the house, like bedrooms, bathrooms, closets, kitchen, living room, etc. Usable or livable space is most important to buyers and appraisers.
The size of the house will also affect the cost of upkeep of the house. The larger the house, the greater the cost of heating and cooling, as well as cleaning it (especially if you hire cleaners). Costs for decor, paint, rugs, and furniture will also increase for a larger house. As you can see, it is very important to take your time when considering the size that suits you when buying a home.
Take Notice of Natural Lighting
Natural lighting is something that not everyone thinks about, but it can affect home costs. Windows cost money when they need to be replaced, plus there are costs for curtains or blinds.
On the other hand, if the house has ample natural lighting, you may not need to use artificial light as much. This could mean can buy fewer lamps or turn on lights less frequently. This could save on your electrical bills. 
Research the HOA
If the home is in a neighborhood with a homeowners association (HOA), you will likely need to pay HOA fees. HOA fees can range from a few hundred dollars a year to over a thousand dollars a month, depending on the building, location or community the property is in.
HOA fees can cover services like garbage and recycling collection, landscaping, neighborhood amenities, snow removal, road maintenance and building maintenance (in a condo building). HOAs may also limit the modifications you can make to your home or property. They may require certain colors, fences, landscaping, or other choices that could be more or less costly than alternatives. Therefore, taking extra time when choosing your home to look into the HOA is a wise move.
The Bottom Line
Many Americans view homeownership as a great financial investment. However, there can be a lot of hidden costs. In order to make sure you are making the best financial choice for yourself, you should take your time and look out for things that can impact the long-term costs of owning a home. Once you understand these, you can make a better informed decision when choosing a home.
More From GOBankingRates