This Florida City Is One of the Top Housing Markets of 2023: Should You Move Here?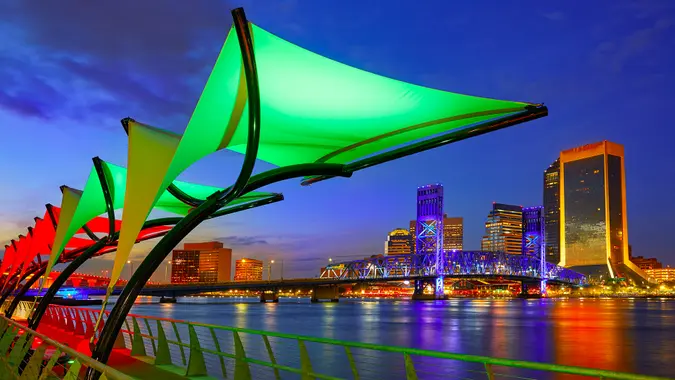 LUNAMARINA / Getty Images/iStockphoto
The hottest housing market in Florida isn't Miami — that distinction belongs to Jacksonville. While Miami ranked No. 8 on Zillow's ranking of the hottest real estate markets of 2023, Jacksonville took the No. 6 spot. It's also the more affordable city — the median home value in Jacksonville is $295,729, while Miami's median value is $557,679. Population trends also support the rise of Jacksonville as a desirable place to live. The current population stands at 1.33 million, marking a 3.9% increase since 2019.
But is Jacksonville the right place for you? GOBankingRates spoke with Laura Bishop, a real estate advisor at Compass Florida, to get the inside scoop on this hot locale.
The Appeal of Jacksonville
The cost of living in Miami can be financially prohibitive for many, so those seeking the Florida lifestyle without the premium price tag might enjoy living in Jacksonville.
"Jacksonville has become a highly sought-after destination because of its affordability compared to South Florida," Bishop said. "The lower cost of living, absence of state income tax, abundant economic opportunities, presence of major corporations, investment potential and accessibility make it an appealing location for those seeking to reside or invest in the region."
There's no shortage of things to enjoy about Jacksonville, and when you do want to get away, it's easy to do so.
"Jacksonville offers a delightful climate, beautiful beaches, a home NFL team, a thriving arts and culture scene, and a developing downtown," Bishop said. "Jacksonville's location is perfect for road trip travel within the state or to neighboring states such as Georgia and South Carolina, to name a few. The city also has an international airport for long-distance travel."
Who's Moving There
Americans from all over the country have been relocating to Jacksonville to take advantage of the lower living costs.
"Our top feeder markets are Atlanta, Chicago, New Jersey, Miami, New England and California," Bishop said. "Many of these markets have become more congested and the cost of living is rising, which has attracted many people to relocate here."
Current buyers come from all backgrounds and walks of life as well.
"There is a diverse range of buyer demographics, including retirees, military personnel and their families stationed here, young professionals, second-home buyers and investors," Bishop said.
Should You Move to Jacksonville?
If you're considering moving, you might want to keep Jacksonville on your radar.
"Many individuals are interested in relocating to Jacksonville due to its exceptional school districts, quality hospitals and small-town ambiance within a bustling city," Bishop said. "With its port, major highways and international airport, Jacksonville serves as a transportation hub that can facilitate both travel and business."
More From GOBankingRates