How To Get Free Land in the US in 2023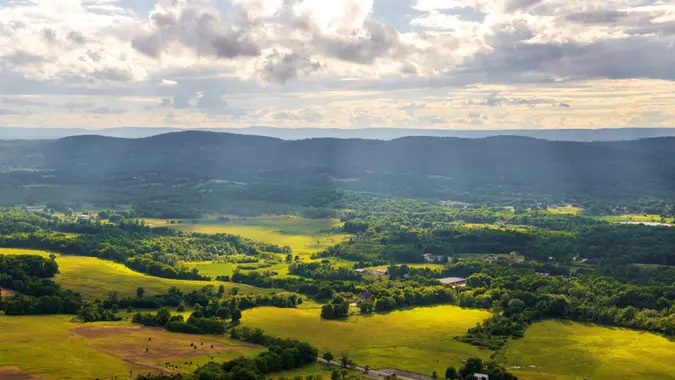 Leembe / Getty Images/iStockphoto
Free land claims have a long history in the U.S., going back as far as the 1862 Homestead Act that granted citizens and intended citizens government land to live on and cultivate. Although the program failed to meet its original objective — to alleviate poverty — homesteaders ultimately received 80 million acres of the 270 acres granted. The rest went to speculators and other wealthier individuals.
The Homestead Act was repealed in the 48 contiguous states in 1976 and in Alaska 10 years later. But you can still find towns offering free land to would-be residents who want to relocate on a shoestring budget and can meet homebuilding and other requirements.
How To Get Free Land in the United States in 2023
Unclaimed land — land to which no one has claimed ownership rights — and free-and-clear land doesn't exist in the United States. However, if you're willing to build a home or start a business, towns and cities in a handful of states will give you a free lot to build on.
Towns offering this incentive have a number of requirements applicants must meet in order to be approved. Specific requirements vary by town and program, but the following tasks will help you get started.
1.
Get Your Finances in Order
Most free-land programs require that you build a home within a certain period of time and pay a deposit toward the land that might or might not be refundable once construction is complete. That means you'll need cash for deposits and closing costs, plus a high-enough credit score to qualify for financing. This can take time, so begin well in advance of when you want to apply.
2. Select the Town Where You'd Like To Live
Research the towns offering free land and decide to which you'd most like to relocate. First, consider affordability — the lot might be free, but you'll still have to build a house and pay living expenses. Also investigate job opportunities, crime rates and how suitable the climate is for your taste.
3.
Apply for a Mortgage or Construction-Loan Preapproval
You'll likely need to show an ability to pay for your new home before your free-land application can be approved. Preapprovals expire after 60 to 90 days, so wait until you're nearly ready to apply for free land.
4.
Select a Builder
Many free-land program applications require that you have a contract with a builder at the time you apply or shortly thereafter. Research local contractors and select one when you're ready to start.
Where To Get Free Land in 2023
A number of towns in the Midwest and elsewhere in the U.S. offer free land, albeit with strict requirements about how you can use it. Local governments in the following towns hope the offer of free lots will entice people to relocate and help grow or revitalize their communities.
Lincoln, Kansas
Lincoln, Kansas, is a town of about 2,900 people located in the north-central part of the state. As the Lincoln County seat, Lincoln offers residents plenty of outdoor recreation opportunities as well as a historic downtown, dining and cultural attractions.
Among the homeownership incentives Lincoln offers is a free building lot in a centrally located residential development. To qualify, you must agree to build a home on the land and submit the proposed plans along with proof of income or a loan preapproval letter when you apply. You'll also have to pay a deposit of $1,100 to $2,900, depending on the lot size, but the city will refund the deposit once construction is complete.
For more information, contact the Lincoln County Economic Development Foundation at 785-524-8954.
Mankato, Kansas
If small-town living is your goal, you won't find many smaller than Mankato, located in north-central Kansas. With a population of just over 900 people in a county of 3,000, Mankato has its own homestead program that offers building lots near a high school, hospital and community shopping center. The caveat: You must already have been preapproved for a construction loan and have contracted with a builder to begin construction within six months of acquiring the lot.
For more information about Mankato's homesteading program, contact the City of Mankato at 785-378-3141.
Elwood, Nebraska
The Village of Elwood is another small town — population 683 — offering free lots. The land is located near schools, parks and the town pool and is free for the taking with a refundable deposit of $500. The village has everything you need to put down roots, including a variety of professional services and retail businesses, plus lakes and a reservoir for outdoor recreation.
The lot giveaways are part of a homeownership program, so you'll need to start construction on a primary residence within 12 months and finish construction within two years. Sweetening the deal is Elwood's down payment assistance program for new construction. Upon completion of your home, the village will reimburse you 10% of construction costs, up to $25,000, as long as all conditions have been met.
Contact the Village of Elwood office at 308-785-2480 for more information.
Buffalo, New York
You don't have to live in a rural or outlying suburban area to score free land to build a home. The city of Buffalo's urban homestead program gives away free lots within designated Urban Renewal Areas at the discretion of the city's Office of Strategic Planning. You can apply for three different types of property: a vacant lot next to your existing residence; a vacant lot for new construction; or an existing structure for rehabilitation.
Each of these options has a series of eligibility criteria you must meet in order to have your application approved. For example, the home adjacent to the vacant lot or built on a vacant lot must be your primary residence. New construction and rehabilitation projects have deadlines the applicant must adhere to. All three programs have financial and credit requirements.
Visit Buffalo's Urban Homestead Program webpage to learn more.
Flagler, Colorado
Flagler is a small farming and ranching community located 110 miles east of Denver. The town acquired about 480 acres of land with the purchase of three water wells, and it's offering it to entrepreneurs as an incentive to start or relocate a business here. The amount of land offered to any individual depends on the number of jobs their business will create.
You'll need significant capital to build your business here, as the land is unimproved and utility build-outs are the recipients' responsibility. Applicants must submit a detailed business plan along with three years of tax returns, financial information and a credit application. A $10-per-acre deposit is due upon initial approval. The town will then hold a public hearing to allow its roughly 650 residents to weigh in on the proposal.
Takeaways
The last federal homestead program expired decades ago, but a few communities still offer free land — with conditions. For the right individual, these programs can make it more affordable to build a home, or even start a business, in a new town.
More From GOBankingRates
Our in-house research team and on-site financial experts work together to create content that's accurate, impartial, and up to date. We fact-check every single statistic, quote and fact using trusted primary resources to make sure the information we provide is correct. You can learn more about GOBankingRates' processes and standards in our editorial policy.