How Much Money Should You Invest in a Guest Room?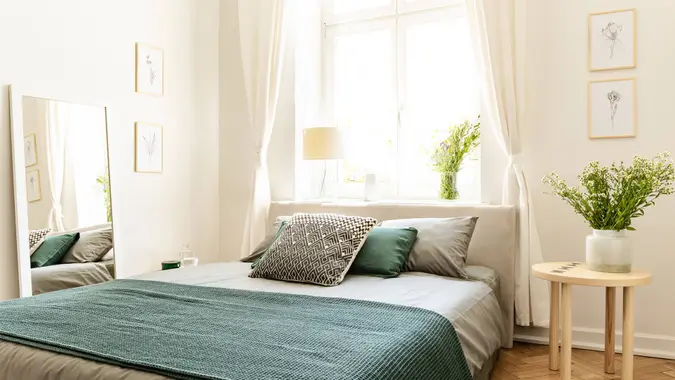 KatarzynaBialasiewicz / Getty Images/iStockphoto
When overnight guests visit your home, you want them — and the rest of your household — to be comfortable. If your current situation isn't ideal, resulting in your visitors or your kids sleeping on the couch, you might be thinking of adding a guest room onto your house. Of course, you want to make sure it's a sound investment.
See: 8 Affordable Ways To Upgrade Your Primary Bedroom
More Tips: Here Are 34 Tips To Make Household Items Last
Since property values vary greatly across the U.S., it's hard to put an exact dollar value on the amount you should spend. Many factors go into this cost, including property values and demand in your local area.
However, you can estimate your increased property value by multiplying the average size of a bedroom — 200 square feet — by the average price per square foot in your local area. Then compare this with the typical costs of a 200-square-foot addition, which is approximately $16,000 to $40,000, according to HomeAdvisor.
For example, the median home listing price in Austin, Texas is $326 per square foot, according to Realtor.com. This means adding a 200-square-foot bedroom would increase the property value by around $65,200.
Find: 26 Home Makeover Ideas That Each Cost Less Than $500
Expert Opinion
Several real estate experts have weighed in to share their thoughts on adding a guest room to your house. Here's what they had to say about this investment.
"How much money one should spend on a guest room depends on a number of factors," said Vicky Noufal, owner of the Platinum Group Real Estate team at Pearson Smith Realty. "Starting from the budget, you need to consider the location of your house, think how regularly you might have guests in your home, how many of them might come at once and how often they are supposed to stay overnight."
She emphasized the importance of calculating the value of an addition in your local area.
"You need to consider the location while calculating the estimated amount of adding a guest room," she said. "This is important, because the amount would vary from one place to another."
Prepare: Renovations To Make — and Skip — Before Selling Your Home
Marina Vaamonde, founder of MultifamilyCashin, an off-market multifamily real estate marketplace, said adding a guest suite could be a more lucrative investment.
"If you create a bedroom with an in-suite bathroom, it will probably pay for itself when you sell," she said. "Functional rooms without a new bath, like a bedroom or sunroom, usually return 50% to 60% of their costs."
Not only will giving guests their own bathroom create much-needed privacy,  Vaamonde said it can also be a good idea if you're planning to sell your home in the near future. "An in-law suite is highly desirable in most real estate markets and will make your home much more marketable," she said. "This should lead to a higher price for your home creating a positive return on investment."
The Downside
However, not everyone thinks a guest room addition is necessarily a good financial move.
"I'll be honest with you, the guest bedroom is not where I would invest most of my money, especially on a budget," said Rick Berres, owner of Honey-Doers, a home remodeling company. "However, I will say that having that extra bedroom can be really useful and can even add value, if you know how to leverage it."
Check Out: 6 Ways To Upgrade Your Kitchen For Less Than $1,000
He emphasized the importance of researching your local area, before getting blueprints made.
"I would not spend the money to build additional rooms, unless you've looked at comps in your neighborhood and have ascertained that the extra rooms will 100% enable you to significantly add to the value of your property," he said. "Depending on the location, the extra square footage can be extremely valuable, or it can be a wasted investment."
The Takeaway
There's really no standard, one-size-fits-all dollar amount you should invest in a guest room. The amount you should — or shouldn't  — spend will depend on your local real estate market, the amount of time you plan to live in your home and how often you expect to welcome overnight guests into your space.
The last thing you want is to spend money on a guest room that doesn't hold its value, so do the math and carefully consider your need for the space before deciding whether or not to build.
More From GOBankingRates