Home Prices Just Dropped for the 7th Straight Month — Here's Where They Fell the Most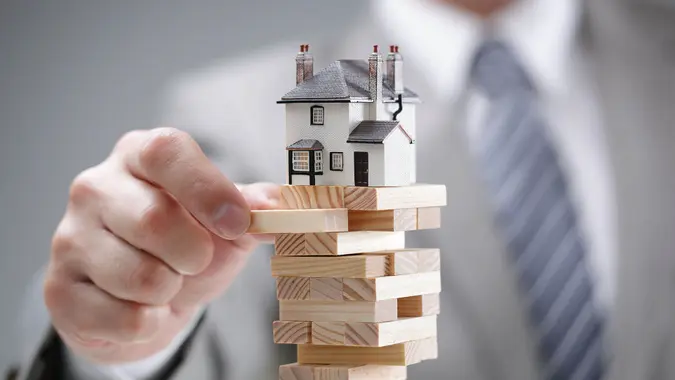 Brian A Jackson / Shutterstock.com
Home prices in the United States continued to fall in January, as elevated mortgage rates kept many potential buyers on the sidelines and left most major markets with slowing demand.
The latest S&P CoreLogic Case-Shiller U.S. National Home Price Index, released on Tuesday, March 28, showed a 0.2% price dip in January 2023 vs. the previous month, after seasonal adjustments. That marked the seventh straight month of declines. The 10-City and 20-City composite indexes both posted decreases of 0.4%. Fifteen cities reported monthly declines, while Miami, Boston, Charlotte and Cleveland had slight increases. Seattle and Las Vegas reported the steepest monthly declines.
"January's home price weakness is yet more proof of the doldrums the housing market was stuck in during the fall and winter, when buyers and sellers were forced to come to terms with a new, relatively higher-interest-rate environment," Zillow Senior Economist Jeff Tucker told CNN.
Year-over-year, the national index reported a 3.8% increase in January, though that was down from a 5.6% gain in December 2022.
Weakness during January "was broadly based," according to Craig J. Lazzara, Managing Director at S&P DJI. He expects that weakness to continue as the Federal Reserve eyes more interest-rate hikes – despite the impact such hikes might have had on the current banking crisis. And even though mortgage rates have been moving lower in recent months, they are still well up from a year ago, which could continue to weigh on home prices.
"The Federal Reserve remains focused on its inflation-reduction targets, which suggest that rates may remain elevated in the near-term," Lazzara said in a news release. "Mortgage financing and the prospect of economic weakness are therefore likely to remain a headwind for housing prices for at least the next several months."
Take Our Poll: Would You Move for a Job That Paid You a $10,000 Signing Bonus?
This might be bad news for home sellers — but it's good news for buyers who not so long ago found themselves paying the highest prices ever in some U.S. markets.  Among cities in the 20-City Composite Index, these had the steepest month-over-month price declines in January after seasonal adjustments:
Seattle (-1.5%)
Las Vegas (-1.1%)
Denver (-1.0%)
San Francisco (-0.8%)
Phoenix (-0.8%)
Dallas (-0.6%)
Portland (-0.6%)
San Diego (0.6%)
Looking ahead, prices could recover a little in the spring, when more buyers tend to enter the market.
"As the market comes back to life this spring, prices are likely to rise month over month, but fall year over year, compared to last year's frenzied spring shopping season when buyers raced to lock in lower mortgage rates," Tucker said. "Just how much prices will rise from winter lows will depend on whether mortgage rates stabilize and creep downward or stay high and volatile."
More From GOBankingRates