Housing Market 2023: Is It Cheaper To Build vs. Buy a Home in Today's Economy?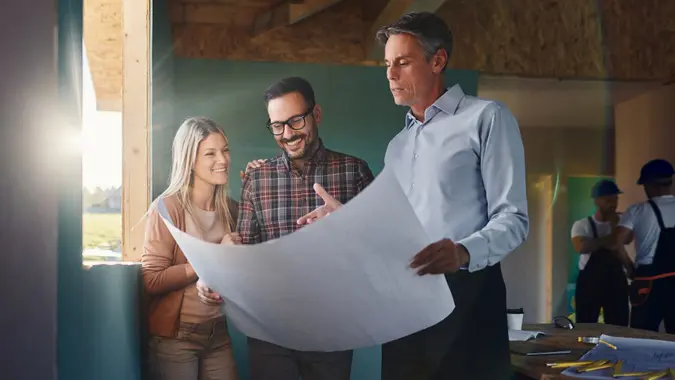 skynesher / iStock.com
With housing prices for pre-built homes still inflated in most markets, and housing inventory down to 46% of the historical average since 1999, according to Forbes, you may be struggling to find your dream house.
If so, you might be considering the option of building a home, instead. But is it cheaper to buy or build in today's market?
The cost of building materials has dropped since the pandemic, when supply chain issues plagued builders, but there are still a lot of costs to consider when building a house. Also, you'll need to make sure you have a place to live while your home is being constructed, which will mean continuing to pay your current rent or mortgage.
Financing for Existing Homes vs. Building Projects
If you are purchasing an existing home, you will likely put down between 3% and 20% of the home's price and take out a mortgage for the rest. In June 2023, the average 30-year fixed-rate mortgage is 6.69%, according to Freddie Mac.
To pay to have your home built, you will likely take out a construction loan. You may have a time limit, set by the lender, for how long construction can take. Most people take out a construction-to-permanent loan, which converts to a mortgage once the home is complete. In general, construction loans carry interest rates roughly 1% higher than mortgages, according to The Mortgage Reports.
You will also need to pay for a plot of land to build your home. You may get a separate loan to buy the lot (called the lot loan) or the cost of the land will be rolled into your construction loan.
Costs of Building vs. Buying a Home
When you're building a home, you'll have to factor in the cost of land, architectural drawings and blueprints, building materials, and paying the contractors, including a general contractor, plumbing, electrical, and other specialty trades.
You will also need to pay for landscaping and pavement for a driveway, walkway and patio. One of the benefits, of course, is that you can have every aspect of your home custom designed to fit your vision.
On the other hand, when you buy an existing home you'll pay one price to have everything included. However, you may want to factor in additional costs to renovate elements of the home you don't like, even if it's just giving every room a fresh coat of paint. Older homes may need repairs now or in the near future, so you should factor that into your costs of homeownership.
Taxes on Your Home
Property taxes vary depending on where you live, the size of your property, and the size and age of the home. In general, according to real estate site Felix Homes, property taxes on a new home will be more than a home of the same size that is a decade old. That's because a new home has a higher price tag.
Buying vs. Building: The Shopping Process
Shopping for existing homes in today's market can be frustrating. Just when you think you found your dream house, another buyer outbids you. Or the home you want doesn't appraise as high as the asking price, leaving you wondering if it's really the value that it seemed to be.
But if you take your time and be patient, you are likely to find the right home. Today's high interest rates are scaring away some buyers, leaving more opportunities to win the bid for your dream house.
Building a home also requires shopping. You'll need to shop around for the right size lot in an area where you want to live. You'll need to choose from a custom-built home or choose the right production plans that you can personalize. You have to hire an architect and general contractor. Shopping around for the right professionals to work with can take just as much time as shopping for a pre-built home, typically with more decisions to make.
Convenience of Buying vs. Building
When you're buying a pre-existing home, you can usually move in immediately after closing. If you're buying a handyman special, you might want to take some time to make renovations or repairs. But, in general, you won't have to wait months to move into your house.
New home construction can take seven to nine months or longer. While you will have a general contractor to ensure the project runs smoothly, you will most likely take an active role in making sure contractors meet timelines and the materials used are the ones you chose. Selecting fixtures, appliances, flooring and décor in a new home can take time, so you'll want to be prepared to take that time out of your life to ensure your new home is exactly as you envisioned.
Bottom Line
Between the overall costs and the time involved, building a home is still more expensive than buying one in today's real estate market. However, if you are willing to invest time and money, building a home can be a rewarding experience.
More From GOBankingRates