Housing Market 2023: How Mortgage Rates Are Boosting Competition Between Boomers and Millennials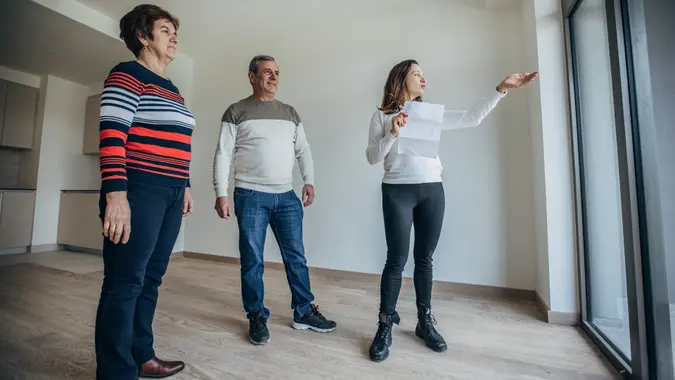 Nes / iStock.com
If you've gone house hunting over the past couple of years, you know how competitive the market is. In some cities, it's not unusual to see 30 or more bids on a single home due to heavy demand and limited inventory. Now there's yet another layer of competition involving millennials, baby boomers and mortgage rates.
Those two generations are colliding as millennials enter their prime homebuying years and boomers look to spend their senior years in different regions and homes. The result is that they are competing for many of the same homes in many of the same markets, The Hill reported.
"With the rise of remote and hybrid work and constraints on housing affordability, millennial homebuyers are embracing the suburbs and even small towns — locations which have traditionally been the refuge of retirees," Jessica Lautz, deputy chief economist and vice president of research at the National Association of Realtors (NAR), told The Hill in an email.
But in a challenging housing market with high prices and strict lending guidelines, boomers hold two big advantages: They have more equity built up from previous home purchases, and they have higher incomes. This gives them a leg up on millennials in terms of paying for steadily rising mortgage and borrowing costs.
"Boomers are not downsizing and millennials — first-time buyers in particular — are buying later in life. This puts both generations of buyers in head-to-head competition for similarly sized properties," Lautz said.
One reason boomers are not downsizing their homes — and in some cases are buying homes of equal or bigger size — is that they are working longer. Many Americans are continuing to work well past their 60s as a way to "phase into retirement," according to a recent USA Today column from Grace Sutherland Smith, executive director of AgeWell Middle Tennessee.
Boomers made up the largest share of homebuyers in 2022 at 39%, according to NAR data. That was up from 29% in 2021. In contrast, millennials saw their share fall to 28% in 2022 from 43% in 2021, when they occupied the biggest slice of the market.
Boomers tended to be repeat buyers in 2022, according to Lautz, which means they already had equity from previous homes to increase their purchasing power.
Rising mortgage rates have added to the competition between millennials and boomers. During the COVID-19 pandemic, the average rate on a 30-year fixed-rate mortgage fell as low as 2.67%, according to Federal Reserve data. That made it easier for young buyers to afford a home. Today, the rate has ballooned to 6.39%.
High rates make it especially tough for buyers without much equity because they have to make smaller down payments.
"If they are to rely on a mortgage for their next purchase, they are going to want to wait until rates are lower than they are today," KPMG economist Yelena Maleyev told The Hill. "If they plan on paying all-cash, they are not as affected by higher mortgage rates and can provide a more enticing offer than a first-time buyer."
Retirement Savings: Here's How Much Money Millennials Should Have To Retire by 2045Real Estate Transfer: Baby Boomers Secure Generational Wealth by Transferring Property to Children
An increase in available homes would go a long way toward fixing the problem — for both millennials and boomers. That's happening, though at a slow rate. Housing starts in April rose 2.2% to a seasonally adjusted annual rate of 1.40 million, The Hill reported, citing Census Bureau data. Much of the gain was due to a 5.2% increase in multifamily units under construction, although the number of new single-family homes is also increasing.
More From GOBankingRates