Housing Market 2023: New Homes Just Got Banned in a Major American City — Is Yours Next?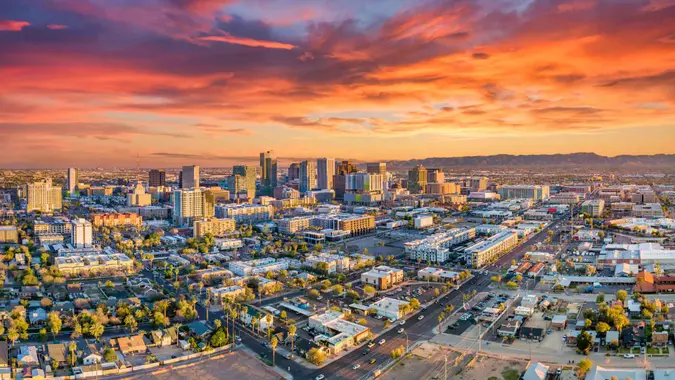 Kruck20 / iStock.com
Maricopa County, located in the southern part of Arizona, is home to a whopping 4.5 million people. As one of the most rapidly growing areas in the country, the sheer population density is putting pressure on water resources after decades of drought.
Arizona residents get water from a few different places: 36% from the Colorado River, 18% from in-state rivers, 5% from reclaimed water and 41% from groundwater. However, because of the drought, increasing population, and water overuse, the Colorado River and the groundwater supply are unfortunately drying up.
To combat this, Gov. Katie Hobbs announced that the government will no longer approve permits for new homes in Maricopa County. This applies to homes that will use wells as their source of water. Hobbs explained in a press briefing that this new ban will not affect 80,000 permits that have already been approved and denied that the state was in a crisis.
As of now, it does not appear that a broader enaction of bans on new residential construction is taking place across the nation.
How Did We Get Here?
The events leading up to Governor Hobbs' decision have been in the works for two decades, long before she took office. The combination of Maricopa County's population increase and a prolonged drought put pressure on the water supply system. Without government action, the combination of these two factors would have created an unsustainable future in Arizona.
Scientists are calling the drought in the West a "megadrought," per The Guardian, explaining it's the most severe drought in 1,200 years. Scientists classify a drought as a megadrought when it exists for more than two decades. As The Guardian reported, "The west is now in the midst of the driest 22-year period in knowable history." While the availability of groundwater has always been varied throughout history, scientists explained that humans also contributed to the climate crisis the Southwest is experiencing right now.
Moving Forward in Maricopa County
The hope is that the ban on new family housing will help to curb the dwindling groundwater supply by reducing the impact of increased population size. Still, it doesn't completely solve the problem — nor stop the megadrought.
What it does bring about is an awareness of water usage. The news of this ban might lead to Arizona residents being more mindful of their water consumption and prompt new ideas when it comes to water sustainability.
Some towns and investors are also making serious multi-million dollar purchases, buying water rights on the open market to ensure their cities and towns have enough. Queen Creek, a town 35 miles southeast of Phoenix, is one of them. In a controversial play, the town paid $21 million to a farm to get a portion of their water rights in perpetuity, per Bloomberg. The decision resulted in lawsuits, but Queen Creek prevailed. This is only a glimmer of what could be in store for Arizona in the future: a water price war.
Arizona residents don't know whether or not the groundwater shortfall will prevail due the housing ban — nor what it will mean for home prices, population size, and water demand. However, said ban is perhaps a step forward in trying to ameliorate a water shortfall.
More From GOBankingRates