Housing Market 2024: Expert Predicts Up To 4% Rise in US Home Prices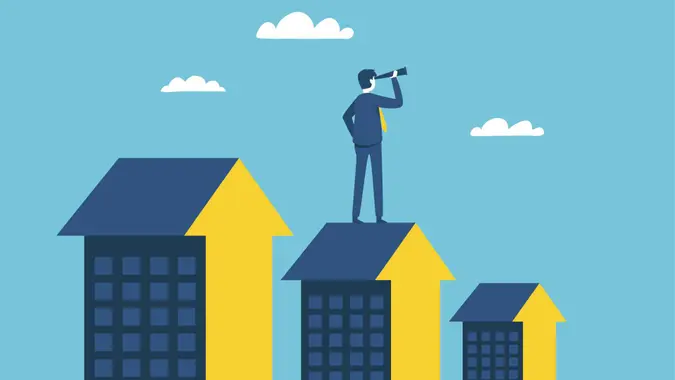 Jcomp / Getty Images/iStockphoto
Home buyers looking for relief from rising prices can expect a mixed bag in 2024, as one housing expert predicts prices to keep moving higher next year, though price growth should decelerate at some point.
Nick Ron, founder and CEO of House Buyers of America, expects average home prices in the U.S. to rise around 3 to 4% next year.
"But at some point in 2024, I see a slowdown in price growth," Ron explained in email comments shared with GOBankingRates. "The slowdown will be due to a combination of factors such as rising interest rates, an increase in the supply of homes, a decrease in demand, and affordability challenges for buyers. That said, I'm not anticipating a drop in prices nationwide. Rising construction costs and a slowing economy as a result of prolonged high interest rates will also impact the housing market in 2024."
US Housing Market Continues To Present Challenges (and Opportunities)
For buyers, the housing market continues to pose challenges in terms of finding available homes for sale. In October 2023, the number of homes actively for sale fell by 2% from the previous year, according to the latest Realtor.com data. The total number of unsold homes fell by 3.7% (including those under contract), while there were 3.2% fewer newly listed homes.
On the bright side, the national median list price fell to $425,000 in October from $430,000 in September and held steady compared with prior years. At the same time, listing prices "have been buoyed" by scarce inventory, Realtor.com noted. And although new home sales have been increasing, construction activity isn't elevated enough to "fully bridge" the low inventory gap. 
Ron expects "some increases" in housing inventory in 2024.
"But in general, the national housing shortage will continue through the end of the 2020s," he predicted. "Due to the estimated pent-up demand for housing, it will take time for the nation's builders to find suitable land, skilled labor, and materials to create a much-needed supply. Innovation in regulatory technology can also help increase the supply of housing and make it easier to build new homes faster."
Meanwhile, rising mortgage rates continue to create headaches for house hunters who are already spooked by historically high home prices. The average 30-year fixed mortgage rate in the U.S. stood at 7.50% as of Nov. 9, 2023, according to the Federal Reserve. Rates have recently hovered at their highest point in 23 years.
Those high rates might last awhile, even as the Fed slows its pace of interest rate increases.
"Sometime in the first half of next year mortgage rates will be slightly lower, but still elevated," Ron said. "As the economy decelerates, rates should go down. At some point in 2024, the Fed will start lowering rates as they see inflation decline and unemployment increase. Rates will still be high enough that buyers continue to be challenged by affordability, and sellers will still be reluctant to give up their low existing rates." 
As to whether 2024 will be a buyer or seller's market, Ron said he expects it to be a seller's market because of the national housing shortage. This could lead to a shift in how house hunters go about purchasing homes.
"I expect to see more buyers join with friends and family members to purchase homes, as intergenerational households, grown children boomeranging homes, and families created from friendships increasingly pool multiple income sources to purchase homes and avoid the uncertainty of housing costs as renters," Ron said.
More From GOBankingRates