Housing Market 2024: 4 Florida Locations Buyers Should Keep Eyes on As Expert Predicts Mortgages Will Hover at 8%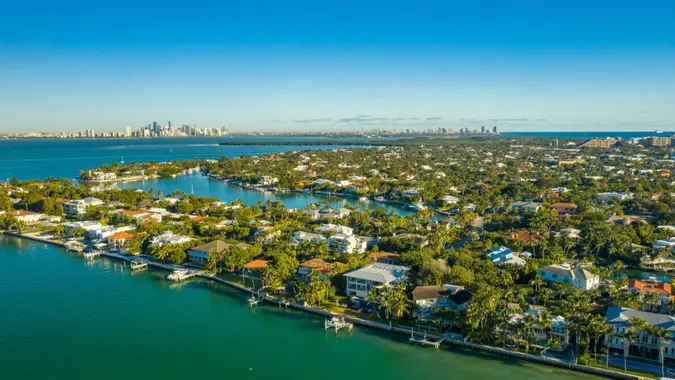 cristianl / Getty Images/iStockphoto
House hunters looking to buy a home in Florida in 2024 can expect a lot of competition, but there's nothing new about that. The Sunshine State routinely places cities among the hottest and/or priciest housing markets in the country, driven by an influx of new residents. That should be the case next year as well.
Florida has been the most popular state to move to for two years, according to The Mortgage Reports, which cited data from PODS. Recent research from Redfin found that Florida was home to half of the top 10 U.S. cities where the most people are moving to: Orlando (#3), Sarasota (#5), Tampa (#7), Cape Coral (#8) and Miami (#9). No Florida city ranks among the top 10 people are moving away from.
This can make things difficult for buyers. More people means more potential home buyers, which means more house offers, which means higher home prices.
As GOBankingRates recently reported, Florida cities also made up half of the nation's 10 most overpriced housing markets, according to a Florida Atlantic University analysis. FAU compared average home values vs. average list prices in the 100 largest U.S. metro areas. The Florida cities on the Top 10 list were Cape Coral (#2), Lakeland (#5), Palm Bay (#6), Deltona (#8) and Tampa (#9).
There has been some good news lately, however — mainly in the form of higher inventory. In September 2023, there were 143,865 homes for sale in Florida, according to Redfin. That was up 3.4% from the previous year. The number of newly listed homes came in at 41,113, a gain of 12%. 
In terms of what you can expect from the Florida housing market next year: A lot depends on the usual factors such as available inventory and mortgage rates. Nick Ron, founder and CEO of House Buyers of America, expects that in the first half of 2024, mortgage rates will be "slightly lower" but still elevated.
"At some point in 2024, the Fed will start lowering rates as they see inflation decline and unemployment increase," Ron said in an email to GOBankingRates. "Rates will still be high enough that buyers continue to be challenged by affordability, and sellers will still be reluctant to give up their low existing rates." 
Jeff Polashuk, Regional Vice President of Compass Florida, projects that mortgage rates "will likely" remain around 8%. This could lead to more inventory, giving buyers more options to choose from.
"Despite external pressures from the stock market and interest rates, South Florida will still be well positioned as a desirable place to live due to its favorable tax situation, job opportunities, entertainment options, global accessibility, and year-round sunny weather," Polashuk told GOBankingRates in an email statement.
Cities that are likely to experience a decline in home prices are those that were popular among remote workers during the COVID-19 pandemic.
"While many people moved out of larger metro areas to live in more suburban areas during the pandemic, the full return to the office is expected to prompt many individuals to leave and look for homes closer to their workplaces that are more conducive to their lifestyle," Polashuk said.
If you're eyeing a home purchase in Florida next year, here are four markets to keep an eye on:
Jupiter: Polashuk cited Jupiter's "family-friendly atmosphere, excellent schools, beautiful beaches, and various entertainment opportunities." He expects it to see "significant growth" in the years ahead.
Jacksonville: Jacksonville came in at No. 6 on Zillow's ranking of the hottest real estate markets of 2023, two spots ahead of Miami. The median home value in Jacksonville is an affordable $295,729, and the city has seen steady population growth in recent years.
Miami: Although Miami is nobody's idea of cheap — its median home value is $557,679 according to Zillow — prices there should "remain steady" instead of spiking higher, according to Polashuk.
West Palm Beach: Similarly, West Palm Beach is expected to see steady home prices due to an increasing amount of infrastructure and new development that has contributed to more inventory in recent years.
More From GOBankingRates