Housing Market: Interest Rates Finally Drop as New Mortgages Hit 27-Year Low –Time To Buy, Sell or Stay Put?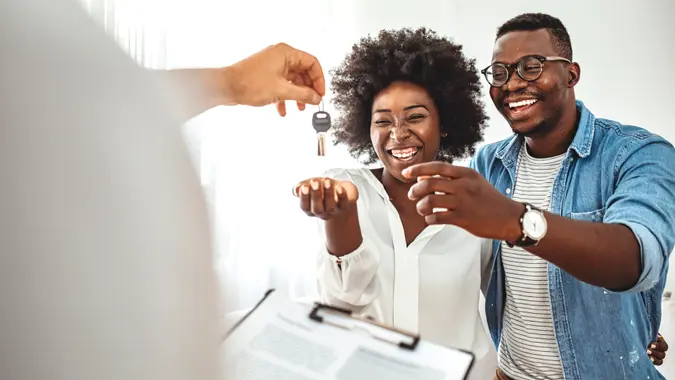 dragana991 / Getty Images/iStockphoto
Despite mortgage rates ticking slightly down last week, new mortgage applications decreased 2.9% from one week earlier to the lowest level in 27 years, according to data from the Mortgage Bankers Association's (MBA) Weekly Mortgage Applications Survey for the week ending Sept. 1. Low inventory, soaring rates and high prices are still keeping many homebuyers on the sidelines.
"Mortgage applications declined to the lowest level since December 1996, despite a drop in mortgage rates. Both purchase and refinance applications fell, with the purchase index hitting a 28-year low, as prospective buyers remain on the sidelines due to low housing inventory and elevated mortgage rates," Joel Kan, MBA's vice president and deputy chief economist, said in a press release.
Meanwhile, the average contract interest rate for 30-year fixed-rate mortgages with conforming loan balances — $726,200 or less — decreased to 7.21% from 7.31% the previous week.
But what do these latest figures mean for homebuyers?
An expensive proposition
According to Danielle Hale, chief economist at Realtor.com, the majority of homeowners who have an existing mortgage are borrowing at a rate of 4% or lower. In turn, with rates for new mortgages above 7%, some existing homeowners might double their cost of borrowing if they were to move.
In addition, she said that with home prices continuing to hover near long-term highs, many are choosing to stay put instead of selling or buying.
"In fact, roughly 15% of homeowners browsing Realtor.com who didn't have plans to sell cited higher mortgage rates as the reason. Making a move can be done now, but it's an expensive proposition as both mortgage rates and home prices are high," added Hale.
She added that with higher mortgage rates causing a lot of the pain, homeowners who own their homes outright might find that moving now is actually a good option.
"The housing market is less competitive than it was at the height of the frenzy driven by record-low mortgage rates as buyers have bowed out and falling rents entice some potential first-time homebuyers to lease for longer instead of buying a first home," she said.
Yet, she noted every household's situation is different and every real estate market is unique.
Despite the broader housing activity slowdown, Realtor.com's 2023 Hottest Zip Codes report showed that affordable housing markets and high-quality suburbs with larger homes offering room to spread out near jobs centers continue to be competitive, she added.
More attractive for cash buyers
If you're lucky enough to have the funds to buy a house with cash, now might be the perfect time to do so, according to some experts.
According to Jason Sorens, Ph.D., senior research faculty at the American Institute for Economic Research, the fact that nominal interest rates may have dropped might be because mortgage demand itself dropped.
"We may now start to see sellers bring homes to market on the idea that home values are more likely than not to decline in the next quarter or two," said Sorens.
"Economic uncertainty and high real mortgage interest rates make it a less attractive time to buy, but there could be deals for cash buyers. As always, expect trends to differ in local markets."
More From GOBankingRates