Housing Market: Potential Mortgage Freeze Could 'Devastate' Homebuyers' Chances — Here's How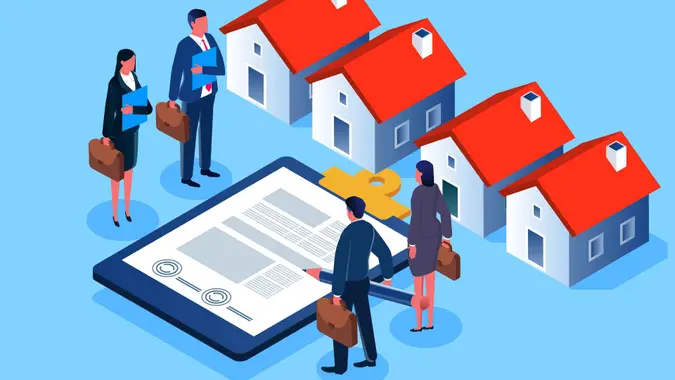 sesame / Getty Images
After the economic crash of 2008 when millions of Americans lost their homes, the Consumer Protection Act and Dodd-Frank Wall Street reform created the Consumer Financial Protection Bureau (CFPB) in 2011. The CFPB's stated mission? To defend Americans from unfair, predatory, and illegal financial practices.
Per Reuters, between 2012 and 2022, the CFPB pushed over 300 enforcement actions, putting $16 billion back into the hands of consumers wronged by financial institutions. That's now being threatened by trade groups that represent the payday loan industry — a sector that's faced immense scrutiny and lawsuits from the CFPB. One of the most sweeping CFPB regulations was enacted in 2017, one which barred high-interest payday lenders from repeatedly charging a borrower's bank account after two consecutive unsuccessful attempts.
The Community Financial Services Association of America and Consumer Service Alliance of Texas argue that the CFPB's funding structure is unconstitutional. Since its creation, the CFPB's funding comes directly from the Federal Reserve rather than going through an annual appropriations process with Congress. On Oct. 3, this case faces the Supreme Court after an adverse ruling from the Fifth Circuit Court which deemed the funding structure unconstitutional. The Supreme Court is expected to have a verdict by June next year.
Supreme Court Decision Could Impact U.S. Economy
Revoking the CFPB's "permanent budget" could have dire consequences for consumers and the economy. Ellen Harnick of the Center for Responsible Lending shared her concern in an interview with Reuters: "The market disruption, if existing rules are called into question, would be hard to overstate… All of the problems that led to the creation of the CFPB would now be unattended to."
Gutting the CFPB's funding could leave consumers at the mercy of financial institutions and further stall the housing market as mortgage lenders grapple with new rules. During a speech at the Mortgage Collaborative National Conference, CFPB director Rohit Chopra shared the following statement about the potential situation: "Reverting to a system without these regulations would create uncertainty for the mortgage industry and the economy."
Chopra continued, "And even putting aside the questions about existing rules, moving to a world where the future of housing finance oversight is uncertain and unknown, including the number of years we would be living under such mystery, should raise serious shared trepidations among market participants, financial markets, and consumers alike".
In an amicus brief, The Mortgage Bankers Association, the National Association of Home Builders, and the National Association of Realtors also supported the CFPB in this legal battle.
"The litigation and widespread uncertainty that would likely result from a decision that suddenly called all the CFPB's rules into question would prove devastating to the mortgage market," the groups stated, per Business Insider.
"Any freeze on new loans would devastate consumers' options for buying or selling homes, given that most people need financing to purchase a house," they continued. "Almost 80% of all homebuyers use a loan to purchase a home, and among first-time homebuyers that number jumps as high as 97%. Not only would first time homebuyers be devastated by an inability to obtain a mortgage, but minority communities also would be disproportionately negatively impacted."
More From GOBankingRates