Housing Market Predictions for the Next 5 Years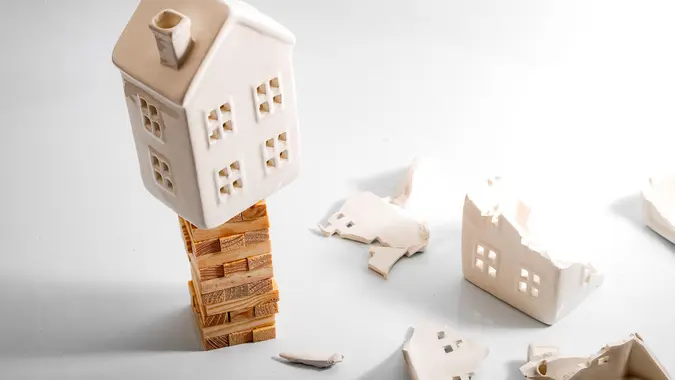 Moussa81 / Getty Images/iStockphoto
The housing market has been rapidly evolving. Home prices surged in 2020 as mortgage rates plummeted, and over the past couple of years, we've seen a slight cooling of the market as mortgage rates increased. But what does the future hold?
Find Out: 8 Places in California Where Home Prices Have Plummeted
See: 3 Things You Must Do When Your Savings Reach $50,000
To find out, GOBankingRates spoke to real estate experts to get their predictions for what the next five years will look like.
The Market Will Continue To Fluctuate Between Buyers' and Sellers' Markets
Both buyers and sellers will have their turn being at the advantage over the next five years, said Pini Shemesh, real estate developer and CEO of MyTower.
"Factors such as economic conditions, interest rates and demographic changes can all affect the balance of supply and demand," he noted.
Sean Roberts, CEO of Villa Homes, also predicts swings between buyers' and sellers' markets.
"As the market returns to a more healthy balance of buyers versus sellers and interest rates stabilize, these natural swings will continue over time," he said. "They'll likely be less dramatic than what we've seen in 2022 to 2023, and they will become an increasingly more local and regional dynamic, rather than the entire country moving in lock-step with interest rates."
Take Our Poll: What Do You Plan To Use Your Tax Refund For?
Home Prices Will Continue To Rise
Buyers waiting for home prices to drop may be out of luck, Shemesh said.
"It is likely that prices will continue to rise, but at a slower pace than in recent years," he said. "Factors such as economic growth and low interest rates can drive price increases, but there may also be limitations on how much prices can rise due to affordability constraints."
Roberts believes that supply will continue to lag behind demand over the next five years, which will cause prices to continue rising.
"Housing has been undersupplied for years and the problem is only getting worse right now with many builders pulling back on their construction pipelines and new single-family starts down by ~25%," he said. "Given this fundamental imbalance — we simply don't have enough homes for all the people that want them — we believe that once the market has adjusted to the reality of higher interest rates, home prices will continue to appreciate over the longer term."
Joshua Massieh, mortgage broker at Pacwest Funding, notes that how much prices rise will be very dependent on location.
"Home prices will likely continue to rise in certain areas with high-net-worth individuals, such as San Diego, Los Angeles, Miami, Tallahassee, [Florida], and some parts of Texas," he said. "Additionally, areas that are relatively affordable and close to major cities may see an increase in home prices as more people are pushed out of the city."
However, Massieh predicts that some areas may buck the trend, and may actually see decreasing home prices.
"Areas with a high dependence on the service industry, such as Las Vegas, may see a decrease in home prices due to job losses," he said.
Mortgage Rates Will Remain Low
It's not all bad news for buyers, however.
"Mortgage rates are expected to remain low, although they may rise slightly over the next five years as the economy improves," Shemesh said.
Roberts doesn't think we'll see the huge swings in rates that we've seen over the past couple of years.
"Mortgage rates should stabilize," he said. "Until there is more 'new news' on inflation and the path of long-term interest rates, we expect mortgage rates to likely stay roughly around where they are today — high-5%'s to low-6%'s."
Affordability Will Be Top-of-Mind for Buyers
Roberts believes that over the next five years, buyers will prioritize affordability above all else.
"Following the rapid rises in home prices in 2020 to 2021 coupled with a rise in mortgage rates that occurred at historically unprecedented speed, housing affordability is currently close to its all-time worst," he said. "Homebuyers and homeowners are looking for ways to get more for less."
In addition to affordability, buyers "will also increasingly prioritize home office spaces, outdoor living spaces and energy efficiency as more people work remotely," said Shri Ganeshram, CEO of Awning, a company that helps real estate investors find and buy property nationwide.
Rust Belt Cities, Secondary Markets and Rural Areas Will Become Hot Real Estate Markets
The prioritization of affordability could lead to buyers seeking homes outside of the current major hot spots.
"Under-the-radar markets, such as smaller cities, suburban areas and rural locations, may become increasingly popular in the coming years as people prioritize affordability," Ganeshram said.
Daniel Cabrera, real estate agent and founder of Sell My House Fast San Antonio, believes that Rust Belt cities in particular will see a surge in interest from buyers.
"Rust Belt cities, such as Detroit, Cleveland and Buffalo, are on the upswing due to their affordability and potential for growth," he said. "Prices have increased in these areas in recent years, and more people are beginning to take notice."
More From GOBankingRates