Housing Market Predictions for 5 Popular Locations, According to Experts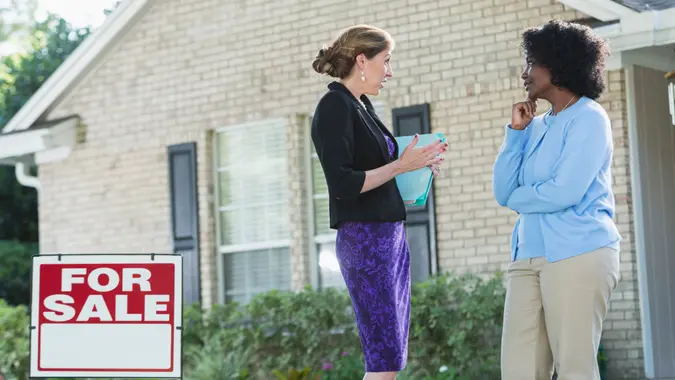 kali9 / Getty Images
When it comes to the real estate market, it's hard to predict what might happen in the coming months or years. While it's possible that there could be a housing crisis on the horizon, some experts believe that the market will keep going strong for the foreseeable future.
That doesn't mean the housing market won't change, however. And in some places, it might even decline — especially with rising interest rates and limited inventory in popular cities and states.
Whether you're looking to buy or sell a home, it's important to keep abreast of the real estate market trends. With that in mind, here are the possible signs of an upcoming housing crisis and some predictions on what's to come.
Signs of a Housing Crisis (and Current Trends)
Although there's been some concern about a looming crash in the real estate market, it might not be as close as you think. But it's a good idea to be prepared just in case, particularly if you're a prospective buyer. After all, knowing the signs of a housing crisis could keep you from spending more than you need to on a home.
When asked about a possible housing crash, Patrick Donoghue, vice president, market risk at Groundfloor Finance, said, "While there are no clear signs of an imminent real estate crisis, it's important to monitor certain factors. Rising interest rates, inflation, and supply chain disruptions can all impact the real estate market."
Supply and demand are also important factors when it comes to the housing market. "Currently, we have a significant lack of inventory," said D. Shane Whitteker, owner/chief broker at Principle Home Mortgage. "This is keeping housing prices higher than they would be if we had a balance in inventory vs. demand for homes."
"If this starts to balance with demand in the near future, I think the market will be OK moving forward," Whitteker said. "If this imbalance continues for too long, we could see some long-term negative impacts. It is too early to tell but I don't see a looming crisis currently."
Another thing to consider is the aftermath of the pandemic and the current state of the economy. "As we leave behind the pandemic and the economy tries to recover, it's essential to keep an eye on unemployment rates, job growth, and overall consumer sentiment," Donoghue said. "These factors can all influence the stability of the housing market, and being aware of them can help you make better-informed decisions when it comes to buying or selling property."
Other possible signs of a housing market crisis include:
Buyer or lender uncertainty
Decline in home prices
Increased supply but decreased demand
More foreclosures
Take Our Poll: Are You Concerned About the Safety of Your Money in Your Bank Accounts?
Housing Sector Trends
Another thing to consider when it comes to possible changes in the housing market is the sector. "Generally speaking, the real estate market is incredibly strong in certain sectors, but weak in others," said Anita Verma-Lallian, founder/CEO at Arizona Land Consulting. "The industrial sector remains to be incredibly strong. A push for manufacturing in the U.S. is contributing to companies building more."
Whitteker added, "Currently, the overall trend is indicating that starter homes are still increasing in value as of the end of 2022 [and] which will likely continue through 2023. Higher-priced homes have started to come down in value slightly. This trend is a macro look at housing."
Again, these trends depend on things like location, local and state taxes, and the overall economy. "Most states are still experiencing an undersupply of homes for sale which is holding prices up," Whitteker said.
Verma-Lallian anticipates that "there shouldn't be significant price declines" since there aren't as many investors currently buying up homes.
Housing Market Predictions (and Trends) in 5 Popular Locations
Here's what the real estate market looks like — with some predictions — in five popular locations.
1. Florida
Many cities across Florida show signs of a housing crisis on the horizon. These signs include higher delinquency rates, rising home prices and increasing mortgage rates.
Yet, there are also signs of growth.
"Florida's real estate market continues to exhibit strong growth in various regions, driven by factors such as a favorable tax environment, thriving tourism industry, and an appealing climate," said Filippo Incorvaia, founder of FI Real Estate in Miami. "Each area in Florida offers unique opportunities and challenges for homebuyers and investors, making it essential to understand the local market trends and conditions."
According to Incorvaia, certain Floridian cities continue to show positive trends in the housing market. This includes places like:
South Florida — Miami (particularly along the waterfront), West Palm Beach, Fort Lauderdale, etc.
Central Florida — Orlando, Tampa, etc.
Southwest Florida — Naples, Sarasota, Fort Myers, etc.
Florida Panhandle — Tallahassee, Panama City, Pensacola, etc.
But again, several factors influence both housing prices and demand. One such factor is urban vs. suburban development. "Across Florida, there's a noticeable trend of people moving from urban centers to suburban areas, seeking larger living spaces, more affordable housing options, and a higher quality of life," Incorvaia said. "This shift has led to increased demand for suburban properties, driving up prices and stimulating new residential developments."
Donoghue also weighed in, "Florida had the highest domestic migration (where people moved) in 2022 creating 318,855 new Floridians. Many Florida cities have benefited from this post pandemic boom."
2. New Jersey
New Jersey is another popular location where the housing market was once booming. However, one report has found that the state has shown signs of a potential housing crisis.
Even if the situation isn't critical, New Jersey and other states with higher taxes could experience some changes to their housing market. "I think markets in which taxes are higher such as CA, NY, and NJ may see changes in their market as buyers look to move to lower-tax states," Verma-Lallian said.
The prevalence of remote work is also important to consider. With more people working independently of location, they have the choice to live where they want. And, in many cases, this means seeking out states with lower taxes.
"States with lower taxes such as AZ, TX, and FL will continue to see an influx of residents, which will keep the housing market strong and robust," Verma-Lallian added. "States with higher taxes such as NJ and CA are seeing an exodus to states with lower tax environments, such as AZ and TX, which will cause real estate values to be stronger in the states with lower taxes."
3. Arizona and Texas
Texas and Arizona are also predicted to experience some housing changes, which could be good news for investors and prospective buyers.
"When I think of changing prices, I would say Phoenix and Austin given their sharp declines in the second half of 2022," Donoghue said. "These cities are probably reaching a point where investors are sitting up and taking note of price points that have come back into favor."
4. West Coast
The way people buy houses has changed over the years, but it's noticeable along the West Coast. In particular, Parcl Labs has found that more people are making all-cash offers than ever before.
According to Parcl Labs data, "All-cash home deals see 'drastic' increase in West Coast markets including San Francisco, Seattle, LA, and Portland, while last year's bubbly markets in Phoenix and Vegas all-cash sales are decreasing."
This new trend could be related to the rising mortgage interest rates, though it's still too early to tell. Regardless, paying in cash could save the buyer tens or hundreds of thousands of dollars in interest fees.
5. San Francisco Bay Area
San Francisco stands out in that the housing market has remained steady. "In the San Francisco Bay Area we are seeing a slow trickle of housing inventory coming to market," said Vanessa Bergmark, CEO of Red Oak Realty.
"This means that our turnkey properties are getting multiple bids in the market and selling quickly!" Bergmark said. "Pending home sales in our area are around half of what we'd expect to see in a more typical year, but the demand remains very strong."
Buying Beach Property: Is There a Right Time?
This depends on several factors, such as where you're looking to buy.
"If you find a great deal and you are in the market, I think it's a good idea to move on something like that," Whitteker said. "Overall, though, I do think prices of beach homes will likely decrease in the next five years."
It might be a good idea to wait until you find the right opportunity before you buy. But be careful when buying waterfront property. There are many potential risks to consider, such as higher insurance premiums, the rising sea level, and higher maintenance costs.
More From GOBankingRates