Sell Now or Wait a Year: What Experts Are Saying About Today's Housing Market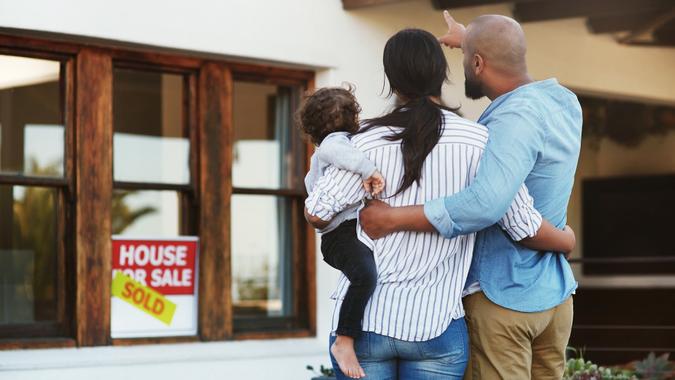 Dean Mitchell / iStock.com
If you're a homeowner who was flirting with selling anyway, you might feel like you're living inside of a giant lottery ticket — and who could blame you?
After jumping by a record high of nearly 17% in 2021, home prices have only continued their upward trajectory. In January, prices surged unexpectedly to $350,300 for the median home, according to Yahoo Finance, a jump of 15.4% over last January. In mid-February, Fortune reported that home prices had soared by 27% since January 2020 and were expected to climb by another 12% in 2022 — much higher than estimates from just a few months prior.
See: In Less Than a Decade, You Won't Be Able To Afford a Home in These Cities
Find: 7 Unexpected Cities To Invest in Property in 2022
Somehow, prices keep rising at a pace that was previously thought to be unsustainable, so is now still a good time to sell? GOBankingRates asked the experts.
Sell or Wait? Your Situation Should Determine Your Answer
Before you list your house, ask yourself why, exactly, it is that you want to sell in the first place.
"Selling a house is both a personal and financial decision," said Eric Hegwer, a realtor in Austin. "Before you list to sell, ask what your motivation is."
He poses the following three questions to all prospective sellers:
Do you need more or less space?
Has your job changed and you need to be closer?
Do you have a lot of equity and want to get some for a different purchase or investment?
If you don't answer yes to any of those questions and selling is a choice instead of necessity, then Hegwer said, "I wouldn't sell because I believe the market is still going up, at least for the next two years."
Take a Look: 5 Surprising Cities Set To Become Boomtowns in 2022
It's Hard To Overestimate Just How Good Today's Seller's Have It
It's certainly possible that prices will rise and that sellers who wait a few months will get even more for their houses than they would right now. But it's also quite likely that today's seller's bonanza represents the market's high-water mark.
"There is no better time to sell a home than now," said Bill Gassett, founder of Maximum Real Estate Exposure. "In my 35 years of selling real estate, I have never seen a market more skewed toward sellers. With ultra-low inventory throughout the country, bidding wars on houses are the norm, not the exception. Nearly every home sells way over the asking price."
Gassett cited two examples from this past week alone when two homes he listed sold for more than $100,000 above the asking price.
Things Are So Good, High Prices Are Just the Start
If you are selling, look beyond just the asking price and make sure you're getting every possible last benefit out of the sale. In this climate, chances are good you'll get most of what you ask for.
"Your property will sell fast, with multiple offers, and above asking price in this current market," said Todd Luong of RE/MAX DFW Associates. "There is also a good chance that the buyers may not even ask you for very many repairs, and you will get all the contract terms that you want, like a leaseback, appraisal waiver, and more."
Gassett is seeing the same thing happening all the time where he works in Massachusetts. "Many contracts have common contingencies removed such as financing and home inspections," he said. "The seller is getting carte blanche at the moment."
Be Aware: The 7 Most Stressful US Cities for Homebuyers
The Market is Especially Hot in and Around Big Cities
There is no one "housing market" in the United States. Trends fluctuate considerably from one locale to another, but generally, people fled from America's urban centers at the height of the pandemic, and when prices dropped and the virus subsided, they came flooding back — and that's where prices are currently spiking highest and fastest.
"If you live in any moderately large city or metro area, you'll likely be able to sell your house very quickly for more than the asking price," said Martin Orefice, the CEO of Rent To Own Labs. "You'll get your pick of offers."
If Selling Makes You a Buyer, You've Missed the Whole Point
If you're on your way out of a high-demand, high-priced home in a big metro region that you're leaving behind for a cheaper, more sparsely populated area, selling might make sense. The same goes if you're selling a second home or have some other backup plan in place. Otherwise, selling will condemn you to become just another buyer in a market defined by too many people scratching and clawing for too few houses.
"The issue here is that most people who sell their house have to buy another one," said Orefice. "If you're an individual homeowner looking to trade up, keep in mind that you'll have no problem selling but a lot of trouble buying. If you're a real estate investor or looking to retire to an apartment or assisted-living facility, I would definitely sell."
Learn: How Much It Costs To Buy a Home in These Popular Winter Vacation Destinations
It's Only a Good Time To Sell if It's a Good Time To Sell
Whether it's buying a home, selling a home, or refinancing a home, the question of timing can be answered only by the members of the individual household.
"If the home still works for an owner, they should stay put," said James McGrath, a New York City real estate agent and co-founder of Yoreevo. "Selling a property incurs a lot of costs and it's a huge inconvenience, so you need a good reason to go through the process. Unless the new home is going to be different in some significant way — size, type, location — it's hard to find a reason to sell for the sake of cashing out.
McGrath added, "If you buy something else, you're selling a home that's run up in price to buy another that also has run up in price."
More From GOBankingRates